Take a moment and think about the great captains in NHL history.
Players like Steve Yzerman, Mark Messier, and Joe Sakic probably come to mind, but what made them great leaders? Perhaps it was their skill level, or maybe they were just natural motivators. Very few men have had the chance to share a locker room with one of the legendary captains in NHL lore, so most of us are stuck speculating, but they just had a certain way about them, didn't they?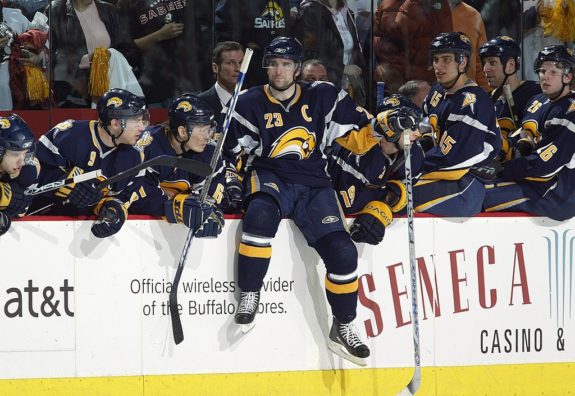 Sabres fans can still recall the feeling of trailing by a goal with almost no time remaining  when Chris Drury skated onto the ice. The energy in the entire arena changed. Great captains call upon themselves to ensure perfect execution when there is no room for error.
Every Sabres fan remembers Drury's most iconic goal on May 4, 2007. It is perhaps the greatest clutch moment in Sabres history.

With 16.7 seconds remaining, down 1-0 in one of Henrik Lundqvist's greatest performances, the fans in Buffalo only wanted one person to take that crucial draw in the Rangers' end. Without this goal, the Sabres would have fallen behind 3-2 in the Eastern Conference semi-finals, heading back to New York.
Drury called his own number. He won the draw, battled for the puck, got in position, and buried the rebound. It's just what he did. It's why to this day, Sabres fans never leave him out of the conversation when discussing Buffalo sports' all-time great leaders.
There is nobody on the Sabres current roster that remotely resembles a Chris Drury type, and therein lies the problem.
Sabres' Dysfunctional Locker Room
It's no wonder Phil Housley decided to roll with four alternate captains this season. To put a "C" on any of their chests would be an insult to those that came before them. Just listen to the post-game interviews. On several occasions, veteran players have openly admitted, that they need to do more from a leadership standpoint, but nothing has changed. Uninspired play has caused the Sabres to lose seven of their past eight games.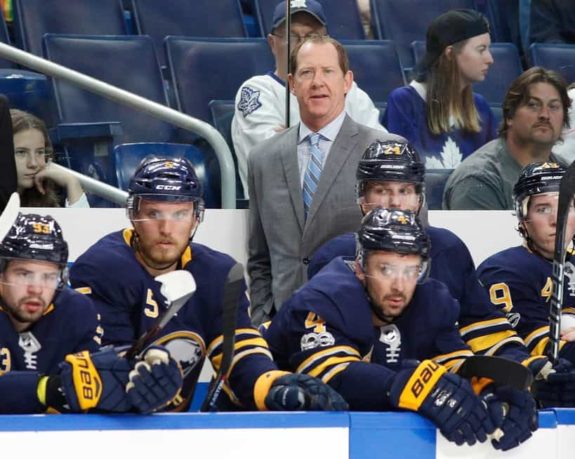 Some fans put the lack of direction on the coach, and there is some merit to that argument. While positivity through adversity can be an effective approach, especially with young, developing players, Housley has been sanguine to a fault.
Even after some of the Sabres' uglier losses, the rookie head coach has, for the most part, remained upbeat, citing satisfactory effort and drive when there clearly was none. Housley's complimentary sentiments have begun to ring hollow.
Following the Sabres' disappointing 5-4 loss to the Minnesota Wild last week, the sound of palms simultaneously smacking foreheads across Western New York could be heard for miles after Housley was asked about player accountability.
Housley on if players need to hold players more accountable:
He says…"what players do in the room, is their business. For me, I didn't think we followed a gameplan for sixty minutes." #Sabres

— Brian Koziol (@BrianWGR) November 23, 2017
It starts with the players, but for a head coach to insinuate that what goes on in the locker room is "none of his business", is the opposite of what fans want to hear. While Housley is lauded as an expert tactician, his shortcomings as a vocal motivator are becoming clearer by the day. That doesn't mean that he won't be a great coach, but with one of the youngest rosters in the league, he will need to learn how to manage player mentality and work ethic with a more hands-on approach.
Housley's job will likely be safe going into next season (as it should be), but he will need to establish himself as a respected voice in the Sabres' locker room in short order. While former head coach, Dan Bylsma had his fair share of flaws, his inability to motivate players certainly contributed to his ousting after two lackluster seasons.
Lack of past Success on the Roster
NHL veteran and two-time Stanley Cup champion, Jordan Nolan confirmed many fan's suspicions last week with an extremely concerning statement regarding player accountability.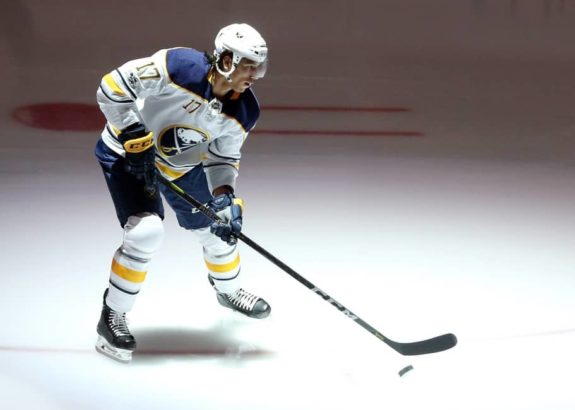 "I think we've got to start holding guys accountable. Start being honest with ourselves and our teammates," said Nolan. "When we're turning pucks over and not working hard, it kinda gets swept under the rug and we've got to, if someone does turn it over, if they don't chip it in at the red line or blue line, we've got to say something."
As a young player in the Los Angeles Kings organization, Nolan leaned on veteran players like Jeff Carter to call him out when he wasn't executing properly. Players who knew what it took to win.
One of the most glaring problems with the Sabres' veteran group is a lack of playoff experience. Aside from Nolan and Jason Pominville, there are very few players on the roster who have experienced sustained team success at the NHL level.
Even the highly productive Evander Kane, in seven professional seasons, has never participated in a playoff game.
The Sabres are currently on pace to finish the season with 55 points, just four more than the "tank" team finished with in 2014-15.  On paper, this roster is leaps and bounds more talented.
Here's the difference: Ted Nolan's teams played hard every night, and there was no question who was in charge. No ego, no expensive contracts, just a group of guys fighting to stay in the NHL. This team could learn a thing or two from that squad.
Buffalo Needs More from O'Reilly & Eichel
Leading up to the 2017-18 season, fans speculated and at times fiercely debated whether the Sabres' captaincy should belong to franchise cornerstone, Jack Eichel or established veteran, Ryan O'Reilly. With over a quarter of the season in the books, both of these players have failed to answer the bell for a team that is in desperate need of guidance.
Eichel continues to look frustrated and at times disinterested while his emotions and body language diminish his status as the face of the franchise. His immense talent has been evident in stretches this season, but Eichel needs to do a better job of leading by example, putting forth consistent effort every shift.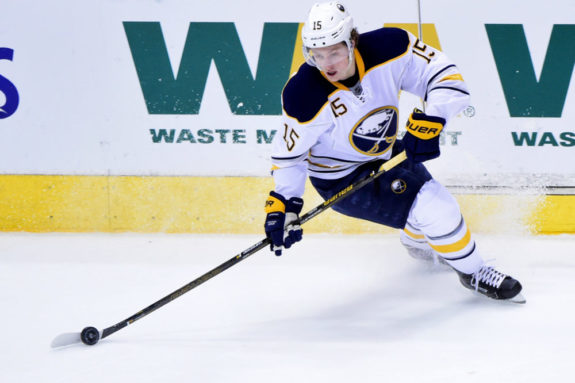 The 21-year-old managed to turn in one of his best performances of the season on Friday when he squared off with fellow 2015 draft pick, Connor McDavid. It was clear throughout the contest that he was playing with a chip on his shoulder. Since his draft year, Eichel has played second fiddle to McDavid and he's never been shy about his feelings on the subject.
If Eichel can hone in on that level of drive and determination each and every game, he is iconic enough that the team will follow his lead. As a marquee player in this league, his actions ring louder, and he needs to use that power to inspire his teammates.
On the other end of the spectrum, O'Reilly is as steady as they come in terms of body language, which may actually be one of his faults. He is the consummate professional, even leading open sessions following team practice for any player who wants to put in additional work. His diligence is unquestioned, but as a veteran, he needs to hold the younger players accountable.
O'Reilly's post-game grouses regarding his own personal performances have become monotonous. Fans are sick of hearing from the players that they need to improve, with no sign of progress on the ice.
Like it or not when a team makes an expensive, long-term commitment to a player, that player is expected to be more than just a participant. Eichel and O'Reilly need to take the reins, preferably as a duo. Together they have the ability to vastly shorten the rebuild and re-establish the Sabres as a perennial playoff contender.