The third period of Game 1 of the first-round series between the Boston Bruins and Toronto Maple Leafs was marred by an ugly incident between the Leafs' Nazem Kadri and the Bruins' Tommy Wingels.
At 08:18 of the third, Kadri was given a five-minute major penalty and game misconduct for laying an illegal hit on Wingels, just after Wingels had caught Toronto's Mitch Marner in the head with an elbow – also a prohibited play.
It was an ugly scene all around, and should see both players suspended by the National Hockey League.
Background Between Kadri and Wingels
Kadri makes himself noticed nearly every time he steps on the ice, generally for good reasons. However, he comes close to – sometimes crossing – the line often enough that officials pay a little more attention to him than most other players. Once amongst the NHL leaders in penalty differential, Kadri is now one of the league's players least likely to get a break from the officials, either when on the receiving end or when he dishes it out.
It appears he did catch a break in this game, standing up Rick Nash in a knee-on-knee collision. No penalty was called on the play, but the officials likely saw replays afterwards and took note of Kadri's recklessness, particularly considering its resemblance to his knee on Alex Ovechkin in last year's playoffs.
So, when, at 04:44 of the third, Kadri laid a questionable hit on Wingels behind the Toronto net, the Leafs' centre was given the gate for boarding.
https://twitter.com/JeffVeillette/status/984600926890725377
Truth be told, it does look like Kadri hits Wingels legally from the side, and that Wingels helps the scene along by flinging himself into the boards head-first. Kadri's frustration on this play is understandable, but he had to know the referees would be paying special attention to him, both in general but especially after getting away with his earlier knee on Nash.
Related – Leafs Fans: Boston Bruins Playoff Guide
Wingels Hits Marner, Kadri Hits Wingels
Now, on to the play in question:
Mitch Marner is skating along the boards in the Bruins zone, when he stops up and is taken out of the play by Zdeno Chara. Whilst Chara is checking Marner, Wingels delivers a hit to the head of the defenseless Leafs forward. Wingels then retrieves the puck and stumbles, falling to his knees.
Kadri, in the slot area, changes course to intercept Wingels, but continues following through his check after the Bruins forward has gotten rid of the puck. While the hit is not late, Kadri delivers it by jumping and driving his hip into Wingels' upper back and head.
Full sequence on the Wingels-Kadri incident. Wingels catches Marner up high, but no excuse for the Kadri hit. Gotta be a suspension pic.twitter.com/EEKeUd6t2z

— Pete Blackburn (@PeteBlackburn) April 13, 2018
Kadri, having left his feet and having hit Wingels in the head, was penalised for charging and thrown out of the game.
Wingels left the game and did not return. Bruins head coach Bruce Cassidy did not have any updates on his condition as of the post-game press conference.
What Kadri and Wingels Will (Probably) Get
It's impossible to say what's going through a player's head at any given time. Especially with replay, things that look perfectly obvious in slow motion often happened blindingly quickly in real time.
That said, it certainly appears as though Kadri had sufficient time to read and react to the situation (i.e. Wingels having fallen to his knees after hitting Marner), and follows through anyway. The fact he was part of an incident with Wingels earlier in the game doesn't help his case, nor does the fact Wingels, unlike Marner, left the game and did not return. Additionally, though the interpretation of the hit as Kadri rushing to the defense of Marner may win him fans in Leaf circles, it also indicates some level of premeditation, another unhelpful factor for the Kadri camp's defense.
Thus, Kadri, with three NHL suspensions already under his belt – all for blows to the head, should expect a suspension in the neighbourhood of five games. It should be noted that, though Kadri is not technically a "repeat offender" under the terms of the NHL's Collective Bargaining Agreement, his past transgressions can be taken into account by the NHL's Department of Player Safety.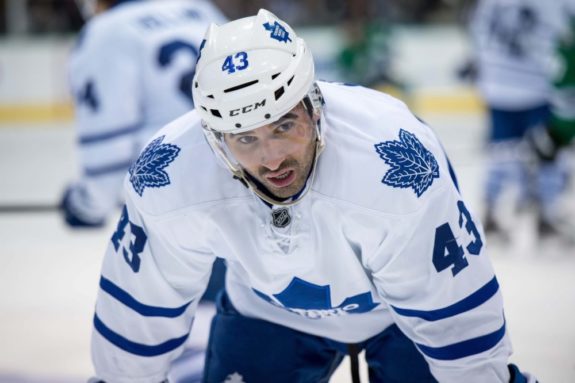 While five games seems rather high, particularly for an incident in the playoffs, it should be noted Kadri's previous suspensions were for three, four and four games, respectively, suggesting he should be expecting more this time around. If this took place during the regular season, anywhere from six to eight games would be expected, but this being the NHL, postseason incidents somehow warrant less. Five is my best guess.
As for Wingels, the NHL has traditionally been reluctant to suspend for such hits during the regular season – let alone in the playoffs, but Drew Doughty of the Los Angeles Kings was given one game for clocking Will Carrier of the Vegas Golden Knights during Game 1 of their series, seeming to set a precedent for head hits deemed indirect or otherwise less severe.
Admittedly, Doughty's hit was more vicious than that of Wingels (Doughty hit Carrier in flight, rather than in a board battle), but Doughty is also a star player, which traditionally means fewer games. These two factors should balance out here, with Wingels receiving a one-game suspension, though the league likely won't give him anything if he turns out to be hurt long-term.
Related: Boston Bruins All-Time Salary Cap Team
Recklessness Costs Both Bruins and Leafs
Kadri was drafted in 2009, and played his first NHL game in 2009-10. 2017-18 was his sixth full season in the league. He's got professional playoff experience, too, both with the Leafs and in the American Hockey League with the Toronto Marlies. He should know better. Maybe it'll take the NHL throwing the book at him for Kadri to figure himself out.
As for Wingels, he shouldn't escape the NHL's wrath, either. His elbow to the head of Marner was not only illegal, but also came as the Leafs winger was in a vulnerable position, much like Wingels would be a few seconds later.
That said, the first priority should be Wingels' health.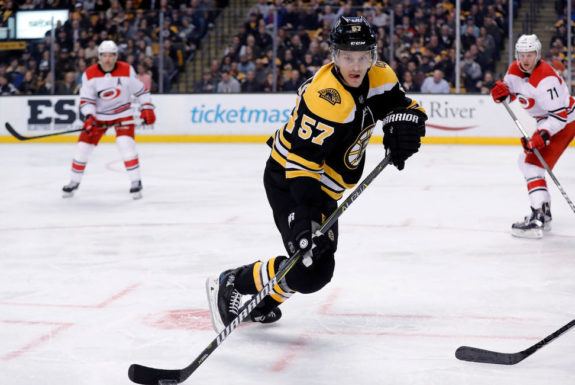 Whatever the eventual outcome, it was a sorry way to end Game 1. Everyone loves the intense back-and-forth between the Bruins and Leafs, but no one likes to see dirty hits and injured players.
Let's hope everybody smartens up.
Peter Ferrell covers the Florida Panthers and Toronto Maple Leafs, with a side of jersey and logo (over)analysis, for The Hockey Writers.