When the 2018 Stanley Cup Playoffs begin, nothing that happened in the regular season will matter.
It's for that reason that the 50-win, 112 point-earning Boston Bruins will have to work hard and not rest on their laurels against the Toronto Maple Leafs in the opening round of the postseason. It's for that very same reason that the Maple Leafs shouldn't look at their 3-1 regular season record against the Bruins in 2017-18 and immediately think they have the upper-hand.
When it comes down to it, the division-rival Bruins and Maple Leafs will face off with a blank slate. Both teams have made adjustments in recent seasons that have pushed young players to the forefront of the discussion. Players like Charlie McAvoy, David Pastrnak, Jake DeBrusk, Danton Heinen, Matt Grzlecyk, Ryan Donato, Austin Matthews, William Nylander and Mitch Marner.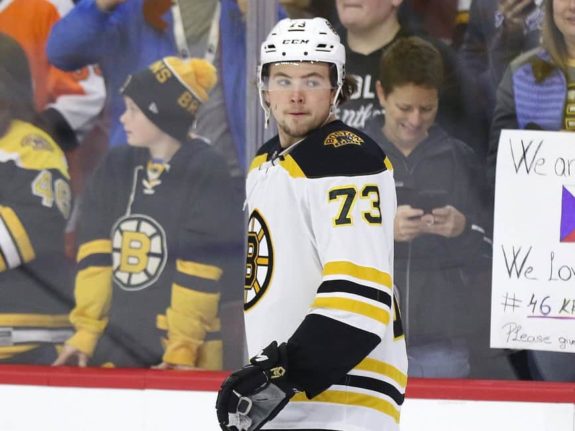 None of those young players were even drafted the last time the Bruins and Maple Leafs squared off in the playoffs in 2013. Now, however, they are some of the most integral pieces to both team's gameplans each and every night. Balancing those rookies, of course, are a bevy of veterans on both sides who have logged a ton of regular season and postseason time throughout their respective careers.
With such an important matchup coming in the first round of the postseason, most people crave information. They're looking for information about their own team, the opposing team and everything in between. It seems appropriate, then, to make a comprehensive guide to the Boston Bruins for fans who may not know much about them in Boston. More importantly, though, this will be a guide for fans in Toronto who want to know everything there is to know about their first-round matchup.
Bruins Forward Depth is Unmatched
The most appropriate place to start any guide on the Boston Bruins would be with their forward group. No matter who you speak to within the Bruins community – be it media, fans or otherwise, the biggest point of contention (besides Tuukka Rask's ability) is who will form the starting 12 forwards and who will play on which line.
It's hard to find any team in the NHL with more capable NHL bodies in their forward group. Beyond just the number of bodies they have, it's the fact that the team has so many players that can be plugged into an impact role that stands out.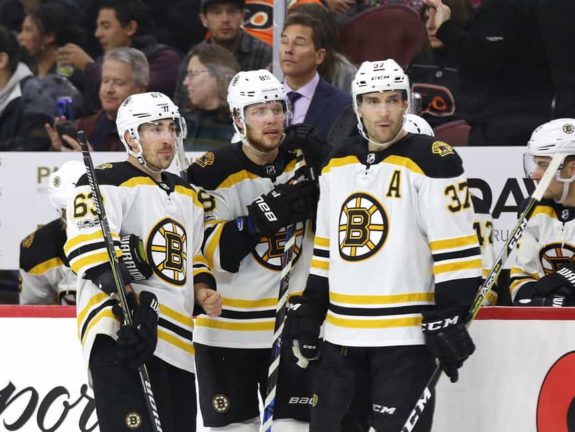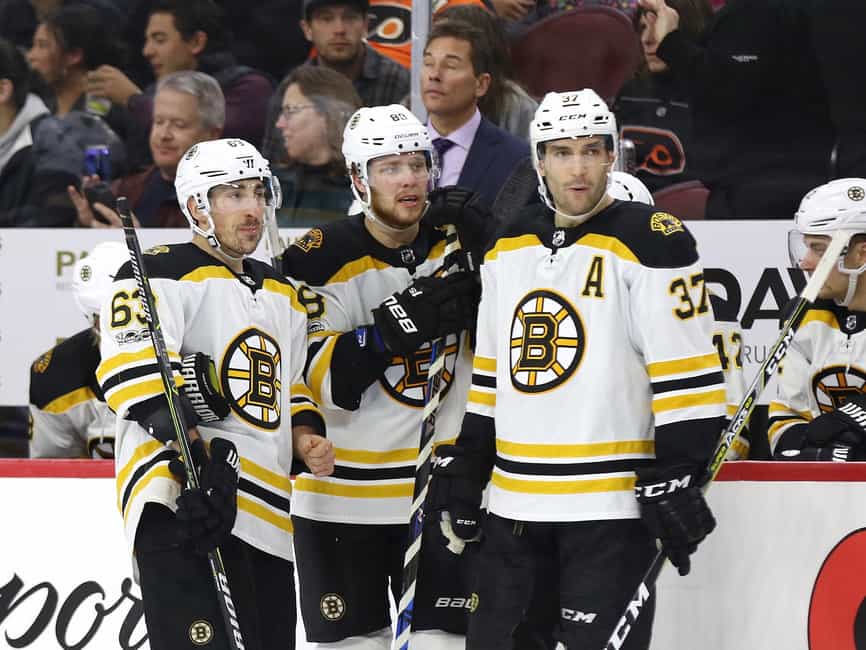 One of the best top-six units the Bruins have had in recent years, the team will roll out Patrice Bergeron, Brad Marchand, David Pastrnak, David Krejci, Jake DeBrusk and Rick Nash in their top six to start the series. The top line is a no-brainer with three 30-plus goal scorers in Marchand (34 goals, 85 points in 68 games), Pastrnak (35 goals, 80 points in 82 games) and Bergeron (30 goals, 63 points in 64 games).
The second line wasn't quite so easy to figure out, however, as the Bruins have a few players who are not only capable but also deserving of playing in second-line capacity.
Unfortunately, there are only three players who can play in such a role. It's a good problem to have. though, when players like Ryan Donato, Danton Heinen, David Backes and Riley Nash are all fighting for third line jobs.
Not Your Usual Third Line Players
For reference, Donato scored five goals and nine points in his first 12 games since signing out of Harvard this season. He's logged minutes on the second and third line and has been a valuable piece on the power play. He's started games at all three forward positions, going 12 for 16 on faceoffs in the process, drawing on his Harvard experience for that facet of his game.
Danton Heinen scored 16 goals and 47 points in 77 games in his rookie season with the Bruins, playing up and down the lineup and in all situations. David Backes, despite issues with injuries and suspensions, still scored 14 goals and 33 points in 57 games. More important than the points he recorded was the timing of when they occurred.  The veteran forward can play anywhere in the lineup and on both special teams units, similarly to Heinen, though Backes is also a more than capable center as he's proven throughout his career.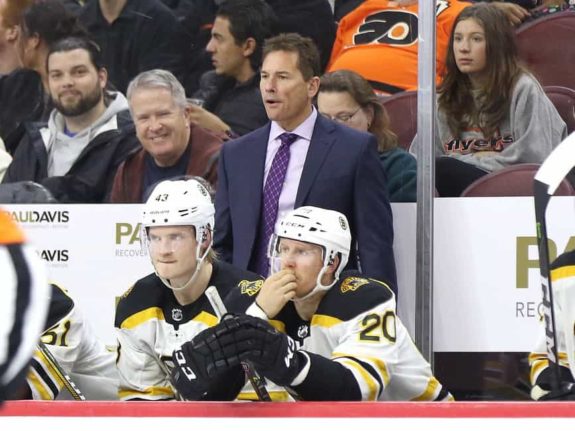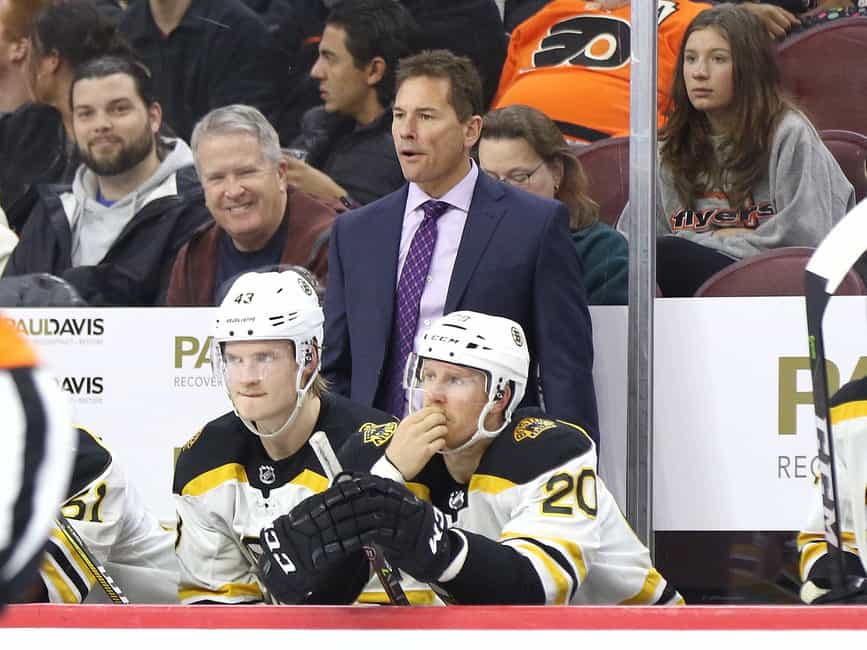 Finally, there's Nash. Though he may not be as known as his new teammate Rick Nash, Riley has proven to be an irreplaceable cog in the Bruins formula. Shattering his previous personal records with 15 goals, 26 assists and 41 points this season, Nash was key for the Bruins. He even saw himself playing over 165 minutes on the team's top line with David Pastrnak and Brad Marchand resulting in 12 goals-for and only four goals-against.
While it may seem strange, Nash has gotten better offensively in his time in Boston despite being used in a more defensive-minded role. In Carolina, Nash started anywhere between 50.7% to 62.1% of his starts in the offensive zone. In Boston, however, Nash has started 54.7% and 54.6% of his shifts in the defensive zone in his two seasons with the team respectively.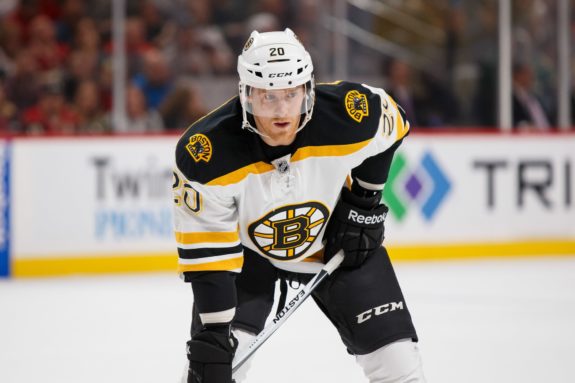 His ability to play a defensive role on the Bruins' third line has allowed the team to use the Bergeron, Pastrnak and Marchand line more effectively this season and it's a big part of what's made this team so hard to play against each and every night.
Bruins Projected Forward Lines for Game 1
With the younger of the two Nash forwards expected to miss Game 1 of the postseason, however, the Bruins look likely to start the following lines:
Brad Marchand – Patrice Bergeron – David Pastrnak
Jake DeBrusk – David Krejci – Rick Nash
Danton Heinen – Noel Acciari – David Backes
Tim Schaller – Sean Kuraly – Tommy Wingels
When playing fully healthy, players like Tommy Wingels, Sean Kuraly, Brian Gionta and Donato could find themselves seated as extra forwards.While those names may not be the most recognizable or intimidating names in the league, the former three have the ability to make an impact in the lineup in a bottom-six capacity at multiple positions and Donato has all the makings of a top-line player at the NHL level.
The discussion about the Bruins forward group could go on forever, so it's probably best to just move on to the defense.
Bruins Defense Misses Brandon Carlo
When looking at the defensive group the Bruins have compiled, it's clear that the team is in better shape now than they have been in a while. With that said, the loss of Brandon Carlo for the remainder of the season and playoffs was a tough one for the team to swallow, though one they prepared for all the same.
When the dust settles and the final lines are released, the following pairings should be the ones the Bruins roll with for Game 1:
Zdeno Chara – Charlie McAvoy
Torey Krug –  Kevan Miller
Matt Grzelcyk – Adam McQuaid
Starting at the top, there may no be more recognizable hockey player on the planet than Chara. At 6 foot 9 and over 250 pounds, it isn't hard to figure out why, either. The 41-year-old has been around the block, playing in 1,423 regular season games in his career and an impressive 147 postseason games as well.
Flanking the Bruins captain is the 20-year-old McAvoy who had his coming out party in the 2017 Stanley Cup Playoffs. It isn't every day that a player can prove their worth in a playoff capacity first and a regular season role second, but that's what McAvoy did. Despite dealing with some injuries this season, McAvoy still had an impressive rookie season with seven goals and 32 points in 63 games while averaging  22:09 of ice time per game.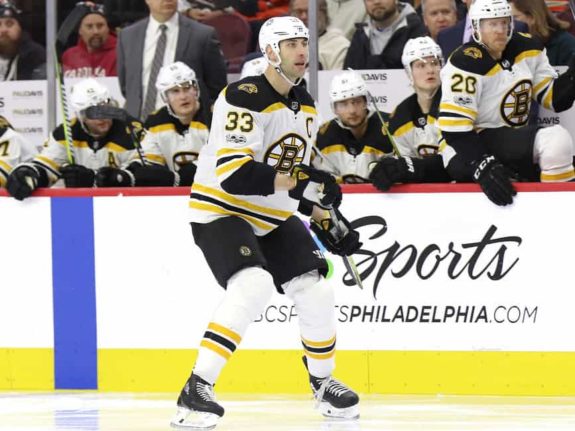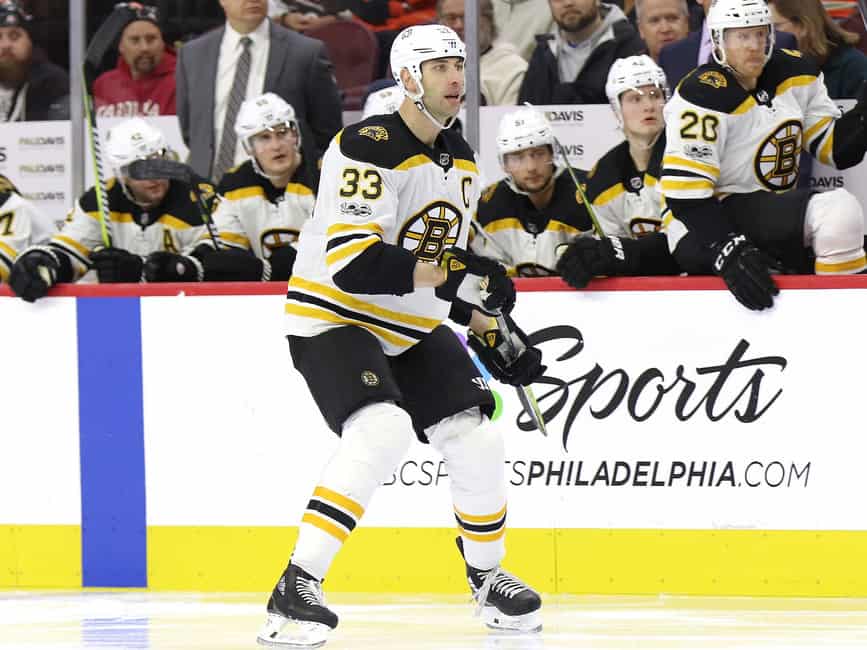 Moving to the second line, the Bruins are rolling out a somewhat familiar pairing of Krug and Miller. Polar opposites in both physical stature and play style, the 5-foot-9, 186-pound Krug scored 14 goals and a career-high 59 points in 76 games this season.
The 6-foot-2, 210-pound Miller scored one goal and a career-high 15 assists for 16 points in 68 games while averaging 19:28 of ice time with 164 hits and 111 blocked shots. Krug is known as an offensive-defender while Miller makes his living as a stay-at-home defenseman. Pairing the two together could bring out the best in both of them.
X-Factor of a Third-Pairing
The Bruins third-pairing on defense may be their X-factor heading into the postseason due to Grzelcyk, one of the less-talked-about Bruins rookies this season.
The 24-year-old scored three goals and 15 points in 61 games this season and averaged 16:44 of ice time. McQuaid scored one goal and four points this season and was often relegated to the press-box due to injuries and an abundance of defenders worthy of a spot in the lineup.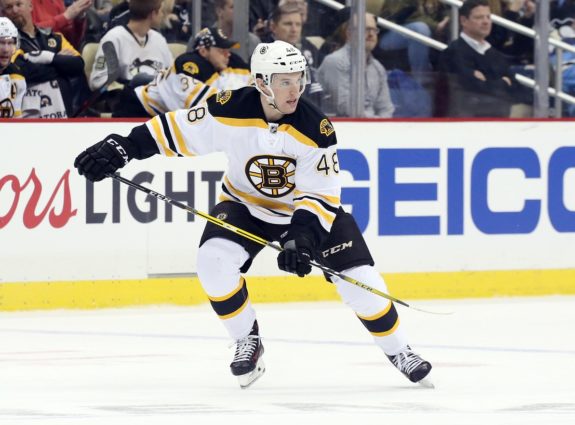 Why could they be the X-factor? Well, that comes down their usage in the lineup.
Though Miller and Grzelcyk played a lot of hockey together this season, the Bruins are opting to use Miller in a more impactful role on the second-pairing. Dropping McQuaid to a more comfortable bottom-pairing role could be effective for him.
Even then, it wouldn't be surprising to see the Bruins move Miller around the lineup as they see fit given his defensive responsibility and penalty-kill prowess.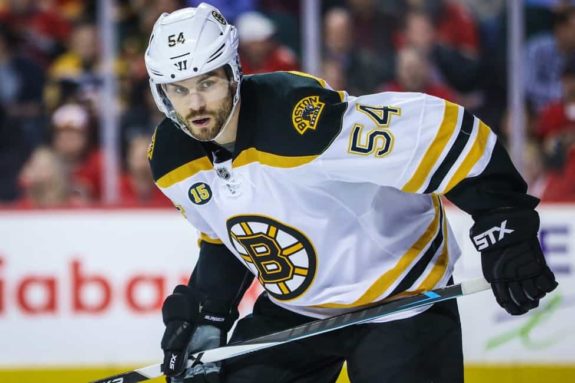 Grzelcyk, on the other hand, has all the makings of a core power-play defender who excelled in all situations this season when called upon.
To really appreciate Grzelcyk's ability and the Bruins success in general, however, the use of advanced stats will help illustrate the point for those who appreciate that type of information.
Bruins Were Analytical Darlings in 2017-18
When looking at the Bruins rankings among some popular analytical categories, it's clear that head coach Bruce Cassidy got the most out of his club this season.
The Bruins finished the year with the second-best Corsi For percentage, they were first in Shots For percentage, first in Scoring Chances For percentage, fourth in Goals For percentage, seventh in most attempts per 60 and first in fewest attempts allowed per 60. All of these statistics (and the subsequent ones coming in this section) were compiled by the Bruins_Stats account on Twitter.
Looking at individual players, 276 forwards played in at least 750 5-on-5 minutes this season. Bergeron ranked first in Corsi For percentage of those players at 58% with Marchand (11th), Patsrnak (19th) and Heinen (23rd) all cracking the top 25.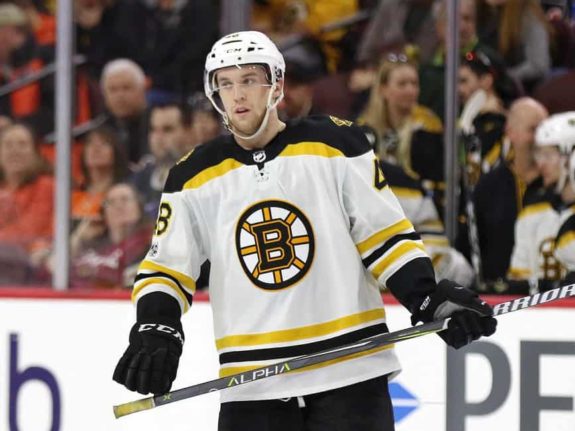 As mentioned, Grzelcyk was incredibly underrated by most people outside of Boston this season. McAvoy and Grzlecyk (the former Boston University Terriers pairing), ranked fourth and fifth in Corsi For percentage among the 166 defenders who skated in at least 750 minutes at 5-on-5 this year. Grzelcyk was on the ice for 2.98 goals for and only 1.22 goals allowed per 60 minutes – a 71% rating. Second to Grzelcyk was Ryan Ellis. His percentage? 63%.
Goaltending Tandem in Boston
In recent years, the Bruins poor defense and lack of a solid backup goaltender have often forced the brunt of the team's workload on Rask. His inability to really stand out among other goaltenders in 2014-15 and 2015-16 (2.30 goals against average, .922 save percentage and 2.56 goals-against average and .915 save percentage respectively) created a major controversy among Bruins fans and media.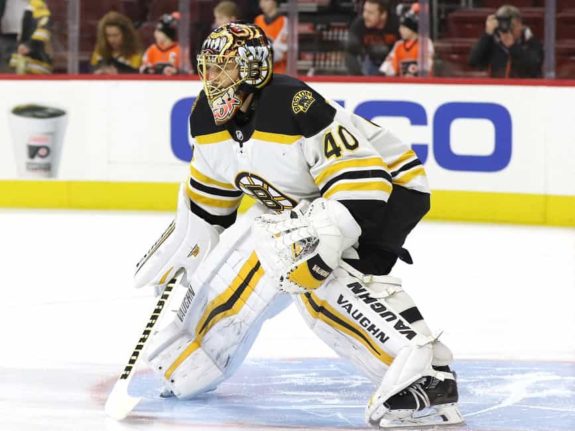 On one side, there are those who will critique Rask down to every last thing he says or does that could be construed as negative. On the other side are those who will adamantly defend the 31-year-old netminder as his "down years" came at a time when the Bruins defense was porous and shaky at best. To most of the hockey world, Rask is considered one of the best goalies on the planet. In Boston, however, that distinction isn't handed out so easily.
Still, Rask had an exceptional year in 2017-18, posting a record of 34-14-5 with a goals-against average of 2.36 and a save percentage of .917. That's even more impressive when you realize that he started the year 3-8-2. After that start, he finished the season by going 31-6-3 the rest of the way.
Alongside Rask was Anton Khudobin who put up a very respectable 16-6-7 record this season with a 2.56 goals against average and a .913 save percentage. The 31-year-old backup really stepped up early in the season amid Rask's struggle and has been reliable whenever the team has needed to hand the net over to him to give Rask some time to rest.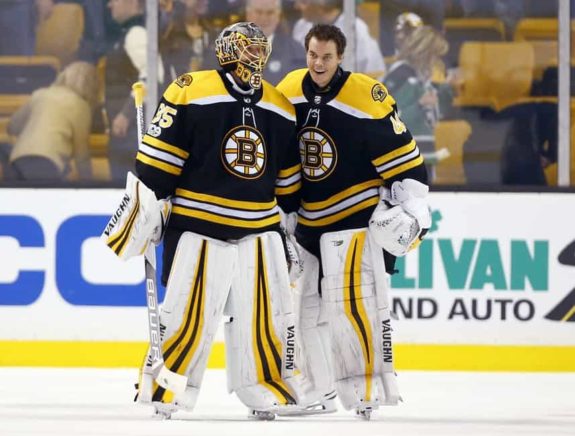 After starting at least 64 games in each of the last three seasons, including 70 in 2014-15, Rask started only 54 the season. Needless to say, the Bruins franchise goaltender is more rested this season than he's ever been in his career.
Still, not everything has been sunshine and roses for the Bruins this season.
Injuries and Scheduling Took Their Toll on the Bruins
There's no way of phrasing this other than saying it in a straight-forward manner; no team in the NHL was hit as hard by injuries in the 2017-18 season as the Boston Bruins were.
Over the course of the season, the Bruins have seen Bergeron, Marchand, Krejci, Ryan Spooner, Rask, Khudobin, Chara, McAvoy, Backes, Krug, Anders Bjork, DeBrusk, Rick and Riley Nash, Kuraly, Acciari, McQuaid and others miss time with injuries. Towards the end of the season, the Bruins found themselves without Bergeron, Rick Nash, DeBrusk, Backes, Bjork, Chara and McAvoy all at the same time.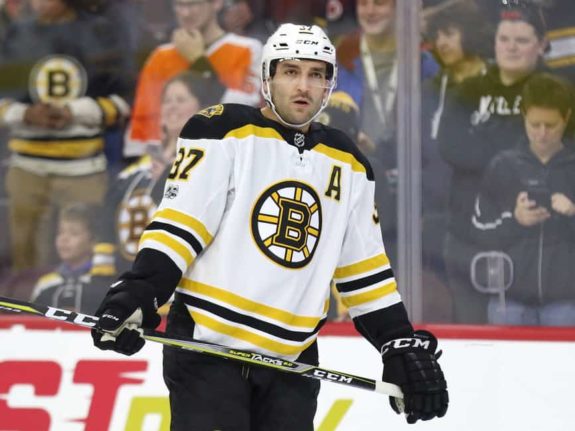 To put that in perspective, that's the Bruins No. 1 center, second-line right and left wingers, third-line right-winger, both top pairing defenders and Bjork who saw some time in the top-six this season before being relegated to a lesser role.
The Bruins played only one game without a single injury in their lineup this season. Still, the Bruins powered on and made the best of a bad situation.
Here comes the part that Maple Leafs fans will love to hear, however, as the Bruins were hit hard by an over-abundance of games down the stretch.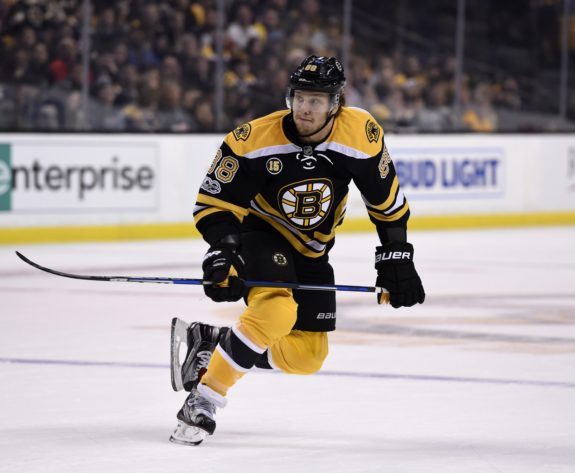 To close out the 2017-18 regular season, the Bruins played in 24 games in only 44 days, including 19 in their last 34 days – a stretch that saw them play a game every other day with a back-to-back to close out March and start April.
The Bruins stumbled their way into the playoffs in that stretch too, compiling a record of only 1-3-1 in their last five games – the latter four of which contained a game against the Tampa Bay Lightning and two against the Florida Panthers.
There are no excuses heading into the postseason. Schedules, injuries, suspension – none of it matters. A loss is a loss and the Bruins ended the season in second place in the Atlantic Division. With that said, the hand they were dealt for the postseason included the Toronto Maple Leafs; a series that should be as entertaining as it is stressful for all those involved.