In speaking to Larry Brooks of the New York Post, New York Rangers top exectuive Jim Dolan dropped a number of proverbial bombs, effectively confirming that the Rangers' rebuild won't be a lasting one. Among his comments were remarks regarding Alain Vigneault—the team's now former bench boss—input on the club's search for its next head coach, and more.
But perhaps the biggest bomb of all came when Dolan made a sequential statement about the Rangers' leadership, or lack thereof, and in reading between the lines, a not-so-veiled allusion to fixing it this summer.
Damn the Torpedoes, Full Speed Ahead!
"We need strong leadership in the locker room. I don't think we had great leadership last year," Dolan told the Post with alarming brevity. "I think maybe we added a burden to Ryan [McDonagh] when we made him captain that affected him on and off the ice and kind of changed his own perception of himself. But he was a really good player for us for a long time."
Putting aside whether or not his comments effectively explain why things with McDonagh reached the point they did with the club, ultimately resulting in a blockbuster deal at the deadline, Dolan's indictment was damning. And things only compounded when he seemingly alluded to players like Erik Karlsson and John Tavares as possible solutions to that problem, among others: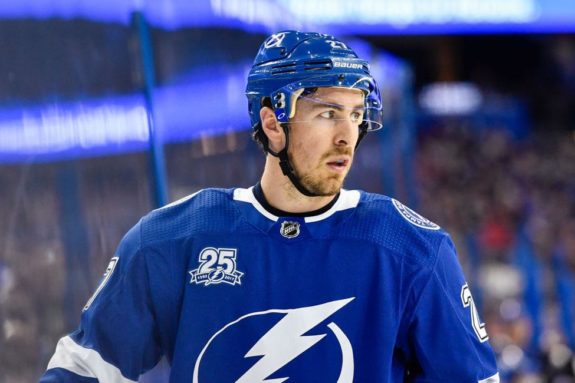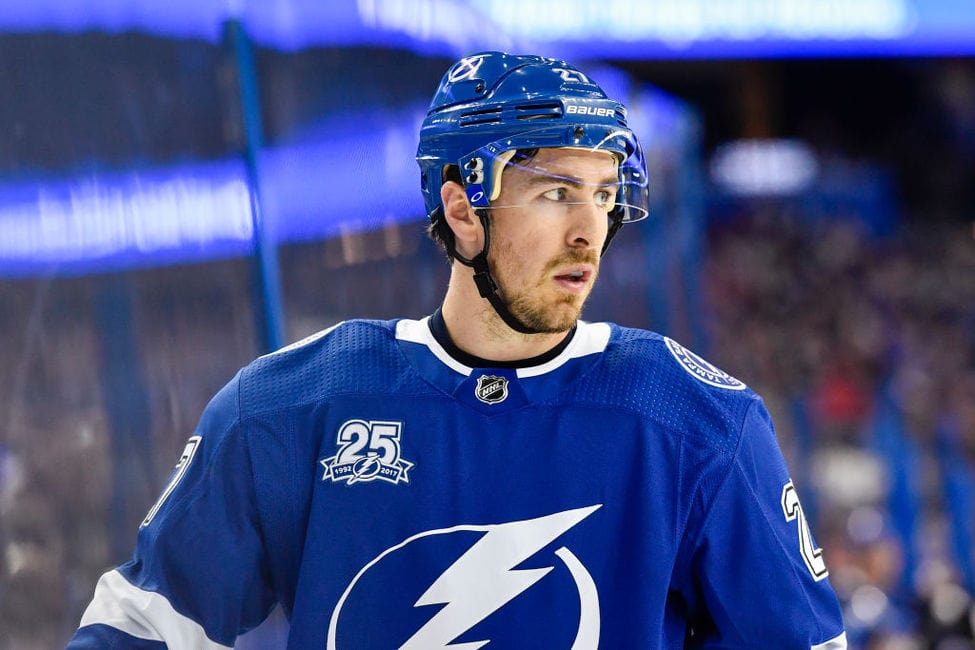 "And I know we need that one great player who can make a difference. We've identified some who might become available, and if they do, we want to be in position where we're able to get them," Dolan said.
Make no bones about it, if the Rangers are truly eying a one-year turnaround on this rebuild, players like Karlsson and Tavares are required. While a traditional rebuild in which the team strategically accepts at least a few losing seasons for prime drafting position could yield more sustainable long-term benefits, acquiring two franchise players with years of prime play left in their games in the same offseason would dramatically reopen the Rangers' window to contend while 36-year-old Henrik Lundqvist is still viable.
Moreover, either player—even both—would not only answer the need for "a great player who can make a difference," but would also resolve the leadership indictment handed down from management, given that both Karlsson and Tavares are currently serving as captains of their respective clubs.
After all, the Rangers aren't just in the market for a new coach. They're also in the market for a new captain. If he's not already on the roster—here's lookin' at you, Chris Kreider and Mats Zuccarello—perhaps he's yet to be acquired.
Related: Draft Picks More Valuable Than Zuccarello
Tavares, Karlsson Are Prototypes to Build Around
Since they joined the league in 2009-10, both Tavares and Karlsson have proven to be premier talents at their respective positions. To date, Karlsson's 518 points lead all NHL defensemen by a 69-point margin, with Brent Burns and his 449 points ranking second in that span. The smooth-skating Swede also leads all defenders in even-strength points (318), power-play points (195), and power-play assists (166). Among defenders who've played in at least 500 games since Karlsson entered the league, he's also first in points per 60 minutes (P/60) with 1.91, assists per 60 minutes (A/60) with 1.45, and primary assists (A1) with 207. And he's accomplished all of this playing for an Ottawa Senators team that's failed to qualify for the playoffs in four of his nine seasons.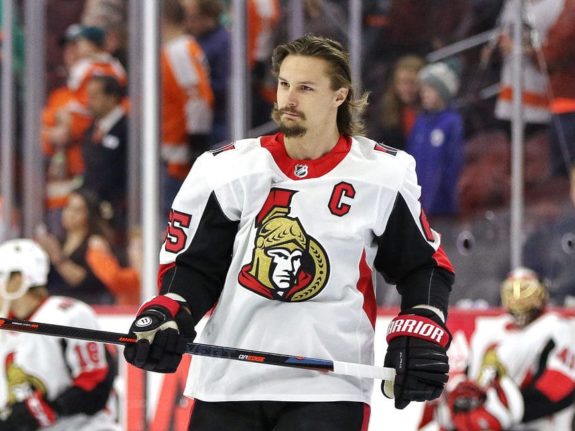 Tavares, meanwhile, has proven to be one of the league's best centers since joining the league in that same 2009-10 season. Since his rookie year, his 272 goals are third among NHL centers, trailing only Sidney Crosby (279) and Steven Stamkos (325) and his 621 points in 669 games—a career 0.93 points-per-game played average—are seventh. Again, among qualifying centers who've played in 500 games or more, he's ninth in P/60 (2.77), 15th in A/60 (1.56), tenth in A1 (221), and seventh in goals per 60 minutes (1.21).
Suffice it to say, if the Rangers are in the market for players who can make a difference, both men are more than qualified to answer the call.
Rangers Will Need to Act Boldly and Quickly
Though Ottawa Senators general manager Pierre Dorion has stated he intends to offer his captain an eight-year extension, there are questions surrounding the superstar and his desire to remain in Canada's capital city.
"At the end of the day, it will be his choice," Dorion said during a town hall meeting earlier this month. "If we offer him a fair contract and he doesn't want to sign here, then we will have to look at other options. The ball will be in his court."
There were rumors that the club nearly traded the 27-year-old at the NHL's trade deadline this season, but a deal never came to fruition. Perhaps, instead, the draft—where deals of this magnitude occur more often—will give Ottawa a second opportunity to explore the market on Karlsson. Should they, the Rangers will no doubt inquire but will need to make a serious offer if they are honest about their hopes of landing him.
On the Karlsson front in particular, given he would need to be acquired via trade, the offer will need to be fair, even bold, but will also need to be reasonable. Selling the farm for Karlsson, after all, would only rob from Peter to pay Paul, leaving the Rangers in a similar position to the one they were in before they began this quicker-than-normal rebuild.
Tavares, meanwhile, needs only to make it to July 1 for the Rangers to make their offer formal, but they can't take their time here, either. They'll be facing stiff competition from clubs eager to sign the two-time All-Star. The San José Sharks, for example, have been linked to the 27-year-old, and it's not inconceivable to think that perhaps as many as half a dozen clubs will all make serious offers for his services.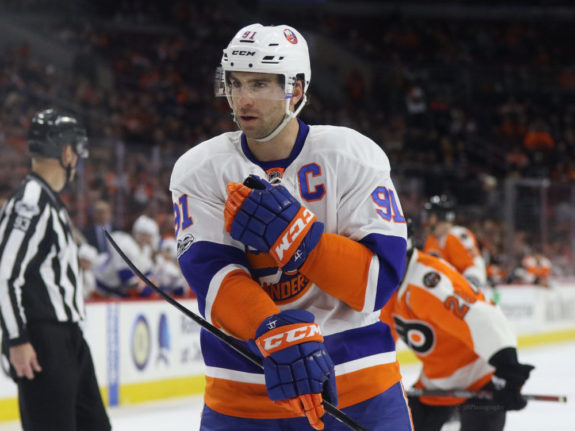 "Obviously it's a big decision and there's a lot that goes into it," Tavares told the media during the Islanders' breakup day this year. "That's a big reason why I've taken my time. I think for me personally, you realize you don't know how many opportunities you get to get to this point and possibly see what the landscape is. And I don't even necessarily know if that's what I really want to do yet."
For the Rangers, money will be no object, as the club projects to have upwards of $25 million in available cap room entering this offseason. However, the rivalry aspect must be accounted for here, and it cannot be discounted for by any dollar amount. While the Blueshirts would be certain to make Tavares a fair contract worth north of $10 million per season, accepting it would be a colossal decision for No. 91 to make. In doing so, he'd go from Islanders savior to traitor overnight, as he'd be leaving them for their most hated rival—an unfamiliar practice if there ever was one.
Related: Jim Dolan and the Rangers' Rebuild
Rangers' Goals Hinge on Big Summer Decisions
No matter the route the Rangers take this summer, Dolan's comments have made it abundantly clear that the playoffs are next year's minimum goal.
"We're committed to winning the Stanley Cup. I can't give a timetable, but I also think we can compete for a playoff spot next year and sneak into seventh or eighth place," he said. "We're rebuilding but it doesn't have to take forever."
The front office is certain to do everything it can to make sure this happens. By acquiring one of Tavares or Karlsson, it's a goal the team—which still faces numerous offseason questions—should have little trouble achieving.
In landing both, however, their goal would justifiably narrow to a much loftier task: bringing home the fifth Stanley Cup in franchise history.