The New York Rangers' 2017-18 disappointing season comes to a close Saturday afternoon against the Philadelphia Flyers in a game that only has meaning as to how low in the standings the Blueshirts can finish. Rangers' management must now set their sights on how to continue their rebuilding efforts which were declared in earnest just prior to the trade deadline.
There are many floating questions for general manager Jeff Gorton as the team prepares to clean out their stalls. Among them are what to do with the coaching staff, how to handle their burgeoning center depth, retooling a defense that no longer has a clear number one, how their aging superstar goaltender Henrik Lundqvist should be utilized, and what to do with an abundance of salary cap space.
These questions are vital to the long-term health of the organization. Most rebuilding efforts fail in achieving the ultimate goal of winning a Stanley Cup. The waters are often muddy as there is no clear right path to that end. There is no book that says, "do this, this, and this and you will become a champion." Using history and insight as a guide can improve those chances, however.
Fire Alain Vigneault? Fire Alain Vigneault!
Vigneault was brought in during the 2013-14 season to replace John Tortorella as the Rangers were sputtering in the standings. He took over for a team that had come within two wins of reaching the Stanley Cup Final in 2011-12 but had been unceremoniously bounced in the Second Round the year before by the Boston Bruins. In his first season with the team, he took them to the Stanley Cup Final where they would lose to the Los Angeles Kings four games to one.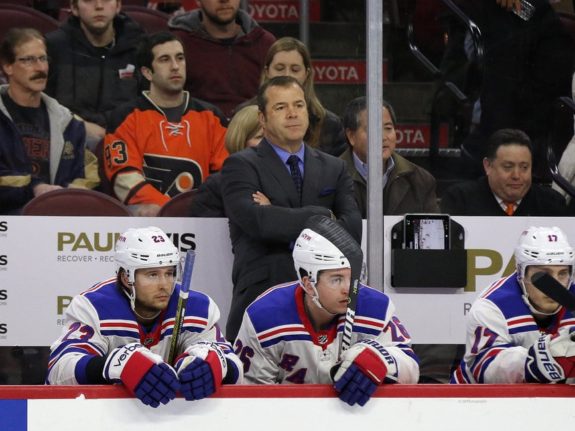 In 409 regular season games with the Rangers spanning parts of five seasons, Vigneault has a record of 226 wins, 146 loses and 37 loses in overtime – a winning percentage of .598. In the postseason with the team, he has appeared in 61 games with an almost even 31 wins and 30 losses. Over that span, the team has won six playoff series and lost four. To be sure, this is an impressive coaching run with the franchise. That is why he had his contract extended prior to the current season.
Still, the Rangers should fire him.
While Vigneault is a very good coach for a contending team, even as some knock his ability to manage in-game, he has no track record with a team that is rebuilding. His success comes with teams that have elite goaltending and top notch forward cores, which was the recipe for his two Stanley Cup Final appearances with the Rangers and Vancouver Canucks. Vigneault was let go by the Canucks when that franchise fell from Cup contenders to a team in rebuilding mode and they have yet to recover.
While it is early to determine who should replace Vigneault as the Rangers' management waits to see which other teams fire their own head coaches, that hardly matters. He has shown very little in his career as far as the ability to manage young players through their development, which will be confounded by the bumps and bruises of upcoming unsuccessful seasons.
Rangers Depth at Center
The Rangers have both a good and bad problem when it comes to their current center depth. The good is that they have a number of young prospects who will be pushing for spots on next season's' roster to accompany Mika Zibanejad and Kevin Hayes for top-nine spots. Those players include Filip Chytil, Lias Andersson, and Brett Howden. In addition, newly acquired pivots Ryan Spooner and Vladislav Namestnikov can play both center and wing.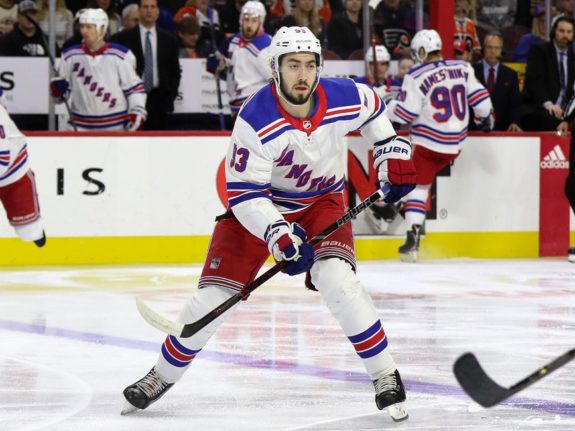 It would seem that it should be no problem filling out the three center positions given that depth and it won't be, except for the fact that among the group, there is no sure-fire top-line center in the bunch. Zibanejad has filled that role admirably considering his ability. The 24-year-old center is much the same as what the Rangers' previously had in that position with former Rangers Derek Stepan and Derick Brassard though. Zibanejad's career-high 27 goals this season would put him in line with others at the top of the position, but his 47 points in 71 games are well below what an elite center should provide.
Filip Chytil seems to have the tools that could see him develop into that role. However, the 18-year-old will have just nine NHL games of experience when the season closes and is a long way off from seizing those reins.
Trading for elite players is very difficult. It is not impossible, though. One only has to look at the Rangers' cross Hudson rival in the New Jersey Devils to find a team that managed to pry loose such a player in Taylor Hall. The Rangers' should explore every option to try to lure a more developed young center to the team. That means any of their players, prospect or draft picks must be available for the right deal. It could even mean attempting to sign Islander's captain and pending Unrestricted Free Agent (UFA) John Tavares.
What to Do About the Rangers Defense
It seems like a lifetime ago that the Rangers stepped up to the plate and brought in Kevin Shattenkirk as a UFA signing prior to this season. What the team hoped would be a final piece to a Stanley Cup puzzle collapsed miserably, as Shattenkirk failed to be given an opportunity to compete on the top pair alongside Ryan McDonagh and ended the season on Injured Reserve after trying to play through a knee injury that would eventually require surgery.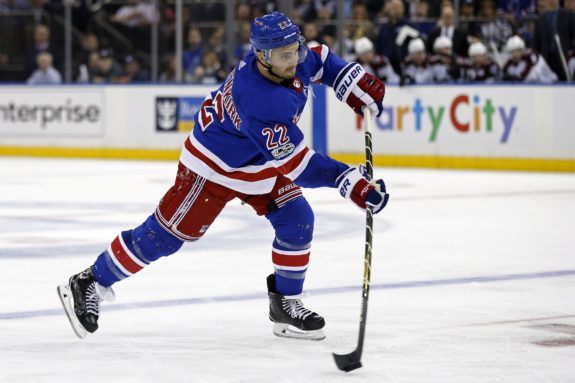 The Rangers are in a similar position on defense as they are at center. They have no true number one, yet have a lot of midlevel young players and prospects with some hope that a top pair could develop. It would be a long-shot to think that any of Brady Skjei, Neal Pionk, Anthony DeAngelo, Ryan Lindgren or Libor Hájek will become the elite level defender championship teams rely on. Anyone of them along with Shattenkirk could be the other guy on a top pair though, and the two through six defender spots have plenty of promise from within.
Barring an unlikely win of the 2018 NHL Entry Draft lottery which would allow them to be the lucky team that selects Swedish defensive phenom Rasmus Dahlin, the team will have to turn its sights to the trade market. A compelling case can be made for the Rangers' to package some of these defensive players and prospects, along with some of the plethora of draft picks they have in the early rounds to try to pry Erik Karlsson from the Ottawa Senators, who was rumored to be on the move at the trade deadline. Karlsson would help reshape the team's defense in a hurry and allow for the remaining young defenders to slot in properly.
Managing Henrik Lundqvist's Load
There is no question that as long as he remains with the Rangers' organization and is healthy, Lundqvist will be relied on as their number one goalie. He has made it clear he has no intention of waiving his No-Movement clause to be traded to a contender and is sticking with the team through the rebuild.
The King is 36-years-old though and needs to have his time in the crease managed. That's not an easy task for any coach as the ultra-competitive Swedish future Hockey Hall of Famer doesn't like to sit on the bench. The play of 22-year-old Alexandar Georgiev down the stretch has proven that he'll be in line for the backup position once Ondrej Pavelec's contract expires in July. Georgiev was sent down to Hartford to finish out the season when Pavelic returned from injury, but he will have every opportunity to fight for a spot on the roster next fall.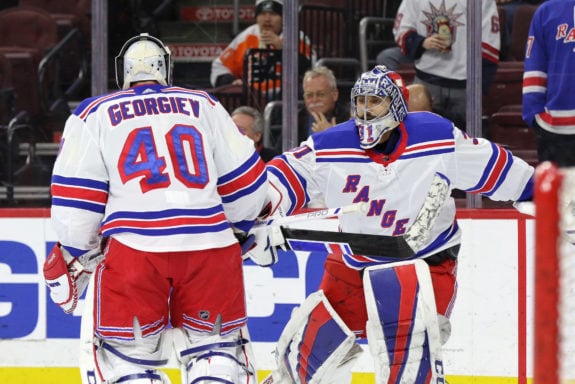 To keep Lundqvist fresh next season, the team should employ a goaltending tandem, where games are split nearly down the middle. Lundqvist likes to start games in bunches, so managing the rotation will be a challenge. It is one that is necessary if Lundqvist is truly behind the rebuild and wants to remain competitive for another couple of years.
Keep on Rebuilding?
A lot of whether the team continues with the rebuild or tries to fast track it will depend on whether they can acquire elite level talent quickly. The 2018-19 Rangers team will be night-and-day different if they can manage to bring in the likes of Tavares and/or Karlsson. Bringing in both would not just be a coup, it could instantly make the team a Cup competitor next season.
The Rangers' will know soon after July 1st what kind of team they will be. Barring those types of acquisitions, they need to stay the course. That means being a poor hockey club all of next season and potentially the following one as they give young players the chance to earn and keep ice time, despite where the team's record in the standings fall.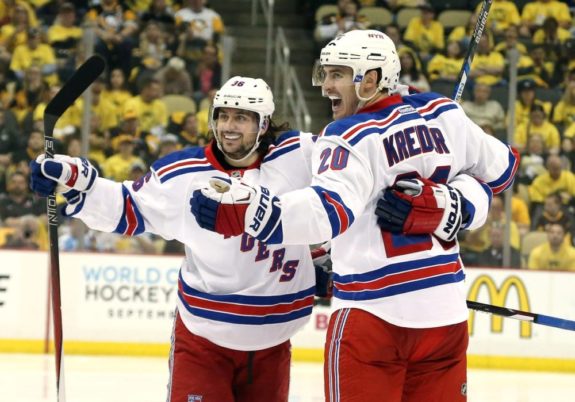 If that is the path, then they need to continue to evaluate which older players they retain with the team. That might mean moving on from fan favorite Mats Zuccarello and potentially Chris Kreider, Kevin Hayes, and others. They made the difficult choice to trade McDonagh and young forward J.T. Miller at the trade deadline. Those types of difficult decisions will need to continue.
Navigating the Salary Cap
Whichever way they end up proceeding as far as rebuilding is concerned, the team will have to carefully manage their salary cap space to use it as an asset. In the past, the team has made ill-advised re-signings such as contracts handed out to aging veteran defenders Dan Girardi, Marc Staal and Brendan Smith. Girardi had to be bought out, Smith is currently being paid $4.35 million to play for the Hartford Wolf Pack, and although Staal had somewhat of a bounce-back season, he is in no way worth the $5.7 million average annual value remaining over the final three years of his contract.
Among the Rangers' players up for new pacts with the team are Skjei, Hayes, Spooner, Namestnikov and Jimmy Vesey. The Blueshirts may choose to move some of those contracts to acquire younger prospects, more draft picks in upcoming drafts, or as part of a package for elite talent.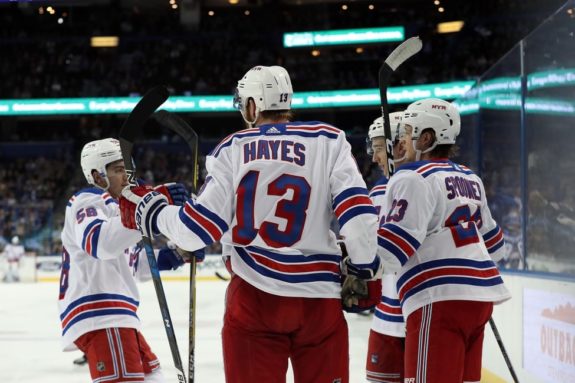 If there is no acceleration to the rebuild, the Rangers may look towards longer, lower dollar contracts for some of the players who might normally be given bridge deals. This can be a bit of a gamble, but unlike the poor contracts mentioned above, these are to younger players. If the team is looking to be competitive again in two to four years, having these players become value contracts at that point could be pivotal to allowing the Rangers to field the most competitive team possible.
Whichever Way the Team Proceeds, Every Decision is Vital
There are a lot of moving parts here to consider. Whether the team can swing the deals and signings to make them competitive again in the short-term or should they continue with the long view, a rebuild presents many opportunities to make informed decisions. Each choice becomes vital in determining just how soon the team can rise above the rest of the NHL and return to the glory of those long ago days back in 1994 when the team paraded down the Canyon of Heroes in New York City, champions of the league.