After an unforeseen, but strong, debut to his NHL career, New York Rangers goaltender Alexandar Georgiev has been sent back down to Hartford. With Henrik Lundqvist set to return from back and neck injuries and Ondrej Pavelec healthy as well, there's no longer a spot with the Rangers for the 22-year-old netminder. Although he isn't sticking through the remainder of this season, he's made a strong impression that bodes well for his future.
A Strong Start to Georgiev's Career
While his stint with the Rangers came to a tough end when he was pulled against the Capitals on Tuesday night, Georgiev was solid and, at times, spectacular in his nine games. All told, he posted a save percentage (SV%) of .918 and a goals against average (GAA) of 3.15. If you remove the performance against Washington, which is an outlier, even in a small data set, his SV% jumps to a stellar .926. For context, Antti Raanta had a SV% of .922 last season in 30 appearances.
Alexandar Georgiev with a great glove save on Alex Ovechkin #NYR pic.twitter.com/sQGyrLyWmb

— Fitz (@FitzGSN_) March 26, 2018
But the numbers, regardless outliers or not, don't paint a fair picture of Georgiev's overall performance. While there were a couple of goals he'd like to have back for sure, his play was strong for a rookie, especially since the Rangers defense has been poor. All season, New York has been one of the worst teams in the league in terms of high-danger chances against and expected goals against, and they've only gotten worse after the trade deadline.
In his seven complete games, Georgiev never faced fewer than 33 shots against and faced at least 40 on four separate occasions. In two of his four wins, he made at least 41 saves and, interestingly enough, the more shots he faced, the stronger his SV% tended to be. Even though making 40 saves per night is unsustainable, the fact that Georgiev performed well in front of a defense corps that's in shambles is a positive.
Should Georgiev Be Sent to Hartford Now?
Seeing Georgiev get sent down, especially when he's been playing well, can be a bit of a difficult pill to swallow with the Rangers no longer playing meaningful games. There are pros and cons to both a deployment in Hartford or giving him a few more games with the Rangers the rest of the way, but the timing is right to send him down now.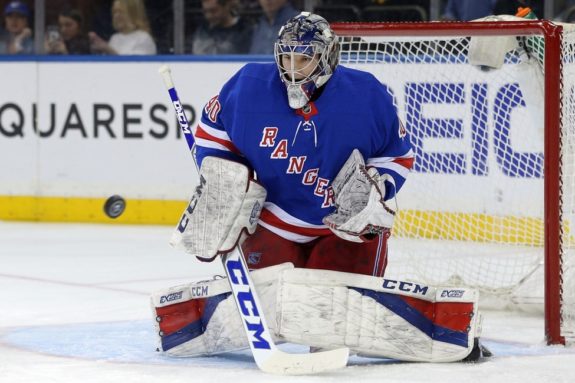 For one, both Rangers goalies are now healthy. We shouldn't forget that Georgiev only got his opportunity with New York because of Pavelec's injury. While he's been good in Hartford, he hasn't been pressing for ice time with the big club, and the AHL is really where he'll best develop right now. Pavelec, to his credit, has played well enough to deserve a couple of more NHL games to try to earn a contract for next year.
Georgiev will also get seven or eight starts with Hartford, as opposed to two or three (if any) in New York. At this stage of his career, the more games he plays, the better. It's tempting to say that there's some relief to be had in Hartford and that the Rangers brass would like to have a competent defensive group in front of Georgiev to help build confidence. But, as most of Hartford's core defensemen are in New York, that won't really be the case. As such, Georgiev should face a high volume of shots over the last couple weeks of the season and, hopefully, find an extra area or two to work on with Rangers goalie coach, Benoit Allaire, over the summer.
What Does Georgiev's Future Hold?
Despite the strong start to his career, it's still unlikely that Georgiev turns into the Rangers' number one goalie. He'll have an opportunity to prove himself, even when top goalie prospect Igor Shesterkin makes his way to North America, but the odds of him turning into the organization's top netminder are quite long. It's not impossible, though, to see him as a backup as soon as next year.
For comparison, Andrei Vasilevsky, Tampa Bay's All-Star goalie, made his debut at age 21 and posted a SV% of .918 in 13 starts. The next season, he made just 21 starts before injuries handed him the reins. There's no doubt that he is a star now and probably represents a ceiling that Georgiev won't reach, but his path could be a template that Georgiev can follow. As a backup to Henrik Lundqvist next year, he could get 20-something starts and give Rangers management a full view of his long-term potential.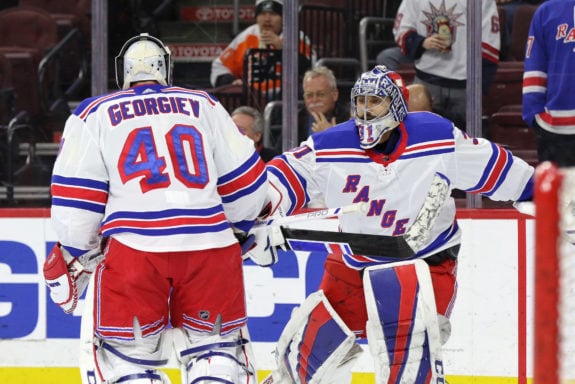 Nine games isn't nearly enough of a sample size to determine NHL viability, especially for a goalie. But what Georgiev has accomplished is a strong first impression that will give him a leg up entering training camp next season. Assuming that Jeff Gorton chooses not to re-sign Ondrej Pavelec or another veteran goalie before then, Georgiev will have the inside track for 20-25 starts backing up Lundqvist, who isn't slowing down. That could springboard the undrafted netminder to a nice career.
An Upstater and long-time Rangers follower, I've been writing about the Blueshirts off and on since college. My earliest memory is playing as the Rangers on NHL '95 for SNES, and, inconveniently, started watching as a kid right after the 1994 Cup. I look to find a balance between analytics and eyeballs, and wish it was easier to write about board play.