Nashville Predators fans have been downright giddy since last Saturday. On March 24, Jokerit was eliminated from the KHL Playoffs, allowing Predators prized prospect Eeli Tolvanentitle to make his way to the states. Tolvanen can add instant offense with his wicked shot. The Predators might have to play him on the third or fourth line, however. Will Tolvanen be the difference for the Predators in this year's playoffs?
Related: Eeli Tolvanen – 2017 NHL Draft Prospect Profile
Tolvanen Watch
In the days since Jokerit was eliminated, there have been numerous reports ranging from Tolvanen already being on a plane heading to Nashville, to hold-ups in the contract negotiation. Sources out of Finland have reported a finalized contract.
Eeli Tolvanen has signed a 3 yrs ELC with the #Preds. Same terms as McDavid, Eichel, Matthews and Hischier have in their ELC. Tolvanen also has Euro clause meaning he doesn't have to go down to Milwaukee, can come back to Europe if not playing in NHL. https://t.co/JzWtyxjuFV

— Pekka Jalonen (@PekkaJalonen) March 27, 2018
But, as of this writing, there has been no official word from the Predators on a signed contract. There will be a contract signed very soon. Hopefully, we will hear something before the game tonight with The Tennesseean reporting that Tolvanen will fly into Nashville on Wednesday.
What Is There to Negotiate?
Being that there still hasn't been a contract signed, many of you are probably wondering what there is to negotiate. That is understandable since entry-level contracts (ELCs) have a very strict mold to follow. The maximum amount an ELC can be worth is $925,000 per year for a potential maximum of three years. I say "potential" maximum of three years because the years actually depend on the age of the player. For Tolvanen's sake, he is young enough to be offered the full three-year max.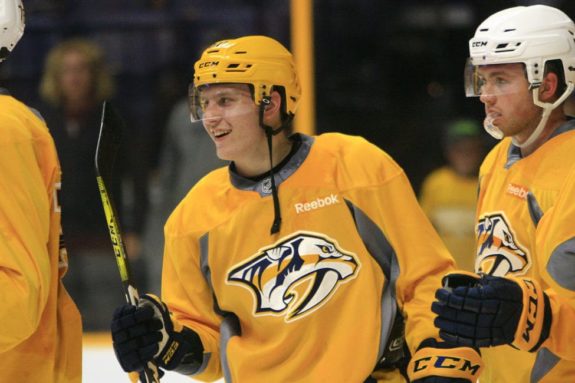 There is more than just salary to consider. Entry-level contracts are allowed up to a 10-percent signing bonus as well as up to $2.85 million in performance bonuses. According to Capfriendly.com, the performance bonuses also count against the team's salary cap. With players such as Ryan Hartman and Juuse Saros needing extensions after this season, I am sure general manager David Poile is doing his best to keep his salary cap options as wide open as possible.
If the report from above is correct, Tolvanen has been offered the maximum amount of salary and bonuses. He also has Euro clause requiring him to go back to Europe if he is sent down rather than to the AHL to join the Milwaukee Admirals.
To Burn or to Slide
There is one more ELC stipulation we haven't covered yet. The entry-level slide. The slide rule states if a player 19 years or younger plays in fewer than 10 NHL games, the contract "slides," meaning it is extended an extra year. Predators fans should be very familiar with this rule. The Predators started the season with 18-year old defenseman Samuel Girard before trading him to the Colorado Avalanche as part of the deal that returned Kyle Turris. Before the deal was made public, the Predators drew the ire of fans every night Girard didn't play as he approached his nine-game limit.
If a deal gets done soon, Tolvanen would most likely play his first game Saturday against the Buffalo Sabres. That would leave him a potential of five regular-season games before the playoffs started. He could play four more playoff games before the Predators would have to decide if it is worth burning a year off of his ELC for him finish the playoff run.
In Poile We Trust
One thing Predators fans are sure of is GM Poile knows what he is doing. The only general manager in franchise history has made numerous moves to ice the deepest and most talented roster in Predators history. He wants to win the Stanley Cup probably more than the players do. However, he is a GM first and is always looking toward the future. Tolvanen would have to prove quite a bit in his first nine games before Poile would burn a year off of Tolvanen's ELC.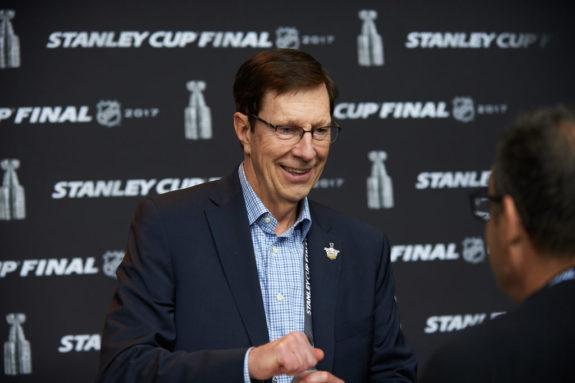 Something worth noting is that if Tolvanen's contract slides, he would not be eligible for the potential 2020 expansion draft for the new Seattle franchise. Conversely, if he burns a year this season, he will be eligible. That cannot be understated. Gary Bettman has already expressed that the expansion draft rules would be the same as this past year. Even though Tolvanen would most likely be protected, Poile is going to have his hands full choosing who to protect. If he can keep Tolvanen from even being eligible, he will do it.
Another Piece of the Predators Puzzle
Whether he plays more than nine games or not, Tolvanen is going to play. He set the KHL record for points in a season by a player 19 years or younger. Tolvanen dominated for Finland in the Winter Olympics, amounting nine points in five games. And, he can snipe with the best of them.
https://youtu.be/vQ5ijzjAyLk
Where would he fit on an already-deep Predators roster? The Predators already have a lock for their top six forwards. According to Corsica Hockey, both the JoFA line of Ryan Johansen, Filip Forsberg, and Viktor Arvidsson, and the line of Craig Smith, Turris, and Kevin Fiala have combined for 28 percent of the Predators total 5-on-5 ice time this season. It is safe to say they won't switch up those lines.
The best fit for Tolvanen could be playing alongside Nick Bonino and Mike Fisher. Tolvanen is a scoring winger and hasn't been relied on to play defense. Bonino and Fisher could make up for that. Those two play better defense than almost any forward on the Predators' roster. They are also quality veterans who can help Tolvanen grow as an NHLer even in limited time. The Predators would then have arguably the highest-caliber fourth line in the league with Austin Watson, Colton Sissons, and Scott Hartnell or Ryan Hartman.
Related: Potential Playoff Prey For Predators First Round
What About Adjusting to the NHL?
The biggest reservation most people have about Tolvanen is his readiness to make the jump to the highest level of the sport.  Most critics have questioned his work ethic and willingness to go to the hard areas of the ice. However, the Predators seem to think he is ready. The assistant general manager of the Predators, Paul Fenton, told The Athletic the following describing what he and the Predators like about Tolvanen:
When you watch the young man play, his maturity is off the charts. That's the thing that jumps out to me the most … you find that with the Finns. They know the details of the game. They pay attention to the details. They do their job. Coaches love that. It's the smarts that give you that edge to win. (from "Reinforcements expected for Predators' stretch run, including Olympic standout Eeli Tolvanen", Feb. 21, 2018)
It may take a few times skating around to get re-acclimated to the smaller rink of the NHL after spending the last year on international ice. However, with his skill and pure shooting ability, he should fit in right away.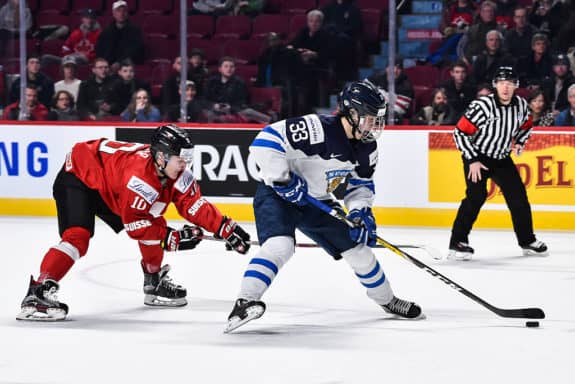 The Tolvanen Express is coming, Nashville. Whether he plays nine games, or for the entirety of the playoffs, Predators fans should be excited. Tolvanen has been the most talked about draft pick in their history for a reason. He is that good. ALL ABOARD!