With Steven Stamkos suffering a lower-body injury that will likely keep him sidelined until the end of the regular season, the Tampa Bay Lightning will be forced to face meaningful games at the end of the year without their captain. With a playoff spot already secured, it is important for Stamkos to be in full form if the Bolts intend to compete for the Stanley Cup this year. However, playing without him at the end of the season is nothing new for the Lightning, who have been without their captain in April each of the last three years.
Since taking a puck to the face in Game 7 of the Eastern Conference Final in 2010-11, Stamkos has been plagued with injuries of all types and severity. While he played a complete season in 2011-12 and half a year in the lock-out shortened 2012-13 season, he has only played 82 games once over the next five years.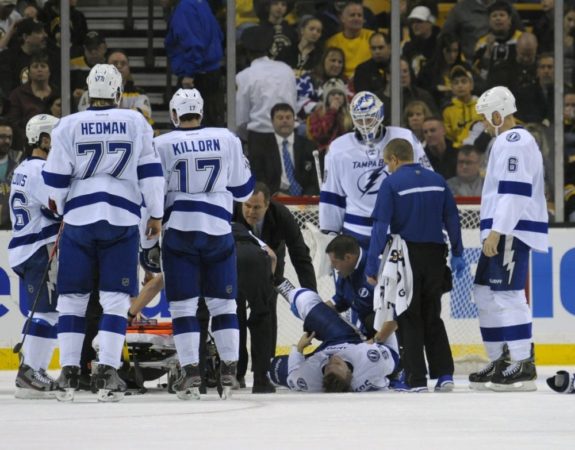 In both the 2013-14 and 2016-17 seasons, Stamkos suffered major lower-body injuries that kept him sidelined for the majority of the season after strong starts to the year. At the end of the 2015-16 season, he suffered a blood clot that forced him to miss all but one playoff game while the Lightning went on to reach Game 7 of the Eastern Conference Final without him.
Related: Lightning's Outstanding 2015 Draft
Injury Concerns Piling up for Stamkos
There isn't one injury in Stamkos' career that is necessarily his fault, of course. For example, the knee injury in 2013 was a freak accident that can occur in a game as fast as hockey. There are many great players, though, who have had their careers cut short due to injury and he could join that list if his poor luck continues.
Suffering significant, new injuries four times in five years can only wear on a player physically and mentally. As Stamkos said to Tom Jones of the Tampa Bay Times at the end of the 2016-17 season:
"There's nothing tougher than (rehabbing from injury)," Stamkos said. "The easy part is playing the game."
While he has been able to keep his production high despite his injuries, he isn't playing like the player he was once known to be. For example, despite scoring 86 points this season, he only managed 27 goals. While this is a solid number for most players, it isn't the kind of goal scoring production the Lightning had in mind when they re-signed him in 2016.
For Better or Worse, Stamkos Is Playing Differently
While Stamkos has found success acting less as a pure goal scorer and more as a playmaker, it still raises questions about his current style of play. Over the last few seasons, he has started playing a heavier game, throwing his body around more than earlier in his career. This has caused him to lead the Lightning in penalty minutes this year, including multiple instigator and unsportsmanlike conducts.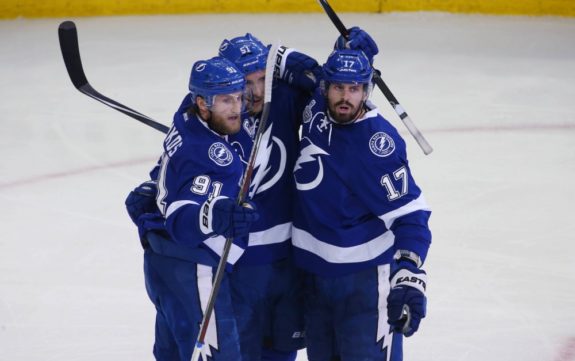 This sort of play also makes Stamkos more susceptible to injuries, since he is putting his body on the line more and more. While you have to appreciate seeing a player of Stamkos' caliber stand up for his teammates, it's not what he should be doing given his injury history. All it takes is one awkward slip in a scrum and the Lightning would suddenly be without their captain for the playoffs again.
Stamkos: Lecavalier Part II?
Ultimately, the Lightning have to feel wary about Stamkos' long-term health. They have seen this story play out before with the former face of the franchise and captain Vincent Lecavalier, who was signed to an 11-year contract but struggled to stay healthy long enough to justify the massive investment. Less than five years after the signing, Lecavalier was bought out by the team, to remove the constricting contract for the future benefit of the franchise.
This doesn't mean the Lightning should be thinking about a future without Stamkos. Much like Lecavalier, Stamkos is the face of hockey in Tampa and the franchise needs him to continue growing their foothold in the Florida sports market. His production this season is nothing to scoff at, either, so he is still earning his contract right now.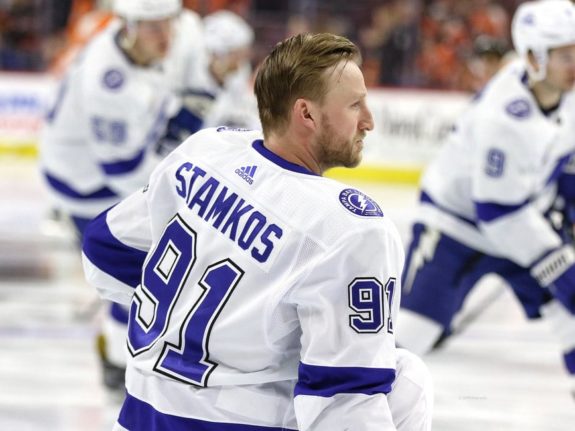 But after a few more years, these constant injuries could become debilitating for Stamkos. It wasn't one issue that cut Lecavalier's career short with the Lightning — it was a string of bad luck injuries that turned him into a player that was a shadow of his former self.
Related: Leafs Should Be Licking Chops for Lightning
Stamkos' Future Is Still Bright, but Uncertain
If Stamkos can't stay healthy now, at the start of his eight-year contract, he could be on the sidelines by the end of it. While this is a worst-case scenario, they could have another Lecavalier situation to deal with by 2020.
The next year of hockey will be telling. If Stamkos can stay healthy and productive, he will continue to be the leader for the Lightning on and off the ice. If he suffers another major injury, they may have to start thinking about a future without their current captain.