The Los Angeles Kings are officially back in the NHL playoffs. On Wednesday night, the club clinched a spot in the spring tournament after the Chicago Blackhawks did them a solid by upsetting the St. Louis Blues. The Kings continue to jockey for position in the Western Conference and, after a thrilling 5-4 overtime victory over the Minnesota Wild in the team's penultimate game of the regular season, currently sit in third place in the Pacific Division. Should the playoffs begin today, they would square off with bitter rivals, the San Jose Sharks.
Regardless of what transpires in the playoffs, the Kings can take solace in the fact that they have played their best hockey of the season over the past two (plus) months. The team was ostensibly stuck in the mud until the all-star break, but have managed to propel themselves with the help of trade deadline maneuvers as well as the return and seamless re-integration of star forward, Jeff Carter.
With that in mind, it is time to hand out team awards for the 2017-18 regular season. Although some of the award winners were clear-cut, others were far from it.
Most Valuable Player: Anze Kopitar
Candidates: Dustin Brown, Drew Doughty, Jonathan Quick
No offense to Dustin Brown, Drew Doughty or Jonathan Quick, but this award falls in the "clear-cut" category. Anze Kopitar has been nothing short of spectacular for the Kings this season. The #WeHartKopitar movement that took Twitter by storm last month, which promoted Kopitar's claim for his first Hart Trophy, was well deserved. The Kings' captain has enjoyed the best statistical season of his 12-year NHL career.
He has produced career highs in goals (35), assists (57) and points (92), which currently seed him seventh in the league's Art Ross Trophy race. He has played in all 81 of the team's games, registering a stellar plus 23 rating, while logging an average over 22 minutes of ice-time per game. Not too shabby for someone who turned 30 back in August.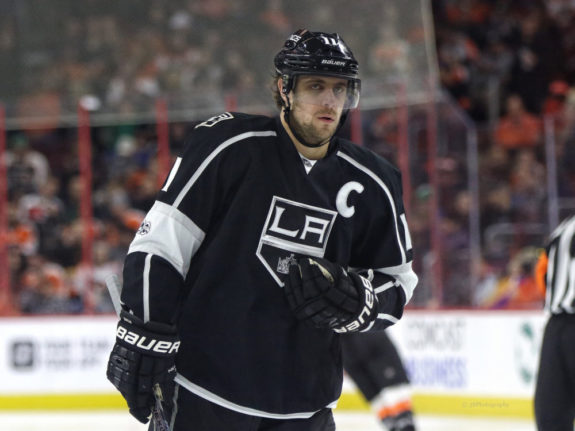 Although Kopitar's offensive stats have been stupendous, the most impressive part of his game might very well be what he has done on the defensive end. Rarely will you see a franchise, first-line center see considerable time on the penalty-kill. Not only has Kopitar embraced this challenge, he has downright excelled at it. The Kings currently sit at the top of the league's penalty kill rankings (84.9%), and the center has played a big role in it. He is the only player who sits in the top-10 of the league's scoring race, that has logged over 150 minutes of time on the PK.
For those advanced stats lovers, Kopitar has enjoyed his best statistical season in face-off win percentage (55.5%), shots blocked at even strength (49) and goals for while on ice at even strength (62).  When asked if Kopitar was deserving of the league's Hart Trophy by L.A. Kings Insider, coach, John Stevens, said, "Absolutely. I'll ask you a question. Who's more important to another team in the league than he is to ours?" This sums up Kopitar's value quite nicely.
Most Improved: Anze Kopitar
Candidates: Christian Folin, Derek Forbort, Jake Muzzin
Yes, Derek Forbort has enjoyed a breakthrough season, but it would be unjust to hand the team's "most improved" award to anyone other than Kopitar. As fans of the silver and black are painfully aware of, their star center had, unequivocally, his worst season as a professional in 2016-17. His pedestrian 52 points in 76 games, coupled with a startling minus 10 rating, had pundits questioning if Kopitar's best days were in the rear-view mirror. We know now very well that they are not.
He has registered a shocking 40 point increase year-over-year and has been far and away the team's most dangerous offensive threat. His defensive game has also seen a material lift. The NHL Network's, Mike Kelly, shared the following stat that speaks to Kopitar's defensive prowess relative to last year:
https://twitter.com/MikeKellyNHL/status/978661186244882433
Best Newcomer: Dion Phaneuf
Candidates: Torrey Mitchell, Tobias Rieder, Nate Thompson
On Feb. 13, the Kings traded for veteran defenseman, Dion Phaneuf. At that time, the team was seemingly at a cross-roads of whether or not to sell-off veteran assets and begin a rebuild or to augment the existing roster, in an effort to push for the franchise's third Stanley Cup in this decade.  General manager, Rob Blake, decided that the latter was the more prudent approach. This approach has paid off quite handsomely.
Since Phaneuf was inserted into the Kings lineup, the team has gone an impressive 15-7-2-1 and have recaptured the physical style of play that has served them so well in year's past. During this stretch, Phaneuf has been mainly been paired with fellow veteran, Alec Martinez, but was recently matched with newly signed, Daniel Brickley. Although his 10 points in 25 games do not jump off the page, the 32-year old has been a stabilizing presence for a team that was in need.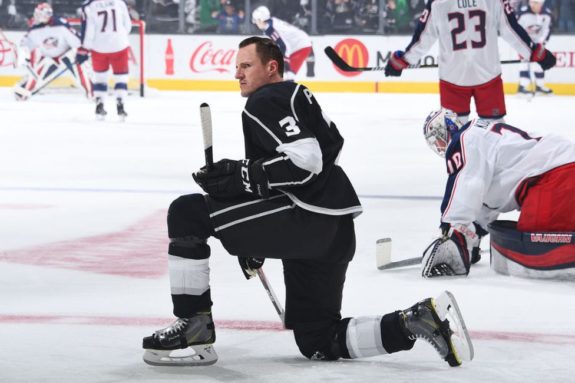 The likes of Torrey Mitchell, Tobias Rieder and Nate Thompson have all played a role in the team's recent success, but Phaneuf's commanding presence supersedes his competition. In addition, the defender has logged over 50 playoff games in his career, most recently a solid Conference Final run with the Ottawa Senators, which bodes well for the Kings this spring.
Rookie of the Year: Adrian Kempe
Candidates: Michael Amadio, Jonny Brodzinski, Paul LaDue
There should be little argument that Adrian Kempe is L.A.'s "rookie of the year". In his first full NHL season, Kempe has shown why the team took the Swede with their first round selection in the 2014 NHL draft. Consistently slotted in as the team's third line center, the 21-year old has also taken a stranglehold on the Kings'second powerplay unit, along side Tanner Pearson and Tyler Toffoli.
Through 80 games, Kempe has amassed an impressive 16 goals – which ranks him in the top-10 of all NHL rookies. Much like Kopitar, the first year pro prides himself on the defensive end, which has rendered an equally impressive plus 12 rating. This ranks him fourth among rookie forwards, behind Yanni Gourde (+29), Jake DeBrusk (+13) and Chandler Stephenson (+13).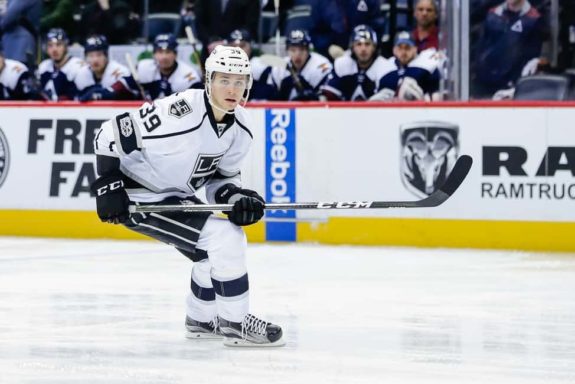 Fellow rookies, Michael Amadio, Jonny Brodzinski and, to a lesser extent, Paul LaDue, have all had respectable seasons for the Kings. However, Kempe has been consistent, durable and was able to help insulate the team's offense while (Jeff) Carter was sidelined with an injury. Kings' fans should definitely be excited about his future prospects.