On Monday night, the Los Angeles Kings exorcised some of their inner demons by appropriately dismantling the inferior Calgary Flames by the score of 3-0. With five games remaining in the team's regular season, four of which are at home, the Kings are in an advantageous position to clinch a playoff spot.
The 2017-18 campaign has been laden with juicy narratives in the "City of Angels". Namely the triumphant return of star forward, Jeff Carter, as well as the furious Hart Trophy surge for captain, Anze Kopitar. One less compelling, yet equally important tale is that of the steady advancement of defender, Derek Forbort.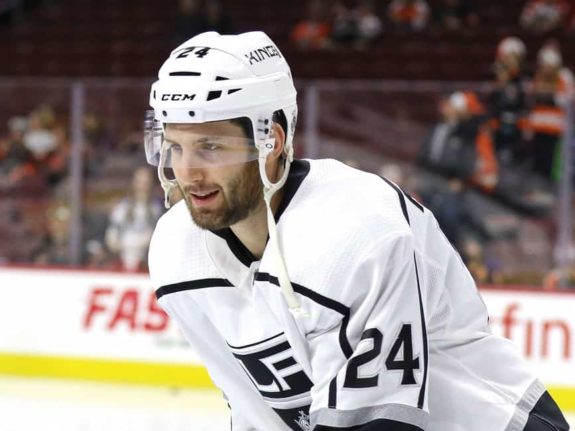 As a result of said advancement, the Kings are on the precipice of the NHL playoffs and Forbort is on the precipice of good.
Forbort's Journey to the NHL
The 26-year old was born and raised in the hockey crazed state of Minnesota, where he honed his skills at Duluth East high school. His impressive 28 points in 25 games during the 2008-09 season led to defenseman being called up to both the U17 and U18 U.S. National teams. This began a pattern of Forbort representing the red, white & blue.
Storied Career for his Country
The trajectory of Forbort's career received a material jolt during the 2009-10 season. He logged an ungodly 91 combined games with the U.S National Team Development Program (USNTP) Junior and Senior teams, where he adopted a shut-down defender role. Apparently, 91 games in a season were not enough for Forbort, as he was also received a call-up to the IIHF World U18 Championships in Belarus. The result? A gold medal for the Americans. Ironically, the top goaltender in the tournament was Forbert's now teammate, Jack Campbell.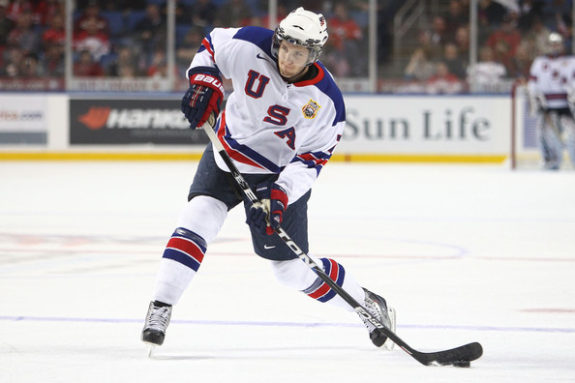 Forbort continued his patriotic ways the following two years by playing for his country at the IIHF World U20 Championships. In 2011, he was instrumental in the Americans taking home the bronze medal. The subsequent year was a disappointing one, as the U.S. were shockingly ousted in the round-robin stage of the tournament.
Drafted with High Expectations
Forbort's numbers and accolades, coupled with an imposing six-foot-five, 200 plus pound frame, piqued the interest of NHL scouts and general managers alike. As per the Hockey News, Forbort's scouting report prior to being drafted spoke to his potential:
Assets: Has shutdown upside, plenty of size (6-4, 216 pounds) and great skating ability. Moves the puck swiftly and is a good overall defender. Is capable of logging big minutes.
Flaws: Must become a more physically imposing player, since he tends to lack consistency in the hitting department. Also, the jury is still out on his long-range offensive upside.
Career Potential: Solid, reliable defenseman.
Then Kings general manager, Dean Lombardi, jumped at the opportunity to secure the services of this "solid, reliable defenseman" by selecting Forbert in the first round, 15th overall in the 2010 draft.
Prior to Forbort, who was the last Kings defender to be drafted in the first round, you ask? None other than current Kings legend, Drew Doughty.
Forbort's Fighting Spirit
After being drafted into the NHL, Forbort decided to go the collegiate route and commit to perennial hockey power, the University of North Dakota. He enjoyed a solid three years with the Fighting Hawks (then Fighting Sioux), in which he continually progressed from year-to-year. Although not blessed with a booming shot or superior puck moving ability, Forbort's forte was that of being very solid on both ends of the ice. This was on full display in his third and final collegiate year, where he registered a plus or even rating in an astounding 18 of his final 19 games.
Upon wrapping up his collegiate career and signing an entry-level contract with the Kings, Forbort took to Twitter to profess how enjoyable his experience was in Grand Forks:
https://twitter.com/derek4bort/status/320342589368844289
Majestic Monarch Milestone
Forbort continued to add to his ever growing resume by playing the next two full seasons with the Kings (then) AHL affiliate, the Manchester Monarchs. Over the course of these seasons, the hulking defender managed a stupendous plus 42 rating. Not too shabby. Forbort's resolute defending was pivotal in the Monarchs taking home their first, and only, Calder Cup in the 2014-15 season.
Yet another feather in Forbort's cap. He was yearning to take the next step.
Forbort's NHL Crusade
Although Forbort played the majority of the 2015-16 season with the Kings (now) AHL affiliate, the Ontario Reign, the undeniable highlight of his year was making his long awaited NHL debut and scoring his first NHL goal on Dec. 28, 2015. against the Vancouver Canucks.  Unfortunately for the young defenseman, the Kings had a solid group of incumbent defenders, which resulted in Forbort only registering 14 games with the big club that year.
He was on the precipice of becoming an everyday NHL defender.
Paired up with a Kings Legend
The 2016-17 season was Forbort's coming out party, so to speak. Then head coach, Darryl Sutter, decided to insulate Forbort by occasionally pairing him with all-world defender, Drew Doughty. The Minnesota native spoke highly of playing with Doughty to the L.A. Daily News, "It's definitely fun playing with him. He does such a good job communicating that it makes my job a lot easier. He's pretty easy to play with."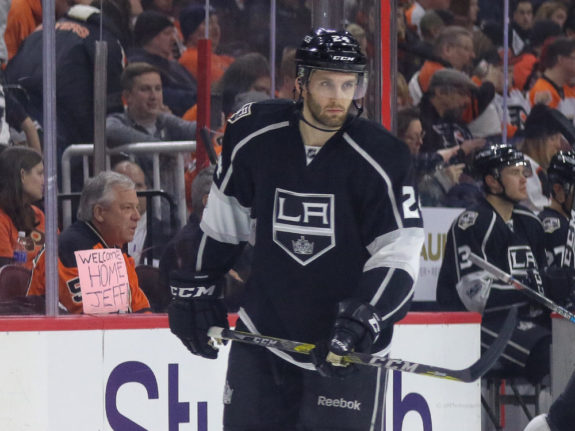 Although the Kings had a disappointing season overall, Forbort began to cement himself as a robust performer for the team. He played the entire 82 game regular season, amassing 18 points and a highly respectable plus eight rating.
New Kings head coach, John Stevens, has decided to continue on with Forbort-Doughty pairing this season, and it has rendered some appetizing results. He has become a consistent 20-plus minute per game defender. Also, with five games remaining in the regular season, Forbort is a point away from matching his point total of the preceding year and, even more noteworthy, has almost doubled his plus/minus rating (15).
Not Tough, You Say?
Forbort's all-around game has developed in an admirable way. Based on his physical set of tools, critics have claimed that he is not as tough as he should be. Some liken him to the towering and offensively gifted, yet soft, Tyler Myers, while others would like him to develop a Willie Mitchell-esque nastiness. Fortunately for Kings fans, Forbort's on-ice production have proven that he is somewhere in between.
During L.A.'s recent riveting 4-3 overtime defeat of the Minnesota Wild, Forbort showed that toughness should not be questioned:
Derek Forbort:

➡️ Ear clipped by skate
➡️ Sits out a couple shifts
➡️ Returns

— Sportsnet (@Sportsnet) March 20, 2018
From Solid to Good
Forbort is a proven winner and is progressing at an ideal rate for the Kings. Although the team is loaded with young defensive talent in their system, with the likes of Kyle Clague and Paul LaDue on the precipice of being NHL ready, Forbort is undoubtedly a long-term staple in the Kings lineup, and already on the precipice of evolving from a solid NHL defenseman to good one.