"The Carter Effect" is a a documentary that chronicles the storied career and significant cultural impact that basketball star, Vince Carter, has had on the NBA and, specifically, in Canada. The Los Angeles Kings have also experienced a similar type of Carter effect, although theirs has come in the form of star center, Jeff Carter.
On Tuesday night, the 33-year old potted a pair of goals in a 4-3 shootout loss to the Arizona Coyotes. Since his return from an early-season lower body injury, Carter has scored a highly impressive six goals and two assists in a mere nine games. Not bad for an old(ish) guy, right? It is of no surprise that the team is playing some of their best hockey of the season, and is within striking distance of second place in their division.
The fact of the matter is that Carter has been a beacon of light no matter where he has played.
Carter's Interesting Journey
Carter was drafted 11th overall by the Philadelphia Flyers in the 2003 NHL draft. Much like notable Kings of past (Jordan Nolan), present (Jack Campbell) and future (Matthew Villalta), Carter also played for the Sault St. Marie Greyhounds during his time in the OHL. In four years with the Greyhounds, he amassed a profilic total of 123 goals in 236 games.
Suffice it to say, the Flyers were salivating at the prospects of the six-foot-three, 210-pound center being an integral part of their team for the foreseeable future.
Leaving his Mark in the City of Brotherly Love
The Flyers decided to thrust Carter into action by assigning him to their (then) AHL affiliate, the Philadelphia Phantoms, for the team's 2003-04 and 2004-05 playoff runs. During the latter year, the Carter Effect was officially initialized.
The then 20-year old scored a whopping 12 goals and 11 assists in 21 playoff games. His performance helped the Phantoms execute a four-game sweep of the Chicago Wolves to win their second (and final) Calder Cup.  It was during this playoff run that the center began to cultivate a chemistry with fellow 2003 Flyers first-round pick, Mike Richards.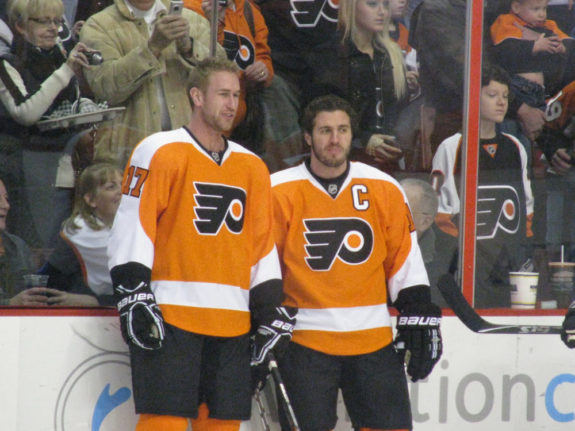 The following year Carter (along with Richards) joined the parent club and enjoyed a fruitful rookie season – netting an impressive 23 goals and 19 assists in 81 games. In subsequent years, the Flyers developed a big, physically imposing team, that helped them reach the Stanley Cup finals in 2009-10 – ultimately losing to the upstart Chicago Blackhawks in six games.
On Jun. 23, 2011, after spending six highly productive seasons with the Flyers, Carter was inexplicably jettisoned to the Columbus Blue Jackets in the following trade package:
Going to Columbus
Going to Philadelphia
F Jeff Carter
F Jakub Voracek
2011 1st-round pick
(#8 – Sean Couturier)
2011 3rd-round pick
(#68 – Nick Cousins)
Awkward Times in Columbus, Ohio
The Blue Jackets were a relatively young team that were building their organization around stud winger Rick Nash. The aim of bringing in Carter was to give Nash what he was sorely lacking in Columbus – a number one center. Unfortunately, the team had major deficiencies in other key areas that were not addressed, that resulted in some downright atrocious hockey.
Despite Carter's best efforts – scoring 15 goals in 39 games – his tenure in Columbus was both awkward and short. On Feb. 23, 2012, he was flipped to the Kings in the following trade package:
Going to Los Angeles
Going to Columbus
F Jeff Carter
D Jack Johnson
2013 1st-round pick
(#19 – Kerby Rychel)
Carter reflected on his short stint in Columbus during a 2012 interview with ESPN:
When we went in there, we had some high expectations. There was a lot of buzz around the city, and for whatever reason it didn't happen for us. You can say that we had lots of injuries and suspensions, and the team didn't have time to click, but that's kind of the way it goes sometimes. When the team performs like that, they're going to make moves.
Carter Effect in Full Swing on the West Coast
The Carter Effect certainly did not take long to come to fruition in LA. The center reunited with Richards and propelled the Kings to their first ever Stanley Cup less than four months since joining the club. He chipped in 15 points during the playoff run and, more importantly, galvanized his squad to accomplish this monumental feat.
The fun did not end there.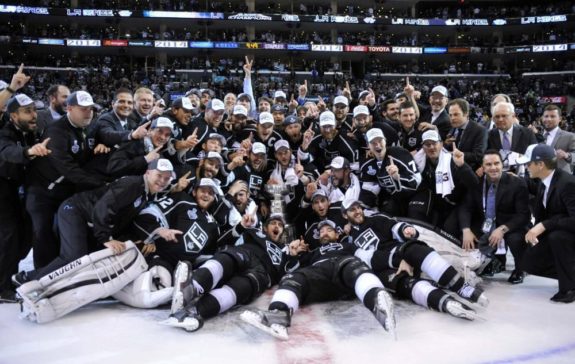 During the 2013-14 season, Carter and his teammates managed to duplicate their previous efforts by downing the New York Rangers in five games to win their second Stanley Cup in three years.  The Carter Effect was even more prominent this time around. The London, Ontario native managed to put up an obscene 25 points in 26 playoff games.
Central Figure in "That 70s Line"
During the most recent cup run, Carter began to develop an undeniable cohesion with a pair of talented, young linemates – Tanner Pearson and Tyler Toffoli. Given that all three wore numbers in the 70s, they were affectionately labelled "That 70s Line".
Yes, that name is nothing short of awesome.
Not only was the name awesome, so was the game. So much so that Sport Illustrated included it in their Hockey's All-Time Classic Lines list.  Kings director of player personnel, Mike Futa, had the following hypothesis as to why the line enjoyed such success:
Usually on a line there's one guy who's the passer, one guy who's the shooter and one guy that is the digger. They all seem to be willing to dig for each other and they can shoot from anywhere.
Remarkably, fast forward to today, and the line is still very much intact and producing. It also seems as though the fathers of each linemate enjoy one another's company:
That 70s Line™: Dads Edition pic.twitter.com/oeQIfPUi27

— LA Kings (@LAKings) February 2, 2018
Carter Effect Goes International
Despite accumulating a lengthy, stellar NHL resume, Carter has always stepped up to the plate to respond to any International requests that have come his way.  Given his willingness to accept and highly productive nature, Hockey Canada decided to keep calling.
On Hockey Canada's Speed Dial
As per the list below, the center has played a key role in becoming a U-18, U-20 and Olympic gold medalist for his native country:
Year
Team
Event
Result
GP
G
A
Pts
PIM
2003
Canada
WJC18
7
2
4
6
2
2004
Canada
WJC
6
5
2
7
2
2005
Canada
WJC
6
7
3
10
6
2006
Canada
WC
4th
9
4
2
6
2
2014
Canada
OLY
6
3
2
5
2
Junior totals
19
14
9
23
10
Senior totals
15
7
4
11
4
Carter also accepted a call-up to Canada's 2016 World Cup squad, but had to bow out due to a lower-body injury.
The Future Effects of Carter's Play
Following the 2017-18 season, Carter is on the books for an additional four seasons at an AAV of $5.27 million. Given his sustained production, undeniable leadership and uncanny ability to make those around him better, the center should continue to be a mainstay on the roster.
Once Carter does decide to hang up the skates and call it quits, his name should soon thereafter appear on Hall-of-Fame ballots.
The Carter Effect is real.