The New York Rangers still have twelve relatively meaningless games left to play in this lost season. For many players—none more than Henrik Lundqvist—the end can't come quickly enough. For others—notably, a group of five key restricted free agents (RFAs)—these final contests are an opportunity to impress Rangers' general manager Jeff Gorton in the hopes of seeing his now full-scale rebuild through to completion.
Rangers Face Big Decisions on Productive RFAs
Among the many players effectively auditioning for next season's roster are the aforementioned group of five key RFAs: Jimmy Vesey, Brady Skjei, and Kevin Hayes, as well as deadline additions Ryan Spooner, and Vladislav Namestnikov. All are eligible for arbitration this summer. Defensemen Rob O'Gara and John Gilmour are also arbitration-eligible RFAs, but shouldn't be classified in the same stratosphere of importance as the others who are measurably more productive and experienced.
The Rangers could very well trade one or more players from the big-five ahead of or at the draft this June, but whether they stay or go, all are due new contracts. While they share connective tissue in being RFAs, they're almost all at separate career junctions regarding age. This makes projecting their respective new deals a unique but not impossible task. One thing is for sure: they're all in line for raises.
Jimmy Vesey
Vesey, 24, was acquired as an unrestricted free agent (UFA) after opting not to sign with the Nashville Predators, who drafted him 66th overall in 2012. Upon fulfilling all four years at Harvard where he won the Hobey Baker award, he signed a two-year entry-level contract (ELC) with the Rangers in August 2016.
His first professional season came last year with the Blueshirts in which he scored 16 goals and had 27 points in 80 games—a 0.34 points per games played (P/GP) pace—while averaging 13:38 time on ice per game played (TOI/GP). It was an up-and-down campaign in which 10 of his 16 goals and 18 of his 27 points came before the new year.
He followed that performance up with one goal and five points through 12 playoff games in 2017 in which his TOI/GP marginally increased to 14:26. This season he's regressed ever so slightly with 15 goals and 22 points through 67 games (a 0.33 P/GP pace) in which his 14:09 TOI/GP is a gradual increase on his rookie year.
Yet Vesey, who will turn 25 this May, is arbitration eligible. That fact limits Gorton's leverage with a player who, despite the hype associated with being a former third-round pick and Hobey Baker winner, has yet to convincingly perform. He doesn't kill penalties and despite playing nearly 220 minutes on the power play these last two seasons, his overall production is more in line with an average third-line player – a role that a recent look at NHL economics suggests isn't worth investing in long-term.
The Rangers could (perhaps even should) opt to move him for younger assets but if they choose to keep him, he's a prime candidate for a one- or two-year bridge contract worth somewhere in the vicinity of $2.5 million to $3 million in annual average value (AAV). Though it's not an apples-to-apples comparison, someone like Conor Sheary, who signed a three-year, $9 million extension with the Penguins last summer could be a decent comparable for Vesey, who, due to signing his ELC as a 22-year-old, doesn't have many others in a similar contract position.
Brady Skjei
Whether he's cognizant of it or not, the moment the Rangers agreed to deal Ryan McDonagh to the Tampa Bay Lightning, Brady Skjei's value to the organization dramatically increased. Whether or not he's the answer to the question of who will anchor New York's top pairing going forward, he's the closest thing the Rangers have to fill that void. At least for now.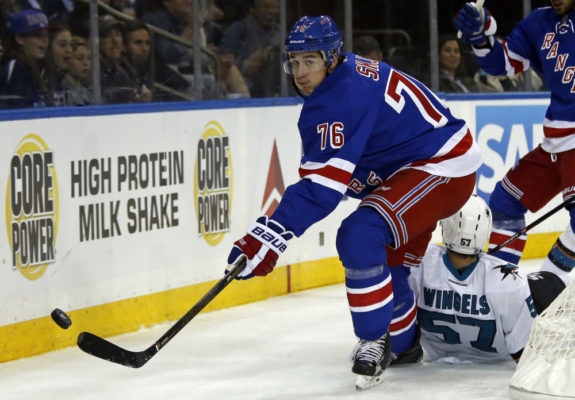 Skjei wasn't the Rangers top-pairing defender last season and even after the McDonagh trade he's second to Neal Pionk in average TOI/GP this season, though he's officially on the first pairing. Despite a rather poor sophomore season in which his production and play have both regressed from the level he established in his rookie year, he's still young and promising enough to keep around even if his role never matures to meet a Rangers' top pairing role. Gorton has little choice in the matter and so should lock him up long-term.
In many ways, the Rangers may have even benefited from his second-season slip. Skjei's particularly poor outing this year in which his P/GP pace has fallen by nearly 50% from his rookie season have probably knocked a few shekels off his asking price. A price that, with a stronger season, he may have had a strong argument in comparing to contracts like the one Jacob Slavin signed in Carolina (seven years, $5.3 million AAV) or Rasmus Ristolainen signed in Buffalo (six years, $5.4 million AAV). Even McDonagh, who signed his current deal worth $4.7 million annually at the age of 24, was already the Rangers' top-pairing defender at that time before agreeing to the extension.
A better comparable range is probably between Toronto Maple Leafs' defenseman Jake Gardiner, who signed a five-year deal worth $4.05 million annually in 2014 and Philadelphia Flyers' defenseman Shayne Gostisbehere, who signed a six-year deal worth $4.5 million per season last summer. Both signed their extensions at the age of 24 – the same age Skjei will be a little under two weeks from now.
Kevin Hayes
When the Rangers sent Derek Stepan to the Arizona Coyotes last summer and subsequently failed to sign Joe Thornton in free agency, both Mika Zibanejad and Kevin Hayes were each immediately thrust into roles they'd never experienced before. Hayes, in particular, embraced the opportunity and has developed into a fine shutdown center for the Blueshirts.
His promotion does appear to have come at the cost of some of his offense. His P/GP pace this season (0.55) is slightly down from last season's 0.64, but that could be attributable to a myriad of factors including roster composition and issues with coaching. The latter being likely given so many other individual Rangers skaters have regressed this season under Alain Vigneault. Over the totality of his career to date, Hayes is a 0.55 P/GP player.
Hayes will turn 26 this May, likely ahead of when he and the Blueshirts should expect to begin seriously discussing the optics of an extension. Given the circumstances of his age, however, he can no longer reasonably be expected to accept a bridge deal. He's one year shy of UFA, so anything more than a one-year deal for the Rangers will come at the cost of buying some of those years from him, which comes at market value.
With his point totals regressing somewhat this season it may seem like the Rangers could take advantage of his situation to get a lower AAV, but it's an unlikely scenario in his case. Given how close he is to free agency, the fact he's arbitration eligible, and accounting for his body of work juxtaposed with salary cap inflation, it's more likely he signs a contract similar to the one Derick Brassard—a 0.60 P/GP player—inked with the Rangers back in 2014 worth $5 million over five years, or perhaps the five-year contract Bryan Little—a 0.63 P/GP player—signed with the Winnipeg Jets worth $4.7 million per season. Little, a more productive player who signed at the age of 25, isn't a perfectly aligned comparable but could help Jeff Gorton in arguing for an AAV south of $5 million.
Ryan Spooner
Acquired as something of a throw-in to the deal that sent Rick Nash to the Boston Bruins prior to the deadline this year, Ryan Spooner has been a man on fire since pulling on a Rangers jersey. He has 13 points in eight games and is showing no signs of slowing down anytime soon.
Spooner appears to have found chemistry out of the gate playing on the flank of Hayes, who himself has benefited from the 26-year-old's addition. Since the Rangers traded for Spooner, Hayes has five goals and seven points in eight games.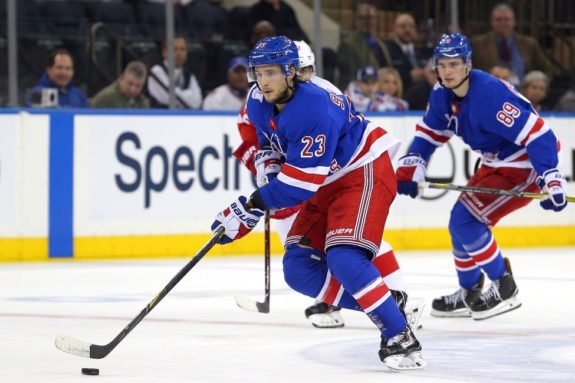 Like Hayes, Spooner is in position to cash in. I wrote back on Mar. 8 that the Rangers would be facing a tough decision on Spooner's future, and the pressure of that decision has only increased as Spooner continues to put up points, seemingly by the game.
Comparable players like Calgary Flames center Mikael Backlund (three years, $3.575 million AAV) and St. Louis Blues center Patrik Berglund (three years, $3.7 million AAV) both signed multiple year extensions at the same point in their careers; inking new deals at the age of 26, arbitration eligible, and with UFA status looming. It's possible Spooner's agent could look to a pair of centers playing for the Nashville Predators as comparables, like Colin Wilson (four years, $3.937 million AAV) and Craig Smith (five years, $4.25 million AAV). Both signed their extensions at the age of 25, so they're not directly analogous but could help in establishing a salary ceiling.
If the Rangers intend to see this rebuild through with Spooner, an AAV somewhere between $3.5 million and $4.25 million is likely what it will take to keep him in the fold.
Vladislav Namestnikov
Last but certainly not least on this list is Vladislav Namestnikov. Acquired as a key component of the McDonagh to Tampa trade, Namestnikov, who turned 25 last November, has also wasted little time in establishing a great first impression. Since the trade, he has two goals and four points in his first seven games, but a one-goal, two-point night against the Vancouver Canucks—his first as a Ranger—is largely to thank for that stat line.
Namestnikov scored a goal in the Rangers last game, a win against the Carolina Hurricanes, but had gone scoreless in the previous five contests.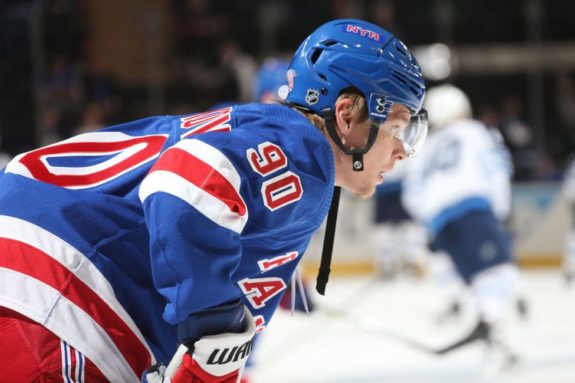 Gauging what a contract extension for Namestnikov might look like could be a cumbersome task for Gorton and the Rangers front office, though. His P/GP pace has gradually improved year-over-year since he joined the Lightning in a full-time capacity in 2014-15, but spiked thanks to riding shotgun to league-leaders Steven Stamkos and Nikita Kucherov for much of this season prior to the trade. A career 0.40 P/GP player prior to that, the time he's spent with Stamkos and Kucherov has no doubt influenced the Russian's season totals. Though he did show much of this promise before he was given that opportunity as SB Nation contributor @loserpoints eloquently noted last summer. Not to mention the fact that he clearly earned the opportunity in the first place.
Namestnikov is a strong two-way player with plenty of polish. He's drawn comparisons to players like Tomas Plekanec since his draft year for that very reason. With such a steady presence in both ends of the rink, the Rangers would be smart to attempt to get ahead of the curve by locking him up long-term now. As his play with Stamkos and Kucherov proved, a little faith now could pay off in the long run by investing in the future of a player with first-line upside. But it's not inconceivable that they opt for a one- or two-year bridge contract to be fully sure of the player they've acquired.
If they do opt to go long-term now, however, contracts like those signed by the aforementioned Bryan Little, or even Toronto's Nazem Kadri, who signed a six-year deal worth $4.5 million per season in 2016 at the age of 25 would be ideal to look to. Especially since Kadri, in particular, has made the Leafs look like geniuses by averaging 0.72 P/GP since signing his extension.
Rangers Salary Cap Space Managment
According to CapFriendly.com, the Rangers currently project to have a little more than $25 million in available salary cap space this summer. With veterans like David Desharnais, Cody McLeod, Paul Carey, Ondrej Pavelec, and Ryan Sproul—all UFAs—unlikely to return, that's a healthy figure to start from in gauging the impact that keeping the big-five would have. The totality of that range should project anywhere between $19.25 million and $21.45 million to retain the entire group. Which is why the Rangers are probably not done trading just yet.
Be it from the big-five and/or other players on their roster, the Blueshirts could significantly increase their available cap pool by continuing to make painful but necessary cuts to their transitioning team. This is a critical factor to account for, especially if they plan on being players for the likes of Ilya Kovalchuk or John Tavares this summer, neither of whom will come cheap.
This derailed season probably didn't begin as one in which the Rangers envisioned committing to a full-scale rebuild. The Stepan trade last summer might suggest otherwise, but at best was a toe in the water compared to the swan dive the McDonagh trade represents. Regardless, for the remaining Rangers, this is a new reality. And it's one they have to embrace and take full advantage of if they have any intentions of continuing their careers on Broadway.
I believe in Nate Silver, Neil deGrasse Tyson, Christopher Hitchens, the Oxford comma, and the value of white space.