In January 2015, Minnesota Wild general manager Chuck Fletcher made a trade seen as a minor deal to acquire a goaltender that could perhaps be a stop gap until a suitable starter could be found, as you can almost never find a franchise goaltender midseason. The Wild got more than they could have dreamed of when they shipped off a 2015 third-round draft pick in exchange for goaltender Devan Dubnyk, from the Arizona Coyotes.
All-Star Devan Dubnyk
Dubnyk is one of the most decorated players in Wild history already. In 2014-15, he was awarded the Bill Masterton Memorial trophy which is awarded for "Perseverance, sportsmanship and dedication to hockey." During the same season, he was recognized as a NHL second team All-Star for the first time in his career. He also has the honor of being only one of three Wild players to earn multiple All-Star game selections (two) coming during the 2016 and 2017 All-Star games.
Related: Minnesota Wild All-Star History
His four seasons (three and a half) have propelled Dubnyk into uncharted territory, already ranking among the best for goaltenders in franchise history. He currently has 131 wins (second all-time), 5,863 saves (third), a .922 save percentage (SV%, first), a 2.27 GAA (goals against average, first), nineteen shutouts (second) and 13,063 minutes (third). In such a short time, Dubnyk is dominating the Wild's all-time charts.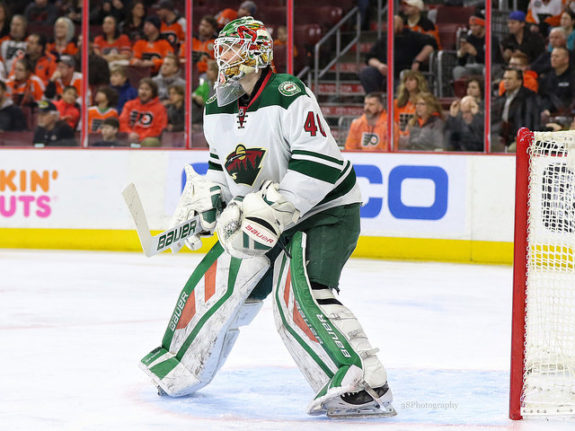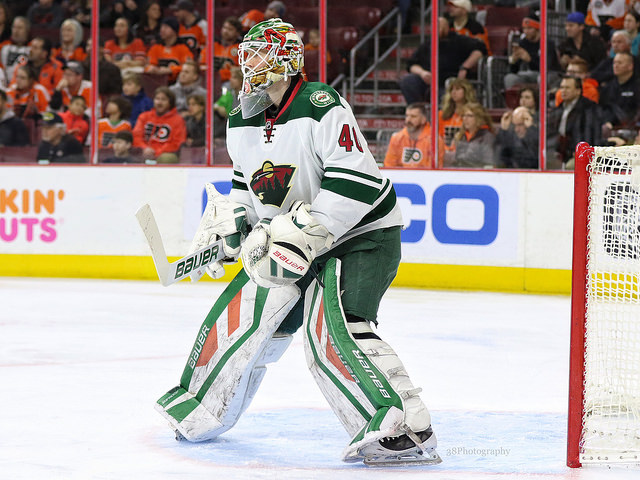 The most impressive aspect of him climbing up the ranks is that he has done it with consistency. He has posted win totals of 40, 32 (twice) and 27, good enough for first, tied-fourth, and seventh all time in best seasons for a Wild goaltender. He managed to post five shutouts in each of his first three seasons in Minnesota, with only four so far during the 2017-18 campaign.
Dubnyk also holds multiple franchise records with the word "consecutive" attached to it, including his 39 consecutive starts at goal after the Wild acquired him from Arizona. In October 2016, Dubnyk was also able to achieve three straight shutouts, an accomplishment that had never before been done in a Wild sweater. He managed to pull three shutouts off in a row for a second time in November 2017.
Dubnyk is Far from Perfect
Dubnyk spent much of his earlier years being bounced around from franchise to franchise. He had brief stints with the Nashville Predators (two games) and the Montreal Canadiens, where he was immediately placed on waivers. Dubnyk was assigned to Montreal's AHL affiliate, the Hamilton Bulldogs and never made an appearance with the Canadiens.
So why was Dubnyk bouncing around the NHL for so long before finding a starting gig? If you were to take away Dubnyk's stats with the Wild, it would be obvious why he was seen as more of a risk than a full-fledged starter. In 192 games, Dubnyk posted a record of 70-82-24 with nine shutouts. His career best numbers before Minnesota came with the Coyotes, when he had a .916 SV% and 2.72 GAA, which isn't exactly eye-popping.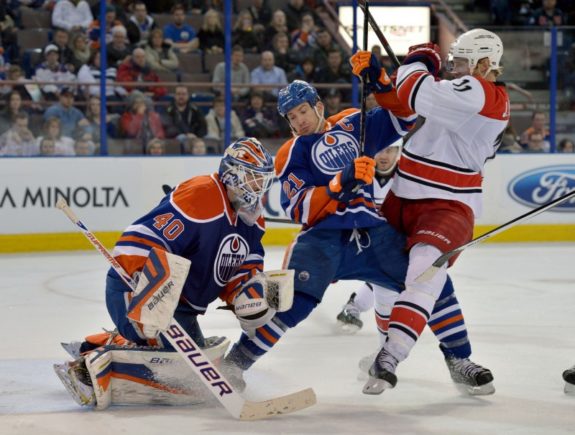 He can also produce a Jekyll and Hyde scenario at times. In his last ten games, Dubnyk has managed to allow five goals twice, finishing with below .800 SV% in each of those contests. In six of those games he managed a .930 (SV%) or better. Dubnyk is sitting at 5-3-2 in his last ten starts giving the team the best of both worlds.
Which Dubnyk Will be the Wild's Goaltender?
Dubnyk has great size at six-foot-six, 218 pounds. He has a big body that can take up most of the net. In addition, he has multiple great defenseman in Ryan Suter and Jonas Brodin (Jared Spurgeon will be another when he returns from injury). Minnesota was the perfect landing spot for Dubnyk because it gave him his best chance to succeed in the NHL. He joined a playoff-ready team with a top-tier defensive core.
Related: Minnesota Wild's Best Defenseman
The biggest problem with the Wild goaltender is that he seems to come and go. Some games he can pull off unbelievable saves, yet the next he manages to give up easy rebounds fueling scoring chances for the opposition. The Wild have to play better as a whole to give their goaltender the best chance to succeed. However, it is important that Dubnyk is playing sharp and not giving up soft rebounds by covering up the puck and not taking chances.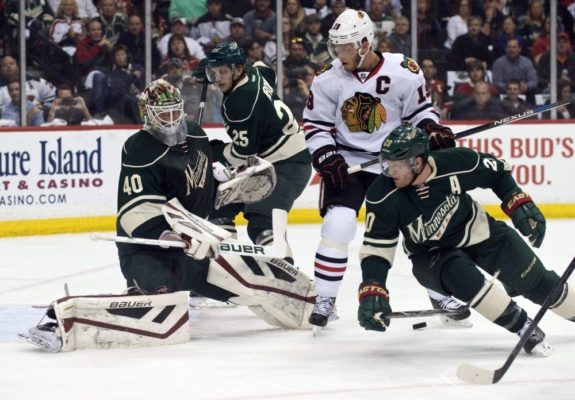 Dubnyk has come a long way from being bounced around and signing one-year deals. Now he is one of the better paid goalies in the NHL after Minnesota handed him a six-year, $26 million deal signed in 2015. One thing is for certain — if Minnesota wants to clinch a spot in the postseason and have any chance at advancing, Dubnyk will have to be playing some of the best hockey of his life. His recent stats are hopeful as it shows he is capable of delivering, but the Jekyll and Hyde balance in Dubnyk is a scary thought.