In the short history of the Minnesota Wild, defense has almost always been the team's strong suit. Most recently with the expansion draft, the Wild were willing to part with a top-tier prospect in Alex Tuch to ensure that they could hold their strong defensive core together. Tuch has succeeded in Vegas to this point, while the Wild were forced to dish off Marco Scandella in order to free up cap room. Both these moves were made in order to keep their core defenseman – Ryan Suter, Jared Spurgeon, Jonas Brodin and Matt Dumba – in Wild sweaters. Which one is the cream of the crop?
Jonas Brodin
The 6-foot-1 former first-round draft pick has been a stud since Minnesota selected him 10th overall in 2011. Brodin has appeared in 384 games for the Wild and won't turn 25 until July. He doesn't do a ton on the offensive side, registering 23 goals, 71 assists, and 94 points in his career thus far. However, he is an extremely smart defenseman who usually finds himself in the right position. Brodin possesses elite stick handling and skating abilities.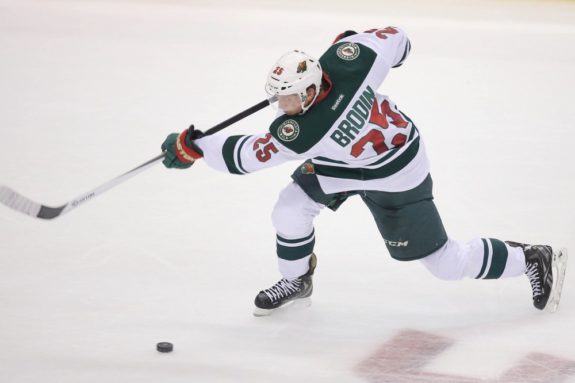 Brodin is currently being paid $4.166 million per season and has three more years to go before the contract concludes. However, he is certainly a player who warrants that type of contract. At this point in his career, he sits at a plus/minus of 43. He has finished as a negative in that category only once.
Matt Dumba
In 2012 the Wild decided to take back-to-back defensemen in the first round. With the seventh overall pick, the Wild selected Matt Dumba. At 6-feet and 184 pounds, Dumba possesses decent size but does not sacrifice mobility at all. Dumba won't be 24 years old until July and has improved every year he has been in the league. In a contract year, the Wild will have to decide if they want to keep him around, but after shipping off Scandella, it seems they'll hold onto Dumba, possibly believing he will be a cheaper option as well.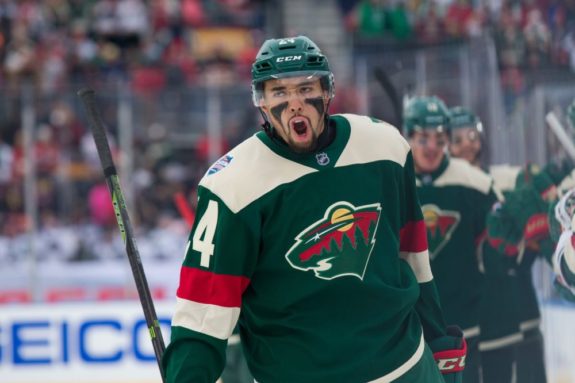 For the last three seasons, Dumba has registered at least 10 goals with at least 100 shots taken each year. This season, he has been a clutch player with three game-winning goals, two of which were in overtime. His career plus/minus is 28 to pair along with 109 points – 40 goals and 69 assists. His defense has cost the Wild multiple games in overtime due to over-pursuing the puck or just simply being out of position. He is a very shaky player, but if he can learn to be a more sound defenseman, the sky is the limit for Dumba.
Gustav Olofsson
Olofsson just turned 23 and stands at 6-foot-3, 196 pounds. He is very young and has great size for a professional-level defenseman. His game has been compared to that of Brodin. He was taken in the second round back in 2013, but has seen very limited ice-time prior to this season. After moving Scandella, Olofsson became one of the defensemen in line to replace their best blue-liner from the 2016-17 playoffs. He is a good skater and has loads of potential if the Wild stick with him. In 47 career games, he has posted eight assists.
Mike Reilly
Reilly was raised in Chanhassen, Minnesota before playing for the Minnesota Golden Gophers hockey club. He was originally selected by the Columbus Blue Jackets, but opted not to sign with the team and instead tested out free agency. It is a little concerning when this happens because the player's attitude becomes questionable, as the Blue Jackets haven't had great success in the NHL.
Still only at 24 years old, while standing at 6-foot-2, 195 pounds, Reilly has all the physical tools to succeed in the NHL. He is still given limited ice time this season, generally ranging from 12-15 minutes per game. He has only played in 81 career games at this point with three goals and 14 assists. His career plus/minus is minus-9 and he is shooting a mere 3.8%. Reilly still has time to develop in the NHL, but he is clearly the least productive of Minnesota's defensemen.
Jared Spurgeon
Spurgeon is the only undersized defenseman on the roster, standing at 5-foot-9, 168 pounds. He is the second oldest defenseman on this list as he recently turned 28-years-old. Spurgeon has played his entire NHL career after being drafted in the sixth round of the 2008 draft by the New York Islanders. Now in his eighth season for Minnesota, Spurgeon ranks fifth all-time in games played (495) and seventh in assists at (143.) He has 197 career points to pair with a plus/minus of 56, and also has 22 power play goals in his career.
What he lacks in size, he makes up for in skill. He has good speed and is a very smart defenseman. He's been rewarded with a lot of playing time alongside Ryan Suter on the top pairing for the Wild. As his power play goal total indicates, he is a reliable special teams player on the blue-line. Minnesota values him highly after handing out a four-year, $20.75 million deal that kicked off in the 2016-17 season.
Ryan Suter
One of two alternate captains for the Wild, Suter is Minnesota's prized defenseman. His 6-foot-2, 202 pound frame is perfect, but he did just turn 33 years old in January. Only once this season has he not been on the ice for longer than 22 minutes, proving he still is a workhorse on the blue-line. Suter ranks seventh all-time for Minnesota in points (239) and is tied for fourth in assists (202). He joins Mikko Koivu, Pierre-Marc Bouchard, Marian Gaborik, and Andrew Brunette as the only players in Wild history to surpass 200 career assists, although Suter managed to do it in 60 fewer games.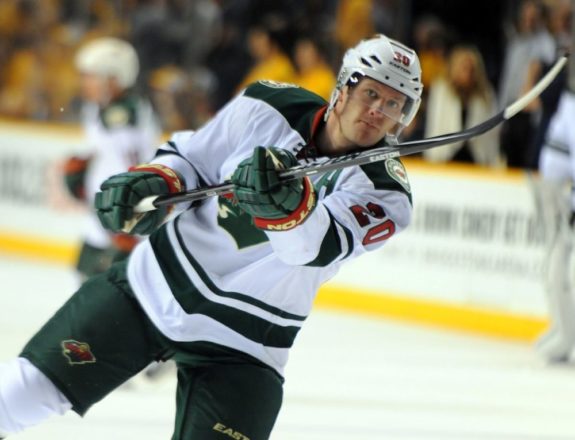 Suter has been very productive with his passing and defensive prowess. One of three Wild players to be selected to the All-Star game twice and the only defenseman to do so, he has the best plus/minus in team history (64) while setting the franchise single-season mark at plus-34 along with Jason Zucker during the 2016-17 season. As of this writing, Suter sits at 427 games played in a Wild sweater, which is one short of tying tenth all-time with Stephane Veilleux.
Related: "Minnesota Wild All-Star History"
The Wild's Best Defenseman
Reilly and Olofsson are still young defensemen who need time to polish off their games, but each remain good players for the third pair. Dumba is in need of developing some more consistency and being more aware on defense, but is certainly making strides and will hopefully be a priority for Minnesota this upcoming offseason. Brodin should hopefully get better offensively, but is already one of the more sound young defensive players in the NHL. His experience for his age is astonishing, and within two or three seasons could easily surpass every defensive player on the Wild.
Spurgeon and Suter are the Wild's top blueliners and each has some unique skills. Suter is still an elite defenseman who rarely finds himself out of place and is always ready to make a crisp pass. He can still log heavy minutes in the NHL even as he becomes older and older. For this reason, Spurgeon takes the edge as he is five years younger. Spurgeon may be undersized, but makes up for it in other ways allowing him to be a key contributor for Minnesota. He has recently entered his prime and should remain there for the next three or four seasons, giving Minnesota elite play until his contract expires.