With the rebuild of the Chicago Blackhawks being fully upon us, now is the perfect time to check in on all of their prospects to see what the future may hold. If you missed my report on Blackhawks prospects in the NCAA, definitely check that out.
But today, I want to look at the three Blackhawks prospects who are currently playing in a Junior League – Henri Jokiharju (WHL), Jake Ryczek (QMJHL), and Wouter Peeters (USHL).
Henri Jokiharju
Henri Jokiharju is an 18-year-old defenseman from Finland who is currently playing for the Portland Winterhawks of the WHL. At the beginning of the season he measured in at 6-foot-1 and weighed in at 180 pounds.
He was selected 29th overall in the 2017 NHL Draft by the Chicago Blackhawks. In an attempt to gain draft picks, the Blackhawks actually traded down in the draft, sending the 26th pick and a third round pick (70th) to the Dallas Stars in exchange for the 29th pick. Being that the draft was held in Chicago, Henri got a hometown welcome, and even had his name called by Patrick Kane and Jonathan Toews.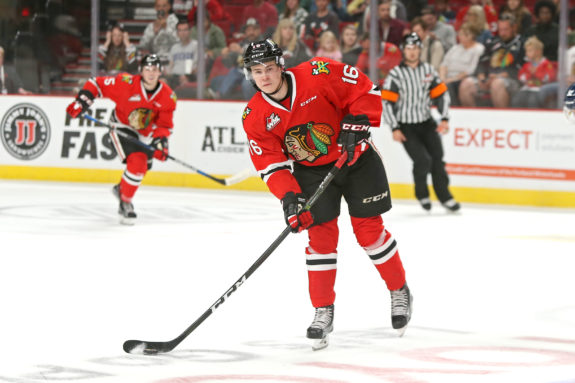 He's had an above average season with Portland this year, putting up 56 points (48 of which are assists) through 49 games. That's a 1.14 points per game pace. In 120 total regular season games with Portland, he has 104 points. Not bad for a defenseman.
But his success doesn't stop there, he has had success at the international level as well. In the 2014-15 season, he was a member of both the Finland U16 and U18 teams, tallying six points in nine total games. In the 2015-16 season he was a member of both the Finland U17 and U18 teams, where he played in 12 games. He has played 12 total games for the Finland U20 team between the 2016-17 and the 2017-18 seasons.
Jake Ryczek
Jake Ryczek is a 19-year-old defenseman who was selected in the seventh round of the 2016 NHL Draft by the Chicago Blackhawks. He is very small for a defenseman, which is definitely the main downside to his game. He measures in at 5-foot-10, and he weighs in at 181 pounds.
He currently plays for the Halifax Mooseheads in the QMJHL. So far this season, he has 15 points through 20 games and has a plus-eight rating. This season, he also played five games in the NCAA for Providence College, tallying one goal.
He has extensive playing experience in the USHL as well. He played 89 regular season games between two seasons with the Sioux City Musketeers, where he totaled 32 points. In 68 regular season games with the Waterloo Black Hawks, he amassed 49 points.
Below, you can check out what DobberProspects had to say about him.
[miptheme_quote author="DobberProspects" style="text-center"]A kamikaze-style defender who goes all-in on everything he does… offensively at least. A rover when all is said and done, he plays the game like a fourth forward and looks for every chance to put points on the board. Decent playmaking, but has a cannon for a shot – particularly when set up on the point of the power-play. Little to offer in his own zone – as raw as can be.[/miptheme_quote]
An extremely offensive defenseman sounds like a plus for the Blackhawks, but his irresponsibility in his own end, along with his size, gives him a very slim chance of developing into an NHL defenseman in Chicago.
Wouter Peeters
Wouter Peeters is a goalie for the Youngstown Phantoms of the USHL. This is his first season ever playing in North America – he spent the rest of his hockey career playing overseas.
Peeters was drafted in the third round of the 2016 NHL Draft by the Chicago Blackhawks. It is likely that his size is one reason the Blackhawks were intrigued by him, as he measures in at 6-foot-4.
This season with Youngstown, he has appeared in 21 games and has a 9-8-2 record. He currently posts a 3.21 GAA and a .889 save percentage.
You can check out his post-draft video along with some film of him at prospect camp below:
Peeters should improve his game even more as he gets adjusted to North American Ice, as well as the country and culture itself.