The Winnipeg Jets have put the NHL on notice this season with their prolific youngsters, stellar goaltending, and ability to adapt and win in any style of game. With 50 wins, they've obliterated their franchise record for most in a season by 10 and are poised for a deep playoff run.
Here are five of the most electrifying, exhilarating, action-packed contests throughout 2017-18 that illustrate they're a force to be reckoned with and the real deal indeed.
High-Powered Offence Punishes Penguins
Oct. 29, 2017
It was an early-season game, but all points count the same regardless of when they're collected. This was a very important early-season game that showed the strong character of the group.
Winnipeg was coming off back-to-back overtime losses against the Pittsburgh Penguins and Columbus Blue Jackets in which they'd been offensively anaemic and only scored two goals. Returning home, they flipped the script and exploded against a strong Penguins squad.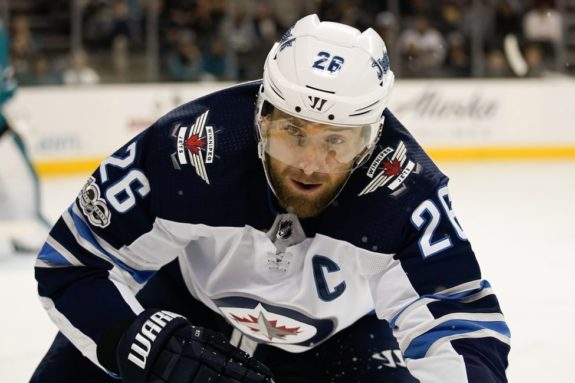 They were led to a decisive 7-1 victory by captain Blake Wheeler who strapped the team on his back and scored a hat trick in a span of 4:20 of the first period. It was the first real display of the offensive firepower for which they're now so famous.
Hellebuyck & Solid Defense Blank Canucks
Jan. 21, 2018
True contenders can survive and thrive in wars of attrition. This 1-0 victory against the Vancouver Canucks in late January illustrated they could win in tight, low-scoring games. Patrik Laine notched the game's only goal halfway through the first and the Jets never relinquished their lead.
Connor Hellebuyck was solid as a rock, making 29 saves and recording his fourth shutout of the season. He was modest in a post-game interview, saying, "The guys played really good in front of me, they kept things to the outside and made my game pretty easy."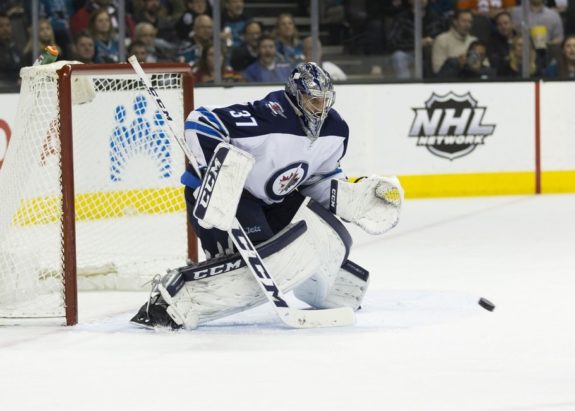 Hellebuyck was really strong but so was his assessment of the team's defence. They kept the Canucks to under 30 shots, gave their goalie a clear, unobstructed view of the puck on the majority of Vancouver's chances, and perhaps most impressively, didn't give up a shot in the final 1:30 of the game despite being down 6-on-4.
Jets Rally and Roll Over Golden Knights
Dec. 1, 2017
The Jets' first matchup of December was pegged for redemption; they were looking for their first triumph against the Vegas Golden Knights after being soundly beaten by the expansion club three weeks earlier. This was a game where everything came together for the Jets but it didn't start out so great for them, down 2-1 at the game's midpoint.
Colin Miller scored to make the score 3-1 for the Golden Knights, but Jets coach Paul Maurice's well-timed offside challenge quashed the goal. Matt Hendricks, sporting a fresh gash after taking Miller's skate across his jaw a few minutes earlier, scored to tie the game at 2-2.
The Jets rallied around Hendricks, and in the third exploded for five goals. Every time Vegas threatened to get back in the game and swing the momentum, the Jets responded and took it right back, capturing a 7-4 victory. Their special teams were also impressive — they scored three power-play goals and killed off all five of their penalties.
What was even more impressive is how Wheeler handled the win. He didn't get high-and-mighty or ahead of himself even though the win pushed the Jets to the top of the Central Division and Western Conference standings.
"There's no back-slapping," he said in a postgame interview. "I think we're enjoying winning, which is new to our group. But we're not fitting ourselves for rings, yet."
Jets Bury Avalanche in Mountain of Goals
Feb. 16, 2018
The Jets turned in one of their most dominant performances of the season with this 6-1 beatdown of the Colorado Avalanche just after Valentine's Day. Their top line, especially, broke Colorado's hearts with the trio of Mark Scheifele, Wheeler, and Kyle Connor combining for 7 points.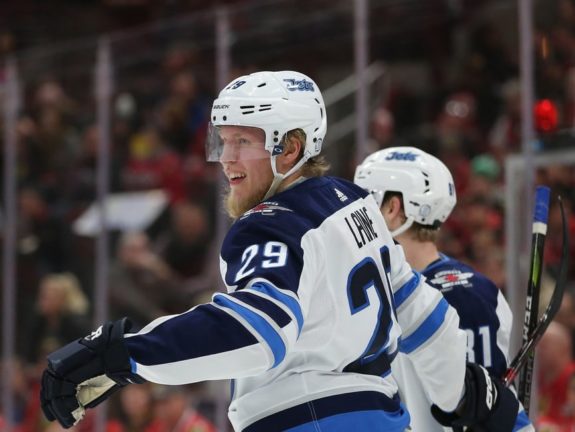 They carried the play from start to finish, outhitting the Avalanche 23-16, winning 64 percent of the face-offs, and tallying 6 takeaways. Completely in control and in-tune with each other, they were hungry for the puck the whole game and were never satisfied with the lead. Their power play, which had fizzled and only scored once in their last fifteen chances, notched a pair and they added a shorthanded goal for good measure.
Jets Cap Comeback Against Capitals
Feb. 13, 2018
It wasn't the most well-played, smoothest, or easiest game for the Jets this season but it was perhaps the most important. It was a statement game that showed their mettle, resolve, and fortitude. This gutsy 5-4 comeback win against the Washington Capitals illustrates better than any other how different this Jets team is from years past.
The victory came at a key point in the schedule and prevented the team from dropping three straight and falling into a slump. It also proved, beyond a shadow of a doubt, that they can never be counted out of a game and can win even when they're not at their best.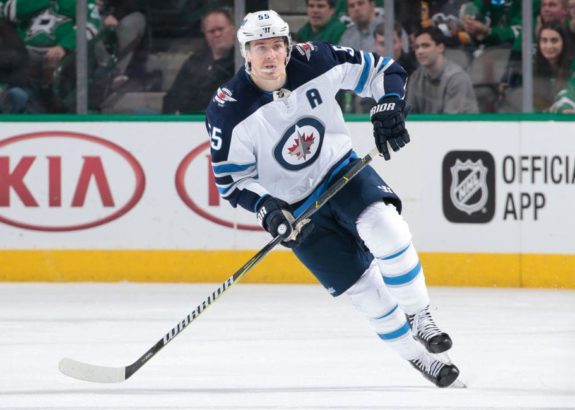 In prior years, the Jets would have folded and called it a night when they fell behind 3-1 in the third. In this one, though, they never quit. Bryan Little scored to bring the Jets within one and Scheifele scored in a wild scramble — while Dustin Byfuglien was in the box and Hellebuyck was on the bench — with just 15 seconds left to draw it even at 3.
They completed the comeback in overtime when Scheifele wound into the offensive zone and hit Tyler Myers with a pretty pass the defenseman one-timed past Braden Holtby. "It feels awesome," Scheifele said postgame. "It just shows that we battled so hard. We battled right to the end, that was top to bottom, first line to fourth line. It was an awesome feeling."
✈️ 4-3 🦅 (OT) Statement Win.

Down 3-2 with 15 seconds left, Mark Scheifele scored his 2nd goal of the game to send this Wild game in to OT. 2 minutes later, he sets up Tyler Myers for the GW. #GoJetsGo

— Central Divided (@CentralDivided) February 14, 2018
If the regular season is any indication of how compelling the Jets' hunt for hockey's Holy Grail will be, it's bound to be an outstanding odyssey. As exciting as these five games were, the most exciting hockey starts in just under a week and fans should be stoked about that.