"Our house, it has a crowd. There's always something happening and it's usually quite loud." That line, part of the Madness song "Our House," was written in 1982.
Those lyrics apply perfectly to what's been going down in the middle of downtown Winnipeg in 2017-18. The Jets have been nearly unbeatable at Bell MTS Place this year and the building's been rocking just like the house in the middle of the street. They've been so successful at home because they've used their offensive firepower and flexed their physicality. That combination's made opponents' visits to the prairie city rather depressing this season.
Opponents Hating Winnipeg for a New Reason
Historically, Winnipeg's been like the NHL's runt of the litter or youngest brother: an easy target for players on other teams to pick on, jibe at, and deride.
The NHL's low opinion of Winnipeg is well-documented. This season, for example, San Jose Sharks players panned Winnipeg in a Twitter video that's now been taken down. They called the 'Peg the "worst city to play in" because it's too cold, the days are too short, and the WiFi is too slow. (As a lifelong Winnipegger, I can confirm the city is cold and dark for long stretches of time, but personally, I've never had a problem with the WiFi here.)
Ilya Bryzgalov was also open about his disdain for the city. "There's no excitement except the hockey," he said back in 2011. "No park, no entertaining for the families, for the kids. It's going to be tough life for your family."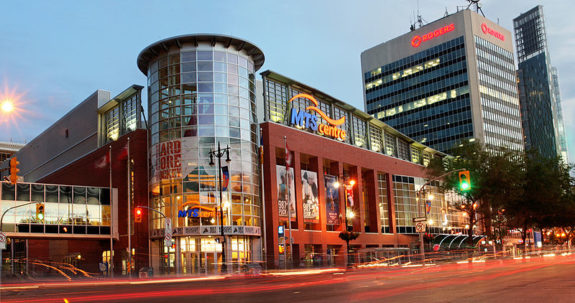 Other teams still may hate coming to Winnipeg because it's too cold and not as exciting a city as New York, Chicago, or Nashville. However, they have a new reason to hate visiting: their surly hosts and the fact they'll likely be leaving with a loss.
The Jets are an astonishing 30-7-2 in the friendly confines of their home barn. They've also tickled the twine 153 times there, most in the NHL. They haven't been one-trick ponies either. Their success at home is thanks to their well-roundedness, ability to play in different game styles, and overall depth.
Jets Winning in All Sorts of Ways
The Jets have shown themselves capable of competing — and succeeding — in all types of games. They've eked out out one-goal wins in a tight-checking, low scoring contests. They've gone goal-for-goal with teams like Vegas. They've risen from the dust old Jets squads would have been dead out of — like this frenetic, last-minute comeback against Washington.
They've used their offensively gifted forwards to collect bagfuls of goals in blowouts. They've used their bruisers to triumph in rough-and-tumble back-alley battles. They've won every type of game there is to win.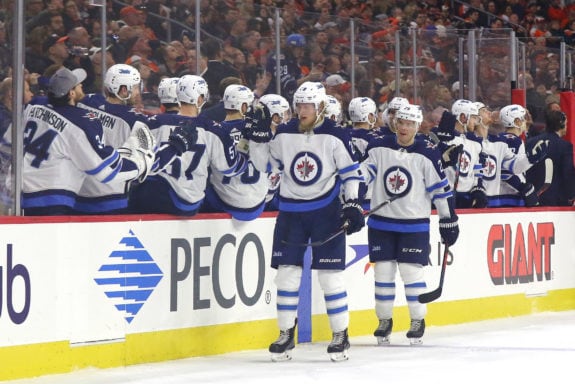 This ability to win in all situations was never more apparent in the Jets' pair of 5-4 shootout wins against Nashville and Boston in late March. Against Nashville, they fell behind 3-1 and 4-3 but responded well to adversity and stormed back. Against Boston, it was the inverse. They surrendered 3-1 and 4-3 leads but didn't collapse and still left their rink with two points.
Winnipeg Free Press sports columnist Paul Wiecek summed it up perfectly in a recent column.
"On some nights, a technician like Patrik Laine will deftly carve out your heart with almost scalpel-like precision. On other nights, a bruiser like Adam Lowry will drive a fist through your chest and take your heart out that way," Wiecek wrote. "But either way, you're in all likelihood leaving without it after a visit to Winnipeg this season."
Making Hay During Historic Homestands
The Jets have been especially successful in longer stretches at Bell MTS Place. They've come alive when they've had the privilege of sleeping in their own beds at the end of the night.
In a three-game November homestand, in which they welcomed Arizona, Philadelphia, and New Jersey, they went 3-0. In a franchise-record 10-game home stretch between Jan. 30 and Feb. 20, they collected 13 out of a possible 20 points with a 6-3-1 record. They just swept a six-gamer in late March.
The @NHLJets swept a homestand of at least six games for the first time in franchise history. #NHLStats #BOSvsWPG pic.twitter.com/4wb2hSf5Ye

— NHL Public Relations (@PR_NHL) March 28, 2018
In the 19 games that made up those three homestands, they outscored their opponents 73-45. In total, the Jets have scored 153 goals at home, tops in the NHL.
Jets' Playoff Partners In Tough
Whoever the Jets face in the first round (and any they may face beyond) of the Stanley Cup Playoffs are going to be fighting an uphill battle — a hill so steep and treacherous it may require pickaxes and harnesses to navigate.
With the standings steadily solidifying and the regular season winding down, it's likely the Jets will be meeting the Minnesota Wild — their closest geographical competition — for four or more tangos. The Jets clinched home-ice advantage with a win against the Leafs on Mar. 30, and that should strike fear into the heart of their first-round dance partner.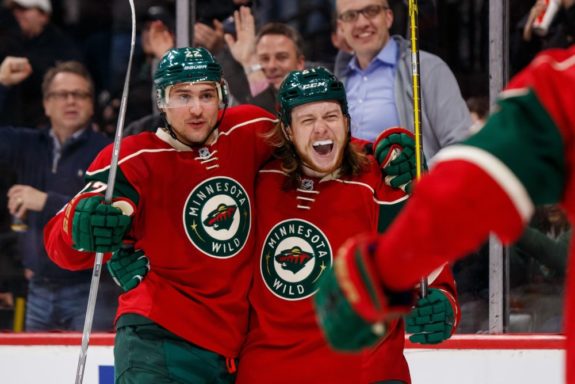 If you've been paying attention up to now, you know the Jets don't lose at home very often. It's even rarer they drop back-to-back matches at Bell MTS Place. In fact, they've done that a grand total of once all season.
And if Wild fans — who are just as rabid for puck as 'Peggers — think they'll be able to pockmark the whiteout with blotches of green, they won't have much chance. The Jets announced they'll have a measly 1,200 playoff tickets available to the general public. Their 13,000 season ticket holders (and inevitable white-wearers) have already snapped up the lion's share ahead of time.
#WinnipegWhiteout #GoJetsGo #WPGWhiteout ITS TIME!!!!!! https://t.co/89ZWQvbDv0 pic.twitter.com/7SHFkeiGQR

— Derek Molinski (@DerekMolinski) March 26, 2018
There's been a storm raging inside Bell MTS Place all season. It's been quite loud already, just like the house in the Madness song, but it's about to get deafening. The Jets have brought their Sunday — and Monday, Tuesday, Wednesday, and so-on best — at home. They've proven they can win in a chess match, a shooting gallery, and a street fight. All that's left for them to prove is that they can win in the playoffs.