It's the first week of April and the lengthy off-season has started for the Windsor Spitfires. While they lost 5-2 to the Sarnia Sting in Game 6 in the first round of the OHL playoffs, the hockey isn't completely over.
As the Spring and Summer move forward, there are still the OHL and CHL Import Drafts to take care of. The team will also be busy learning from 2017-18.
There were many things the team and its fans can take from this past season, both good and bad, that can benefit the team down the road.
Let's get the off-season started and go through five takeaways from the Spitfires 2017-18 season:
#5 – Rebuilding Was the Only Option
After winning the 2017 Mastercard Memorial Cup, Spits fans dreamt about the idea of back-to-back titles. The Spitfires did it in 2009 and 2010 so why not now? Unfortunately, it wasn't realistic.
While the team had plenty of experience coming back, such as forwards Aaron Luchuk and Logan Brown, plus defenceman Sean Day and goaltender Michael DiPietro, they lacked two major elements for trades.
In his building of the championship club, general manager Warren Rychel dealt several high-end picks away. The team was left without second or third round picks until at least 2022.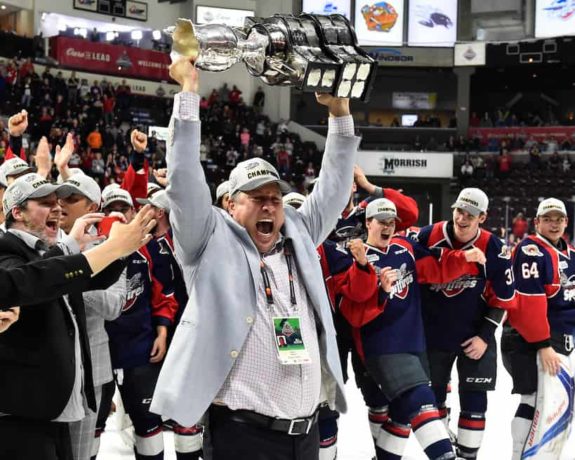 They would have also had a significant lack of assets moving forward. Rychel would have been forced to deal guys like Connor Corcoran and Nathan Staios, two key defencemen, plus potentially forward Chris Playfair and Tyler Angle. Then, you don't get Cody Morgan, Curtis Douglas or Grayson Ladd, all of whom came back at the deadline.
There's also the fact that multiple other teams made big moves to make a run. Sometimes, bowing out is the best option.
Had the Spitfires not won the Memorial Cup, all bets would have been off and Rychel may have done something drastic. They won it, though, and that made things clearer for Rychel. He did what was required and the team will reap the rewards in a couple of seasons.
#4 – Can't Score Without Shooting
The old hockey cliché is you can't score unless you shoot the puck. While the Spitfires had proven systems all season, their defence benefitted while their offence took a back seat.
Kingston Frontenacs' forward Jason Robertson led the league in shots with 308 in 68 games. Everyone in the top-100 shots-on-goal had at least 146 shots. Where was the highest Spitfire? That's forward Cole Purboo who came in 71st with 172. He was followed at 88th by Douglas who had 162 and veteran Jake Smith who was 95th with 151.
After that, it fell right off the table as only three other players – Luke Boka (130), Tyler Angle (113) and Mathew MacDougall (101) – had more than 100 shots. Fortunately, all three had more than 10 goals on the season.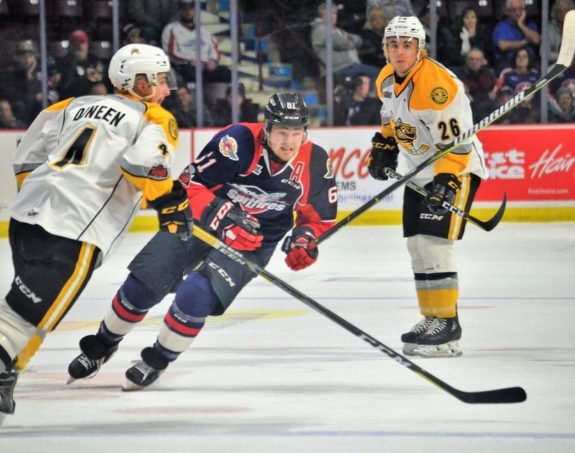 The result was the Spitfires scoring the fifth-fewest goals in the league at just 214. Compare this to the Owen Sound Attack, who had five players in the top-30 shots or the Sault Ste. Marie Greyhounds, who had five players in the top-50. Both teams were in the top-four goals-scored this season.
Defence is a key part of games, but if you can't score, you won't win. This is an area the Spitfires need to solve as they move forward in the rebuild.
#3 – Free Agency Works
It's easy to see why Rychel enjoys going out and bringing free agents to Windsor. It's a proven formula for him.
From 2013-16, Rychel brought in players through free agency including Cristiano DiGiacinto (2013), Jalen Chatfield (2014), Mario Culina (2015) and Austin McEneny (2016).
They all became key parts of the 2017 Memorial Cup roster. DiGiacinto may have been the biggest signing of the four, playing in 223 games, scoring 149 points and 369 PIM. It earned him NHL camp invites and he truly became a fan favourite.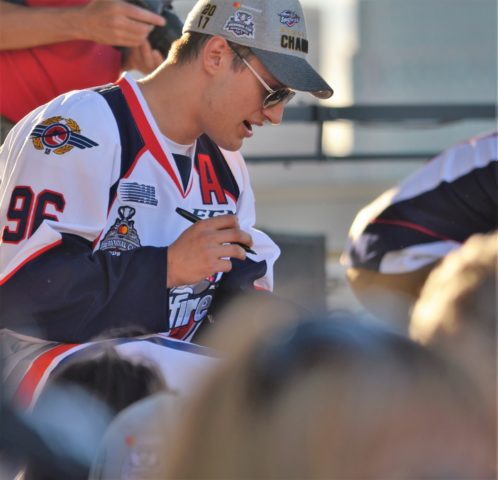 During the 2017 training camp, Rychel was at it again. He brought in Smith from Quebec, along with fellow forward Igor Larionov.
While Larionov, 19, has had some injury issues this season, he still put up 23 points in 32 games for the Spitfires. His slick skating and ability to see the ice reminded some fans of his dad, NHL legend Igor Larionov.
Smith, 20, became one of the most energetic point-producers the team had with 48 points in 59 games. When the Spitfires needed an energy boost, a big goal or an important penalty kill, Smith was on the ice. The five-foot-10, 170-pound waterbug-style forward made an immediate impact and will be a tough skate to fill next season.
While Spitfires' fans will be eager to see the newest draft picks when training camp starts, many eyes will also glance over to the free agents who come to camp. If history is any indication, there is likely to be a head-turner or two.
#2 – Backups Need Love, Too
In 2016-17, Culina was the Spitfires' backup and saw action in 21 games and almost 1,200 minutes. This season, it was a much different story.
Backups Brock Baier and Lucas Patton split the sparse duties while DiPietro played in 56 games for 3,267 minutes. Baier and Patton saw a combined 16 appearances for 824 minutes. It wasn't more than getting their feet wet and they combined for a 3-9-1-1 record. Here are the highlights from Baier's lone win this season:
While it's understandable given DiPietro's success, it also leads to goaltender burnout. After playing in the CIBC Canada-Russia Series in early November, DiPietro returned to the Spitfires and promptly allowed four-goals-or-more in five-straight games. It was very uncharacteristic of him.
There was also a streak of six games where he did the same thing in late January through early February. Despite those, he was only pulled from a game twice this season – once against the Hounds during the January stretch and once at home against the Owen Sound Attack in March.
DiPietro's talent is unquestioned and he would likely play in every game if he could. That can't happen, though. Not only does he need rest but the back-ups need a chance to show what they can do. Baier and Patton aren't here for decoration; they have futures to think about, too. Getting them proper playing time is crucial.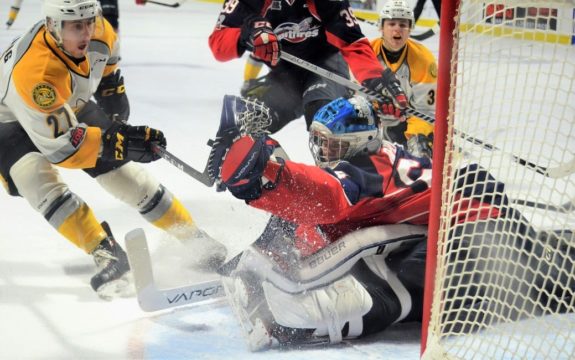 Moving forward, there's a lesson to be learned. Starters are your bread-and-butter, but backups are there for a reason and should be utilized on a consistent basis. Nobody is saying the 2018-19 backup should split the time 50-50 with DiPietro. However, you can't forget who the backups are, either.
The OHL is a development league and no matter if you're a veteran or a rookie, the only way to improve is by getting in that crease.
#1 – Strong 2018 Draft Needed
As the season comes to an end, attention shifts to the 2018 OHL Priority Selection on Saturday.
Rychel and his scouts know how important this draft is as it will likely be a focal point for the next few seasons.
The rebuild this season saw the Spitfires bring in 17-year-olds Douglas, MacDougall and Lev Starikov, plus 16-year-olds Staios, Morgan, Ladd, Louka Henault and Daniel D'Amico.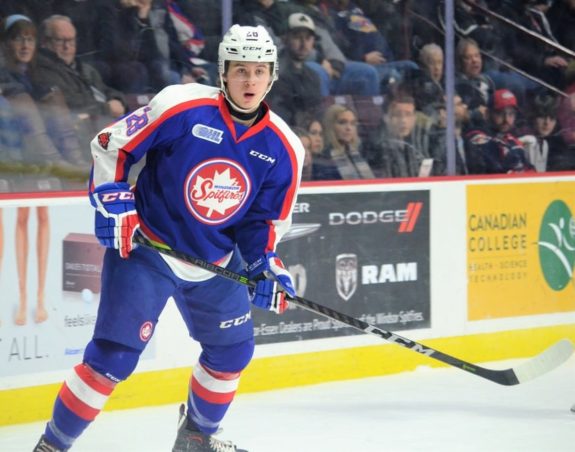 With this coming draft, the team ideally will add three-or-four more pieces that will be key parts to the next few seasons.
On Tuesday afternoon, Rychel pulled a deal with the Saginaw Spirit. He acquired the Barrie Colts' third round pick and Spirits seventh round pick this year, along with the Kingston Frontenacs' sixth round pick in 2019. In return, Rychel sent the Spirit the Sudbury Wolves' second round pick in 2021.
"We're in really good shape with now four picks in the first fifty-six," Rychel said in a press release.
"And we should be able to add a good player with the additional seventh. This could be one of our deepest drafts in years."
Championship teams are built around the draft and Rychel knows how important players like DiPietro (second round 2015), Aaron Luchuk (fourth round 2013), Ryan Ellis (second round 2007), Adam Henrique (second round 2006) were to their Memorial Cup teams.
This year's draft starts at 9 am Saturday and Spitfires' first pick is 10th overall. They have no picks in the fourth-or-ninth rounds but have multiple picks in the third, seventh and thirteenth rounds.