What a difference a year makes. After putting together a Memorial Cup caliber franchise last season, Windsor Spitfires' general manager Warren Rychel took a different approach to this season's OHL Trade Deadline.
The deadline officially passed on Wednesday at noon and Rychel did something that Spitfires' fans aren't used to. He started a true rebuild, shipping off experienced veterans and bringing in a new wave of talent.
There was a definite target this season and Rychel had his eyes on the bullseye.
Time to Buy a Program
When the 2017 calendar turned to Dec., there were still a few faces left over from the 2017 Memorial Cup championship roster. Aaron Luchuk was captain, Logan Brown was his right-hand man, Sean Day and Austin McEneny were patrolling the defence and Gabriel Vilardi was almost ready to hit the WFCU Centre ice following an injury.
Now, it's new story.
Luchuk, McEneny, Brown, Vilardi and Day are all off to new teams, hoping to get a chance at a second Memorial Cup title. The Spitfires also released forward Kirill Kozhevnikov (first-round 2017 Import Draft) and free agent Adam Kadlec.
This means a lot of new faces heading down the 401 towards the Rose City.
In the Luchuk deal, the Spitfires brought in 6-foot-8 234-pound center Curtis Douglas. He's adjusted well to the Spitfires' lineup and, being just 17-years-old, he's going to be a mainstay.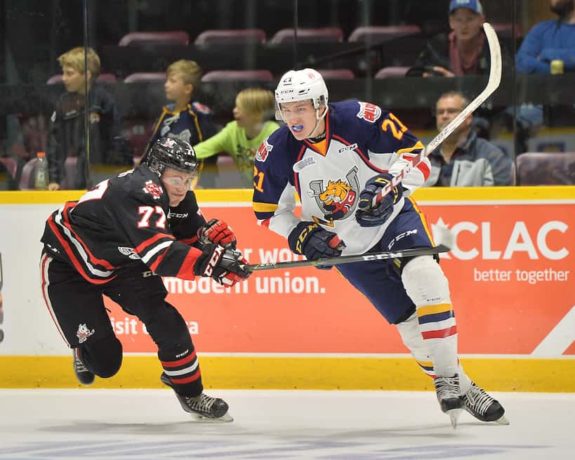 The Day and Vilardi deal with the Kingston Frontenacs saw 16-year-old forward Cody Morgan come the other way. He's only had three games with the Spitfires so far but has a pair of points. He's expected to be a top-flight center when he reaches his potential.
Grayson Ladd, who's from the Chatham area, was the key piece to the Kitchener Ranger's deal that saw Brown and McEneny heading out of town. The 16-year-old defenceman was the Rangers' first-round pick in 2017 and will develop next to fellow 16-year-olds Nathan Staios and Louka Henault.
OHL Experience Still Mandatory
While those three youngsters will help the Spitfires now and down the road, Rychel knew that OHL experience on a club is required. You need veterans to lead the way.
He went out and acquired 20-year-old Zach Shankar from the Niagara Ice Dogs for a seventh-round pick in 2019. Shankar is a 6-foot-1 200-pound defenceman who brings toughness and leadership abilities to the club. Shankar has already played in a game, suiting up when the Spitfires were in Ottawa to take on the 67s. A hard-nosed veteran like him will go a long way for this franchise.
With the release of Kozhevnikov, Rychel brought in a second Import player (max. per league rules) in Cedric Schiemenz. The 18-year-old German forward was selected by the Rangers in the 2016 CHL Import Draft and scored nine-points in 49 games in 2016-17.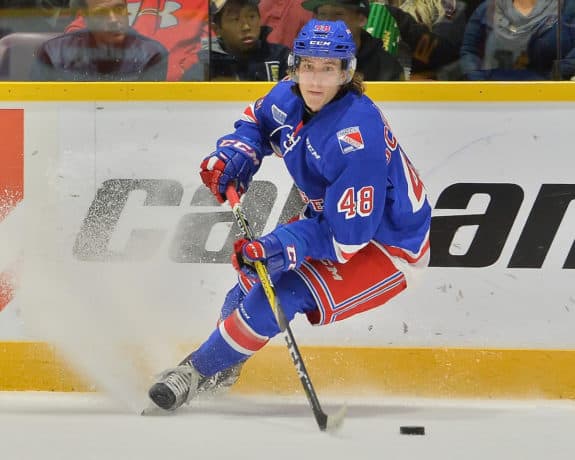 This season, he moved back home and had 17-points in 31 games for the Dresden Ice Lions in the German Second League (DEL 2).  Listed at 5-foot-11 175-pounds, Schiemenz put on more than 20-pounds since he left the Rangers and that added strength will go a long way to adjusting to the OHL life.
Swimming in Draft Picks
While a veteran roster was big in winning last season, it came at a price; dealing away a lot of draft picks. It was worth it to raise the trophy, but now there was work to be done.
The Spitfires were left without second-or-third-round picks until 2024 and didn't have any picks in 2018 between the second-and-fifth rounds.
This is where Rychel had to get creative. It started in the summer when the Spitfires dealt veteran Logan Stanley to the Rangers for a handful of distant picks. Then, between the Luchuk, Brown and Vilardi deals, the picks kept on coming.
Now, the Spitfires have second-round picks in every draft except for 2020 and third-round picks in 2018, 2020 and 2023. It's not a full cupboard, as the team still lacks picks in rounds four and five in 2018, but it's certainly better than it was. Any remaining picks can be obtained just before the draft this year or through future deals.
This wasn't an easy task but Rychel was up to the challenge. Picks are a commodity, traded like currency. Rychel has hit the jackpot before, though. We can't forget that former Spitfires' great Ryan Ellis was a second-round pick and Luchuk was a fourth-round pick.
Smart drafting is the key to success and Rychel has set up the team perfectly for the long haul.
King of Crease Maintains Throne
There was one player that was at the forefront of trade rumours throughout the deadline season – goaltender Michael DiPietro.
A second-round pick by the Spitfires in 2015, DiPietro has been the face of the franchise since almost day one. The Amherstburg native has been one of the most popular Spitfires, not only at the arena but throughout the community.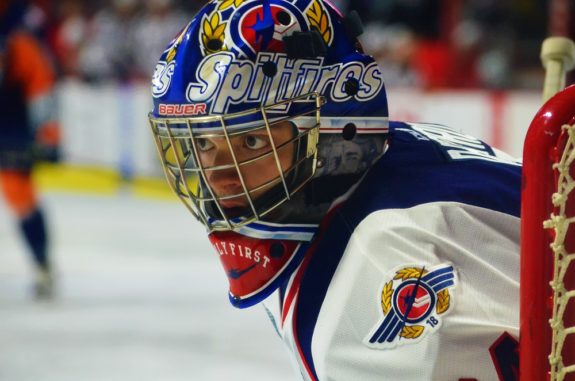 His talent, though, meant contending teams would be lining up for his services. Being just 18-years-old, he has another year-and-a-half left before his overage season. The Vancouver Canucks prospect is one of the top goaltenders in the league this season and his trade value reflected that.
However, Rychel never budged. Teams offered and Rychel listened but, at the end of the deadline, DiPietro remains a Spitfire.
The off-season could be a completely different story. It would be wise for the Spitfires to look at moving him to a contender either in the summer or in a year from now at the 2018-19 trade deadline. He would certainly fetch several second-round picks and likely a 2002-born rookie.
That's in the future, though. Right now, fans are likely to hear number 64's name called when the starting lineup is announced.
Time to Repeat History
While Rychel has been a part of two partial rebuilds – 2011-12 and 2014-15 – where he dealt a smaller number of players away, such as Jack Campbell and his son Kerby, this was a bigger rebuild. This one was similar to when he bought the franchise with Bob Boughner and Pete Dobrich in 2006.
In that rebuild, the Spitfires, still at the old Windsor Arena, brought in several young talents through trades and drafts. Players like Adam Henrique, Taylor Hall and Ryan Ellis grew and developed together on their way to back-to-back Memorial Cups in 2009 and 2010.
We're back in the same position again. A chance to grow and develop a new roster.
Less than a year ago, Spitfires' fans saw a Memorial Cup title. If all goes well, in a few seasons, the Cup might be parading down Ouellette Ave for the fourth time. This is what junior hockey is all about.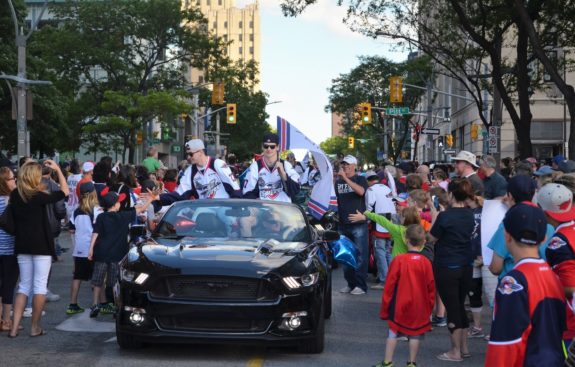 The new-look Spitfires will take to the ice for three games this weekend, starting on Thursday night at home against the Sarnia Sting. That's followed by a game in Sarnia on Friday night before wrapping up the weekend at home on Sunday afternoon against the Saginaw Spirit.