As New York Rangers fans are all too aware, no prospect comes with a guarantee that they will live up to their draft status or show the same promise at the NHL level that they do in lower leagues. When the team drafted Lias Andersson with the seventh overall selection at the 2017 NHL Entry Draft and then followed that up by taking Filip Chytil with their own pick at No. 21, they were making a commitment to their future at the center position.
Much has already been made about the need for the Rangers to rebuild their prospect pool after recent seasons' trade deadlines had depleted the team's draft picks in attempt after attempt at an elusive Stanley Cup championship. These two young centers can help form the future core up the middle and will have an opportunity to show where they are in their development as the 2017-18 NHL season winds down.
A Look at Chytil and Andersson Before the Slide
The NHL Collective bargaining "slide" rules allow 18 and 19-year-old players on entry-level contracts to play in up to nine NHL games before they burn the first year of their contracts. According to assistant general manager Chris Drury, that is likely to occur before the end of the season for both centers. While Chytil played in two games at the start of the current NHL season for the Rangers allowing seven more before his contract would slide, Andersson started the season on loan to Frolunda HC of the Swedish Elite League allowing the Rangers to call him up for a full nine-game look.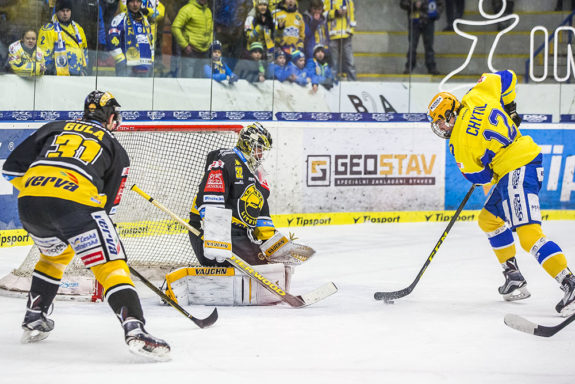 Prior to the Rangers training camp last fall, Andersson was expected to be the player that was more NHL-ready. Chytil, then just 18 years old, barely made the age cutoff to be eligible for the 2017 draft. He seemed destined to be returned to his Czech Republic Junior team after getting a taste of New York. As camp rolled on, their outlooks switched. Andersson would not make the opening night roster while Chytil would skate in his NHL debut. It would be short-lived, as the forward managed just under 13 minutes spanning two games before being sent down to the Hartford Wolf Pack of the AHL.
NY Rangers Prospect Centers Reunited for the Wolf Pack
After scoring six goals and adding one assist while captaining an impressive run that fell just short for team Sweden at the World Junior Championship losing in the gold medal game to Canada, Andersson would make headlines when he tossed his silver medal into the crowd.
The Rangers didn't seem to be too bothered by the display of emotion. They brought the young Swede over to North America a few weeks later to play for the Wolf Pack and continue his development. Anderson would play in his first professional game on Jan. 24, 2018, joining Chytil who was already starting to turn heads in Hartford with his highly skilled play. The pair would be productive for the Wolf Pack.
The Wolf Pack play the first game of a back-to-back set tonight at Charlotte. Entering today, Filip Chytil and Lias Andersson rank first and second, respectively, among AHL players younger than 20 years old in points per game this season (Chytil – 0.72; Andersson – 0.67). #NYR

— NYR Stats & Info (@NYRStatsInfo) March 9, 2018
To date, Chytil has produced 28 points (10 goals, 18 assists) in 40 games, while Andersson has put up 12 points (five goals, seven assists) in 19 games. The Wolf Pack would go unbeaten in regulation over the eight games after the pair were reunited and it looked like the team that had struggled for most of the season might be able to get back into playoff contention. That was until injuries and trades by the Rangers forced them to strip the Wolf Pack of their best defensemen. Hartford has fallen since then, but there is no denying the impact Chytil and Andersson have had on that team.
Rebuild Should Give Chytil and Andersson a Shot
With the Rangers having announced their intention to significantly rebuild their roster, first with a letter to fans announcing their intention to reshape the team and then a blockbuster trade deadline sell-off, it is not surprising that their two top forward prospects would get a look as the season comes to a close. Given the number of games the pair can play because of management's contract concerns, if the goal is to have both finish out the season with the big club, Andersson would likely see a call-up by the Rangers' game against the Flyers on Mar. 22 while Chytil will have to wait until their Mar. 26 against the Capitals.
Expectations in the short-term should be tempered. With Mika Zibanejad and Kevin Hayes currently centering the top-two lines, Chytil and Andersson will likely replace David Desharnais and Peter Holland in the bottom six. At that time of year and in the likely position the team will be at in the standings, most NHL head coaches would find opportunities to elevate young players being evaluated. It will remain to be seen how Rangers' head coach Alain Vigneault handles the unfamiliar task of mentoring a team out of contention.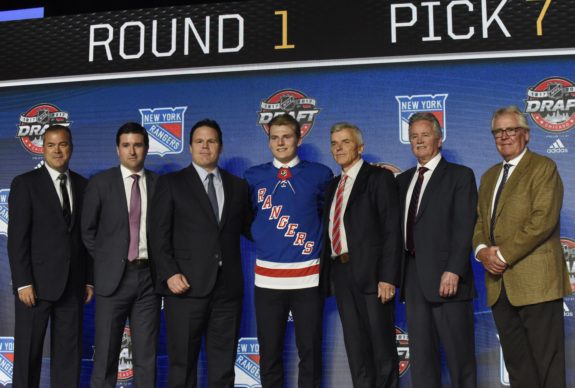 Chytil and Andersson Play Different Roles But Have Similar Value to Rangers
Successful NHL teams have a balance of offense and defense, finesse and physicality. Should both Chytil and Andersson eventually form part of the Rangers' core, they will help to cover all of those bases. Andersson projects to provide the strong defensive game and leadership the Rangers lost at pivot when they traded center, Derek Stepan, to acquire the draft pick used to select the young Swede. Andersson is known for his work ethic and two-way game. Chytil, on the other hand, is a dynamic offensive player who can bring fans out of their seats. He excels in open ice but has shown a willingness to go to the dirty areas to score goals as well.
From the day they were drafted together, Chytil and Andersson have been linked. Despite their vastly different styles of play, both have a similar value to the rebuilding Rangers. Neither is a lock to start next season in Rangers' blue, but given their potential and the state of the roster, both will be given a long look. That audition will start as soon as they are called up this season. Rangers management and fans have to be hopeful that the two will play a significant role in the Rangers' return to contention.