With 15 games to go in the Vancouver Canucks' season, this has officially become audition time for almost everyone on the roster.
While that holds little meaning around the league, it should mean a great deal to the remaining players in that Canucks locker room, who are all playing for jobs next year.
Of all the Canucks playing for jobs, there might be no one with more to gain than Derrick Pouliot.
On a thin Canucks blue line, Pouliot possesses something that none of the other defencemen have: a unique and creative offensive skill set.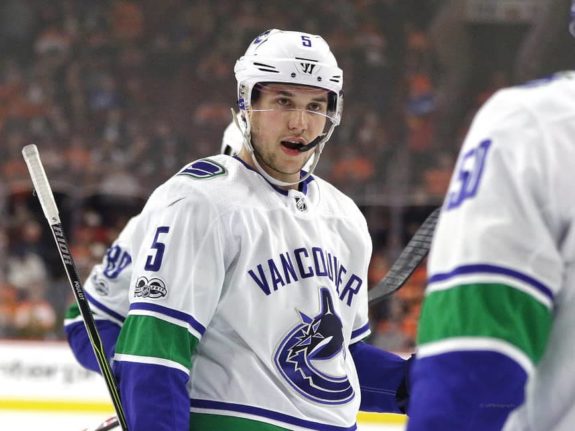 After being acquired from Pittsburgh prior to the start of the season, Pouliot came into Vancouver with many questions surrounding his NHL status. Although he played on Stanley Cup winning teams in Pittsburgh, the blue line they rostered was by no means a powerhouse. On the surface, it seemed a little troubling that the former eighth overall pick couldn't crack the roster.
Benning was willing to gamble on Pouliot's potential, and it cost the Canucks one of those draft picks that people are always saying they should acquire. Soon after the deal, the memorial for the Canucks' fourth-round pick was put on hold after Pouliot started flying on the ice for Vancouver.
Peaks and Valleys for Pouliot
Many of the critiques against Pouliot's play had to do with the idea that he wasn't responsible enough away from the puck. It was the main reason he was never able to crack the Penguins' blue line. Early on in Vancouver, however, he looked like a man who had learned from his mistakes.
Although Travis Green sheltered Pouliot, the young defender flashed an ability to make smart and quick plays with the puck. It led to Pouliot earning increased ice time while also sporting an even-strength shot differential near 60 percent during his first dozen games with the team.
After playing responsibly, Pouliot earned more ice time in November. It then looked like he had broken through offensively as well, putting up seven points in 11 games. That included a three-point effort against the Carolina Hurricanes on Dec. 5.
That game was peak Pouliot and, as we soon came to realize, peak Canucks.
What followed was a dreadful stretch where the Canucks lost 14 of their next 16 games. As the team cratered, so did Pouliot's play. He registered one assist in his next 13 games and watched his ice time dwindle before spending the better part of a month in the press box.
What hurt Pouliot as his play slid, was that he often tried to be too cute with the puck. He's a nifty playmaker but on the occasion when he has a gaffe, it's often a very noticeable one. Neither his defence nor his offence were up to par, and it led to him being a regular in the press box.
Pouliot's Potential Break
With injuries to players such as Chris Tanev, Pouliot has found his way back into the lineup. At this point of the season, the Canucks need to play Pouliot and see where he's at heading into next year.
Like so many players that the Canucks have in their organization, Pouliot is at that age where he should be hitting his prime, after turning 24 in January.
Of all the defencemen currently on the roster, it might not be much of an argument that Pouliot has the most tantalizing skill set. He can work magic with the puck, but he needs to do it on a consistent basis.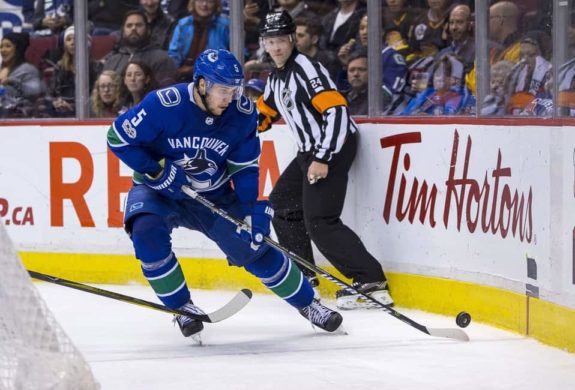 It's also getting to be that time of year where Green needs to see if Pouliot can sink or swim. Again, we can say that about half the players currently on the roster, but not many have a skill set as tantalizing as Pouliot's. Green has sheltered him for the majority of the season, and it might be time to see if Pouliot can handle a little more responsibility on defence.
For Pouliot, there is no guarantee that he ends up in the top-six next season. He definitely has the tools to make it there, but he's only got 15 games left to show consistency and prove that he's worthy of regular NHL duty.