As if the stench of losing wasn't bad enough for fans of the Buffalo Sabres.
Earlier in the season, one of their beat writers suggested a stealth tank. And now, another is igniting the possibility of a conspiracy theory involving Ryan O'Reilly making calculated statements to get traded.
O'Reilly's Locker Cleanout Day Interview
Last Monday's exit interview with O'Reilly was interesting, to say the least.
"We're stuck in this mindset of just being OK with losing. I feel it, too. I think it's really crept into myself. Over the course of the year, I've lost myself a lot, where it's just kind of get through, just being OK with just not making a mistake. That's not winning hockey at all, and it's crept into all of our games," said O'Reilly. "It's disappointing. It's sad. I feel throughout the year I've lost the love of the game multiple times. You need to get back to it because it's just eating myself up and eats the other guys, too. It's just eating us up, and it's tough."
The uber-competitive center was refreshingly honest. Some might say, to a fault.
Leading and Losing
O'Reilly wanted to lead a team to success and has failed. He clearly thought that if he were just good enough, his team [the Sabres] would be a winner. It's not his fault that it's a team game and one guy can't make ALL the difference (exhibit A: McDavid, Connor).
However, it is his fault, at times, that he has given up. But what does he do?  He's out on the ice, losing and losing and losing and losing, and he realizes that his best isn't making THE difference. Even as his numbers are OK and he's producing, that doesn't matter because he's been taught his whole life that if he gives his best and leads, he'll win.
His father, Brian notes his leadership and his intangibles.
"Ryan is not a superstar based on skill but character," Brian O'Reilly wrote in a February 2013 email to the Denver Post. "Everyone is looking for those players that eat sleep and drink the game and are unselfish plus compete because they are intrinsically motivated for excellence.
"[Ryan was] raised in an environment of sport where athletics was held up as something you do to develop your sense of personhood, qualities of collaboration, team play and most important the development of your character, mental toughness as an individual and it was FUN from which you Learn. How many goals you got or how many points you got was not how you measured yourself. What was important was giving your best day in day out." –Brian O'Reilly, Ryan's father
O'Reilly has been stuck, lost, and unsure sure what to do to stop the cycle. It doesn't mean that he's packed it in, rather that everything he thought he knew might not be true, and that has been paralyzing. It sucked out his confidence and enthusiasm; his "love for the game."
It's only human nature: If you gave your all and it wasn't good enough, why keep giving your all if it's not going to matter anyway? This is where a good coach and even a good sports psychologist can make a major impact. O'Reilly has to learn that his true failure has been the expectation that he can make all the difference. He doesn't have to. His best is all that is required. The rest is up to the general manager (Jason Botterill), his coach (Phil Housley) and his teammates. This will allow him to relax, focus on his game, and to play naturally. He will find it more fun and it will lead to more personal—and team—success.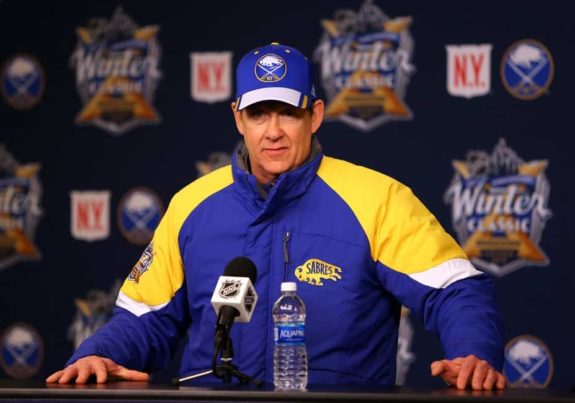 The Sabres organization may have state-of-the-art facilities, but it doesn't seem to understand the need to give players the guidance and direction that they need to succeed.
Playing for Contract Money?
An athlete's agent's primary job is to execute his player's demands. That may mean maximizing the earnings for his client during the limited years of his career. It could mean playing for a legitimate Stanley Cup contender. Or it could be to honor a request to play near his hometown or with certain players. It may even be a mixture of these.
To suggest that O'Reilly and his agent are scheming ways to fleece franchises is malarkey. It's proof of nothing. To believe for one second that he and his agent hatched some absurd plan to disgrace or disrespect the hard-working, blue-collar folks in western New York by speaking his mind is ludicrous. Furthermore, it's not related to the issue in any way other than adding pressure to an already troubled mind searching for answers.
He would have nothing to gain, personally or professionally, by playing some kind of long con game. He already has tens of millions of dollars. He's collected $18 million in salary in just the last two seasons. Ask any professional athlete: the only thing more important than money is winning. It can't be fun to lose, lose and lose some more.
O'Reilly Begging for a Trade?
Before his interview, O'Reilly was one of the Sabres' best players this year. While often matched up defensively with the other team's top line, he still managed 24 goals and 61 points. Similar to Jack Eichel, O'Reilly needs a roster with better speed and talent to improve his own numbers and to improve this team. He can't do it alone. He can't compensate for a team with no more than a half dozen NHL-worthy forwards.
Just as it's not Robin Lehner's fault that former Sabres general manager Tim Murray used a first-round draft pick to trade for him, it's not O'Reilly's fault that Murray offered him a massive seven-year, $52.5-million contract in July 2015.
"Do you need a change of scenery?" – @pham1717's question to Ryan O'Reilly after his powerful comments #Sabres @WKBW pic.twitter.com/vnnYBF8uZd

— Matthew Bové (@Matt_Bove) April 9, 2018
When Paul Hamilton asked O'Reilly if he needed a change of scenery, it took O'Reilly a moment to gather his thoughts. "No, I really want to be a part of the solution here. I love this city and call it home," he said with an exasperated sigh. "There's some good pieces but it's a big change that I need to make. I hate sounding like a broken record, but I'm going to stick with it. I'm going to keep trying. If something happens and I'm moved, then obviously it's a change that they decide to make. But I want to be here. I want to win here because I feel it would be special here. It's a great city, and they deserve a winning team."
It was a respectable and professional answer. He was consistent all year long with his responses and he stuck with them, determined not to give up. That's honorable.
Had he replied, "Paul, you're right, I think I can only find my love for the game somewhere else," he would certainly have to answer for his response. But there should be no suspicion leveled at a player for saying the right things.
It's preposterous to think that O'Reilly would spew lies for years' worth of interviews. No professional athlete or reasonable man would waste years of his prime doing that. If O'Reilly were to get traded, he wouldn't get more money and he'd be expected to play even better. Following that flawed logic, certainly no one would invite that circumstance upon himself.
Cut Him Some Slack
O'Reilly is a standup guy in the locker room. After almost every loss, he was asked by media what happened and how things can get better. Even for the most strong-minded individual, it's not an easy situation. He never whined about it. He was simply being honest. Right now, he's lost, has no answers and needs guidance.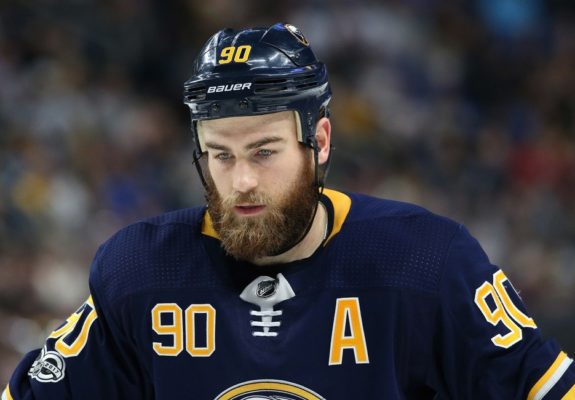 The 27-year-old's words should be a warning signal; a cry for help. They should not be an opportunity to cast suspicion and treat him as a stained individual. The notion that O'Reilly is a bad dude with a calculated, completely self-centered agenda working the system rather than a proud guy who has found that a perspective that he was taught from childhood no longer applies. Athletes are people, too. While they get paid a lot of money to play a game they love, they should still be allowed to have feelings and emotions. It's absurd to think otherwise.
Reading suspicion and conspiracy into this situation is unprofessional and reprehensible. O'Reilly has never given anyone even an ounce's worth of reason to doubt him or malign his character the way local media just did. They should be ashamed of themselves.
O'Reilly Is Part of the Solution
Honesty is not a liability, it's an admirable trait–a sign of respect. O'Reilly is a valuable asset that most teams would covet. They'd jump at the chance to snatch him and the remaining five years on his contract. He's a proven 55-60-point-producer, a faceoff-winning machine, and a two-way center who faces top lines in crucial situations. He's a leader, far from a quitter.
O'Reilly used to hold practice sessions with Eichel, Sam Reinhart and other rookies. He'd routinely stay on the ice after the team's regular workouts and lead many of his teammates in more extra skills drills after the coaches had left, often for another 30-45 minutes.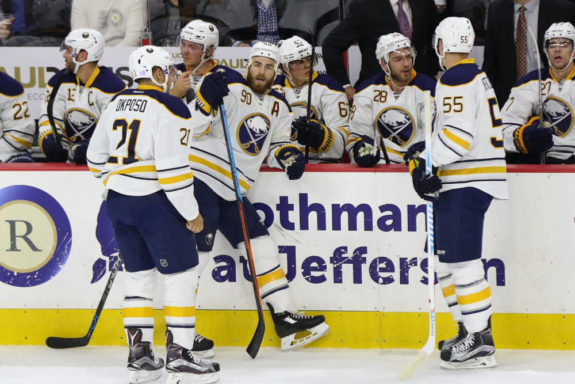 If the haters want to trade him, so be it. Then watch as Eichel's production decreases because he has to take every defensive zone faceoff and match up against the opponent's best line.
If O'Reilly was so inconsistent and unbecoming of a leader, it would be news to his current and former coaches, Housley and Dan Bylsma. He's been their "go-to guy" for defensive-zone faceoffs, the number-one power play and first penalty kill units all year. It would be odd news to Team Canada, for they've repeatedly asked him to represent their country in World Cup competition. And it would unquestionably ring false that to his colleagues–his peers, who included him as one of the top five underrated players in the league in the NHLPA survey.
The NHL's No. 1 faceoff center who plays a two-way game is clearly a guy you build around, not ship out of town. This team needs additions and subtractions for sure, but O'Reilly is not one of them. He's a keeper.
The truth isn't always pleasant to hear. In a season where many fans lost their love for the game of hockey, O'Reilly telling us the same is not only a breath of fresh air, but a giant spoonful of medicine that needed to be taken. For that, O'Reilly deserves respect, not suspicion.
Jeff has been covering the NHL for over a decade for various sites. He's been with The Hockey Writers as a lead Sabres writer three years, while also writing a satire column called "Off the Crossbar."