Rookie general manager Jason Botterill will be desperate to prevent his Buffalo Sabres from finishing last, again, in April 2019. However, he's going to have to be one of professional sports' busiest executives in the next six months to prevent such a fate; and he'll have to be both good and lucky. There are several big decisions to make in this off-season that will determine the fate of the club for the foreseeable future.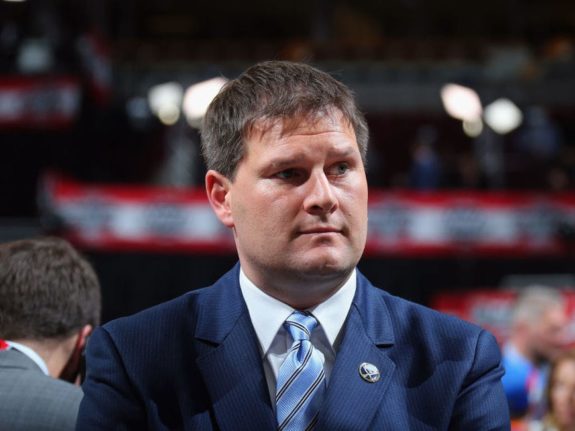 Many of the choices that Botterill will have to make will cause the already-exasperated Buffalo fans to cringe. Fan favorites may be headed out of town in big trades. Exciting young prospects may need another year or two in Rochester -or even with their collegiate or junior teams- before joining the big club. A proper, lasting rebuild may mean the Calder Cup takes up residency just 90 miles down the Thruway while the Sabres continue to dwell in the NHL's basement.
Conundrums at KeyBank Center
Decisions regarding the combination of experienced talented players, large sums of money and a fan base already in mutiny lead to blood pressure numbers that read like Formula One odometers. Here are Botterill's biggest dilemmas heading into the offseason.
Ryan O'Reilly
Twenty-seven-year-old faceoff master, Ryan O'Reilly, is on pace for his fifth consecutive season of more than 55 points. After five seasons at that level, he cannot be expected to score much more as he ages. He's taking almost 26 face-offs per game and winning a league-leading 61.1 percent of those. Barring injury in the final weeks of the season, he'll finish with face-off numbers well above whoever comes in second place.
Despite his penchant for punishing himself for not playing better, fans like to root for his gritty style of play. Players on other teams have noticed his play as well; in this year's NHLPA survey, O'Reilly was voted as the league's fifth-most underrated player. This was a survey in which players declared 'work ethic' and 'team player' as the most appreciated player traits.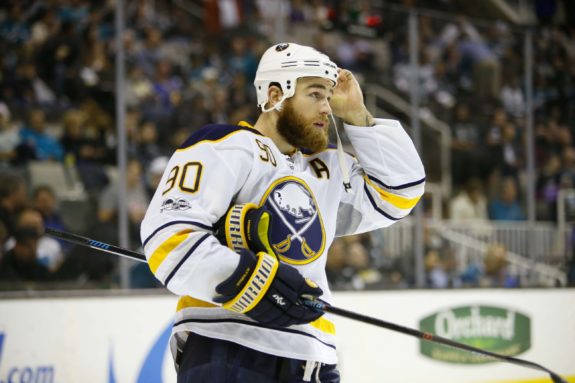 While recognition from peers is always nice and the face-off numbers are fantastic, production in the 55-60 point range is not close to meeting the value of his contract. Most of the players with similar stats receive about $5 million per season. Players finishing with between 55-60 points last year:
Filip Forsberg $6.0 million
Mikko Koivu $5.5 million
Nino Niederreiter $5.25 million
Daniel Wennberg $4.9 million
Marcus Johansson $4.6 million
Mats Zuccarello $4.5 million
Tyler Bozak $4.2 million
Charlie Coyle $3.2 million
Radim Vrbata $2.5 million
O'Reilly's cap hit is $7.5 million. For five more years. That's an awful lot of money and term for a team looking to change its culture and hoping for at least a whiff of the playoffs.
Sam Reinhart
Botterill made a point to let everyone know that he was not in a hurry to re-sign Sam Reinhart during the last off-season, making it clear that this was a 'show me' year for the twenty-two-year-old forward from West Vancouver. Reinhart is hoping to cash in on a long-term deal now that his entry-level contract is drawing to a close.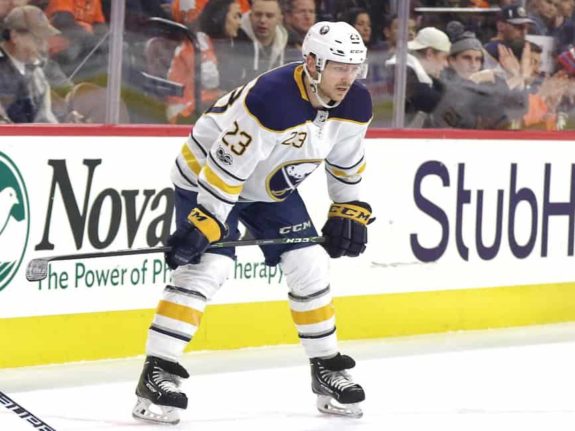 Reinhart is on fire, scoring 10 goals and 15 assists in his last 25 games. He's playing with the poise and creativity that the Sabres hoped for when selecting him second overall in the 2014 entry draft. The enigma lies in the fact that he's producing only now when the Sabres have long-since been eliminated from playoff contention. Reinhart was nearly invisible when it counted, putting up just 13 points in the first 44 games with a minus-15 rating. Those are not the kind of numbers for a player envisioned as a foundation piece in the post-tank era.
The Crease
Both Sabres netminders' contracts expire at the end of this season. Robin Lehner will remain a restricted free agent while Chad Johnson will become an unrestricted free agent. Both goalies have terrible numbers.
At times, Lehner has been very good even as his team repeatedly abandoned him. Johnson, when given a chance to string together a few games, has outplayed Lehner. Interestingly, this is the second time that he has outplayed the starter in his career in Buffalo once given the opportunity. Both, respectably, maintain positive, team-oriented attitudes and both have a good work ethic. The players particularly like Johnson and speak highly of him even though his first few victories took months to arrive.
The hockey world assumes that the 2018-19 Sabres crease already has Rochester Americans star Linus Ullmark's name carved into the post. The 24-year-old Swede has dominated the AHL, posting a 2.40 goals-against average and a .924 save percentage. He's proven himself capable and has put in his time.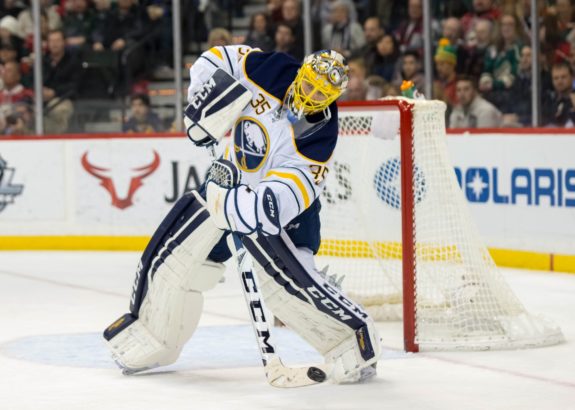 Ullmark has one more year on his contract with a cap hit of $750,000. But hold the presses. If the Sabres want to follow through on Botterill's announced plan, a contending version of the Sabres starts with a winning team and culture on the farm. It makes no sense to have a young goalie, who is clearly the team's future puck-stopper, subjected to the losing atmosphere of the current team.
On the other hand, with prospects Ukko-Pekka Luukkonen and Jonas Johansson and Jason Kasdorf in the system, the Sabres have a strong pool from which to draw. Not to mention a winning scrabble hand. Likely Ullmark will be the starter, whether it's the smart choice or not. If so, it will be up to Botterill to decide who will start for the Amerks and who will be in the two backup slots.
Jeff has been covering the NHL for over a decade for various sites. He's been with The Hockey Writers as a lead Sabres writer three years, while also writing a satire column called "Off the Crossbar."