The second week of March wasn't much different that the rest of this season for the Chicago Blackhawks. Of their four contests, they came out even, with two wins and two losses. They were consistently inconsistent, their defense struggled and they're still not going to make the playoffs.
Blackhawks matchups this past week:
Vs. Colorado Avalanche. Tuesday, 3/6. Win 2-1 OT
Vs. Carolina Hurricanes. Thursday, 3/8. Loss, 3-2
@ Boston Bruins. Saturday, 3/10. Loss 7-4
Vs. Boston Bruins. Sunday, 3/11. Win 3-1
It's been such a tough season in so many ways. They only way to maintain any semblance of sanity is to look at the big picture. The Hawks are riding out the rest of the season with their eye on the future. Winning and losing isn't as important as improving and trying to put together a better team next year. Did they get any closer to that goal this past week? Let's discuss.
Looking at the Core
Jonathan Toews and Patrick Kane are benefiting from being on the same line together. On Tuesday against the Avalanche, they combined for a beauty of a goal just nine seconds into overtime. In Boston on Saturday, Toews scored again, with Kane picking up the secondary assist. On Sunday, Toews tallied the helper on Kane's game-winning goal. It was a contest where Toews had three assists, and Kane walked away with a goal and an assist. Except for a half-hearted effort against Carolina (hmm, did they take a night off to do ex-Blackhawk goaltender Scott Darling a favor?), these two faces of the franchise are still doing their job.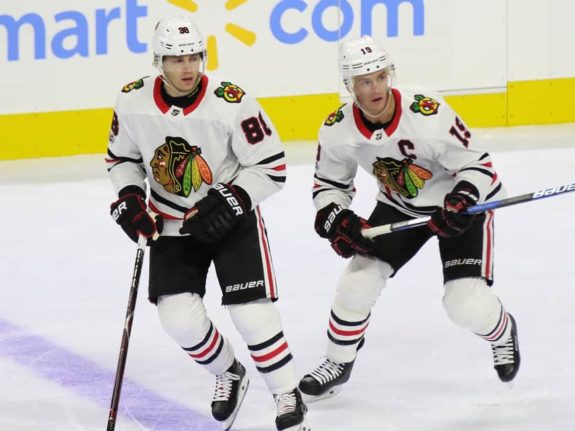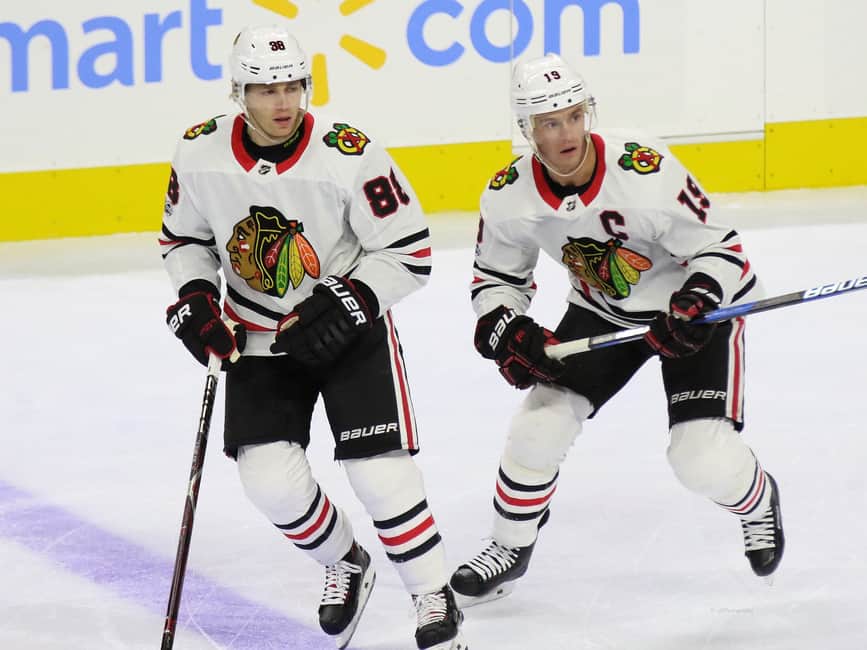 How about the defensive core, Duncan Keith and Brent Seabrook? Well, that leaves a little bit more to be desired. Keith's had a rough season, and these last four tilts are no exception. This was especially the case against the Boston on Saturday, where mistakes by Keith led directly to the first three Bruins goals. Where he used to execute so well, now he's out of position and committing bad turnovers.
Seabrook has his positives (he did score a goal Sunday night), but he needs to be sheltered too often. He just can't keep up with the speed in which the game is now played. Unless the coaches can hand-pick his matchups, he becomes a weak spot in the defense. Unfortunately, Keith and Seabrook are no longer the assets they used to be. Building a solid defense around them will be a challenge.
Related – Fixing the Blackhawks: 5-Step Offseason Plan
Looking at the Kids
Now this is where we can really get excited! Because it's not just one, but several of the younger players who are stepping up and playing bigger and bigger roles as this season winds down. Here are some bullet points.
In my mind, Erik Gustafsson is the winner this week. Since signing a new two-year contract extension with the Hawks last Tuesday, he's been playing quite well. He posted two goals and four assists in the last four games. Two of those assists came on the power play, where he's been manning the point admirably.
John Hayden was recalled from the Rockford IceHogs, and played in the last two games. He's slotted in on the second line with Alex DeBrincat and Nick Schmaltz, and has fit it quite nicely. On Saturday, he notched a goal, and even dropped the gloves. Most importantly, you can see he's working hard as heck every single shift.
Tomas Jurco scored a goal last Thursday.
Matthew Highmore notched his first NHL goal on Saturday.
🚨 First NHL goal alert 🚨 @MHighmore15 pic.twitter.com/SuKMA9UEbD

— NHL GIFs (@NHLGIFs) March 10, 2018
Center David Kampf has two assists in the last three games, and has averaged 60% at the dot in the last four games.
Schmaltz, DeBrincat and Vinnie Hinostroza have actually been a bit quiet this past week, but I wouldn't expect that to last long.
Blackhawks Goal of the Week
Sure, we could highlight Toews' overtime goal from the Avs' game, or Kane's beauty to the corner of the net against the Bruins. But let's face it, we're embracing the youth now. The future lies with them. So my pick for the week is Gustafsson's goal on Saturday against the Bruins.
This score came just seconds after Toews tipped in another slapshot by Gustafsson. The timing was perfect, as it brought the Hawks back from a two-goal deficit, tying the game at 2-2.
 Other Blackhawks News and Notes
Along with Gustafsson, defenseman Jan Rutta also signed a new contract this past week. Carl Dahlstrom was re-assigned to the Rockford IceHogs on Friday.
Forward Anthony Duclair will be out 1-2 weeks. He left Saturday's game after a collision with Brad Marchand.
The Hawks' special teams woes continue. In the span of the last four games, they've gone 2-for-11 on the power play, and 6-for-12 on the penalty kill.
Goaltender Jean-Francois Berube was in net for the first three games last week. In his first two contests, he let in one goal and then three goals, for save percentages of .971 and .925, respectively. In Boston, he allowed six goals for a .846 save percentage. But let's remember that four of those goals were power play tallies, and one was a short-handed breakaway. Anton Forsberg played on Sunday, allowing only one goal for a .969 save percentage. All in all, that's not too shabby of a performance by the backup goaltenders.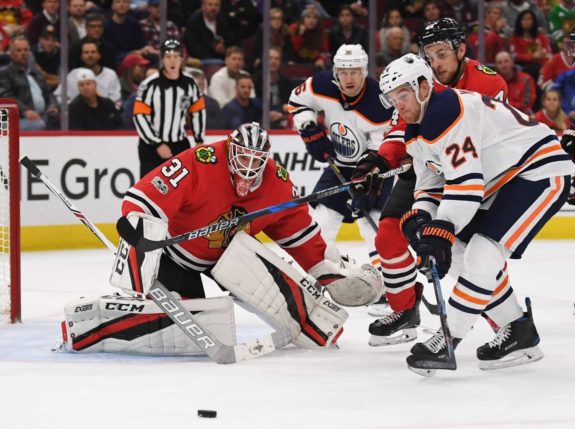 Related – How the Blackhawks Are Embracing Change
What's on Tap for the Blackhawks
The Hawks have a few days off before they hit the road to take on the Winnipeg Jets this coming Thursday, and the Buffalo Sabres Saturday. Then they head home to host the St. Louis Blues on Sunday. Hey, that's two division rivals in one week! I know it doesn't matter anymore regarding standings, but the intensity always ramps up a bit with a division foe. Let's see who can step up and make some positive progress this coming week!