Every June the NHL holds its Entry Draft and every June general managers, assisted by their scouting departments, make both head-scratching decisions and incredibly inspired ones. Since the league introduced the salary cap after the 2004-05 lockout, the New York Rangers have drafted under the watchful eyes of general managers Glen Sather and Jeff Gorton. Over that span, the team has selected 97 young players who hoped to one day wear the blue shirt on the ice at Madison Square Garden.
Since the Rangers are rebuilding and will benefit from 10 selections —including three in the first round— and counting at the upcoming draft, it seemed fitting to take a look at the best and worst picks since that canceled season almost 13 years ago. While modern Rangers fans will think of future Hall of Fame goaltender Henrik Lundqvist as an obvious selection, he was drafted in 2000 so isn't eligible for this list. On the other hand, neither is Hugh Jessiman from the fabled 2003 Entry Draft which was easily the deepest draft in modern NHL history.
Five Worst New York Rangers Draft Selections in the Salary Cap Era
This is as much a cautionary tale as it is one to inspire hope in fans that the team will be better in the long-run for this short-term rebuilding pain so we'll start with the times that management swung hard and whiffed.
#5 Alexei Cherepanov (17th overall in 2007)
This is a tough one to start with. At 19-years-old Cherepanov was full of promise as a Rangers prospect. Unfortunately, the Russian teen suffered an apparent heart attack on the bench during a KHL game for Avangard Omsk and was unable to be revived. It was a shocking loss that shook the hockey world and raised questions about the quality of medical care in the KHL.
Cherepanov had dropped in the draft because he was a Russian player and it was uncertain if he would make the jump to North America. However, he had been developing into an offensive force at the time of his tragic death. The loss of such talent is why he's on this list.
#4 Lauri Korpikoski (19th overall in 2004)
A reoccurring theme will be to consider the players that were selected soon after the ones listed here. Sometimes the team dodged a bullet but other times, like with Korpikoski, the player selected right after makes this selection more difficult to take.
There is nothing inherently wrong with a mid first round pick having a nice career. Korpikoski played in 609 NHL games played (GP) while producing 201 points (PTS) for a 0.33 points per game average (P/PG) but the Rangers would have been much better had they chosen Travis Zajac, selected 20th overall by the rival New Jersey Devils. Zajac's stat line is much more impressive with 830 GP, 455 PTS and 0.55 PPG, including back to back 60-plus-point seasons early in his career.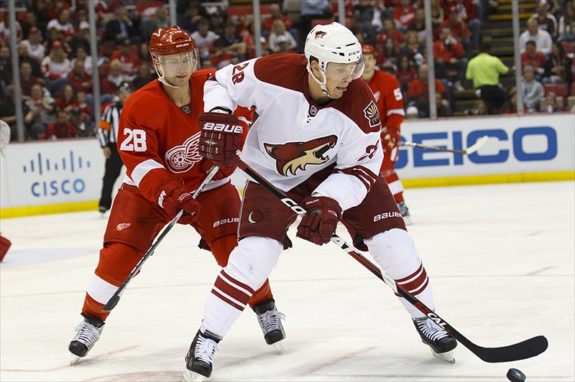 #3 Al Montoya (6th overall in 2004)
Three of the 10 players listed here were drafted in 2004, making it a strange year for the Rangers. Montoya, at sixth overall, is the highest the Rangers have drafted in the salary cap era and he is one of the worst picks from that time.
That draft was a particularly strong one for goaltenders, with four selected in the first round. While the St. Louis Blues picked the worst of the bunch in Marek Schwarz, the Rangers weren't far behind with Montoya. The pain comes from knowing that Devan Dubnyk, now with the Minnesota Wild, and Cory Schneider, now with the New Jersey Devils, have gone on to become stars while Montoya never suited up for the Rangers and has bounced around six NHL teams as a backup.
#2 Bobby Sanguinetti (21st overall in 2006)
If the Korpikoski pick stings, Sanguinetti's immediate successor in the 2006 draft is like a gut-punch. Sanguinetti's 45 NHL game pales in comparison to the 725 GP and 656 PTS produced by the Philadelphia Flyers' Claude Giroux. What made this selection strange at the time was that the Rangers had taken defenders with their first two picks in the previous draft, selecting Marc Staal and Michael Sauer, and had very little skill in the system up front. If you really want to feel the pain, the Flyers were prepared to take Sanguinetti as they were the Southern New Jersey-born defenseman's hometown team but had to settle for Giroux.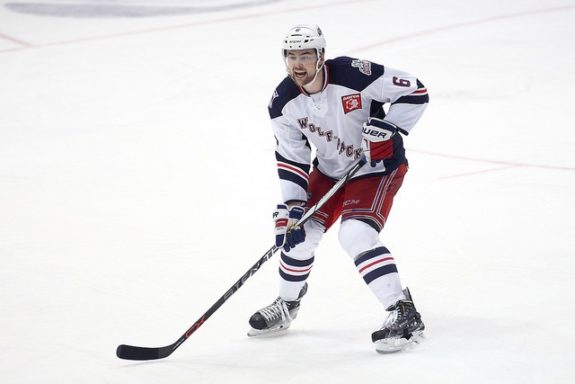 #1 Dylan McIlrath (10th overall in 2010)
At the top of the list (or bottom of it, really) is the most peculiar selection the team has made since taking Jessiman in 2003. McIlrath was a big bodied defender with questionable speed and offensive ability who had seen his stock rising prior to the draft but nowhere near the 10th overall spot. Central Scouting had him as the 17th best North American skater in their final rankings.
Among defenders, Cam Fowler (ranked fifth among North American skaters) and, significantly more painful, both Vladimir Tarasenko and Evgeny Kuznetsov (ranked 2nd and 3rd among European skaters) were still on the board. Tarasenko has had three consecutive near 40-goal seasons while Kuznetsov has put up 0.86 PPG over the last three seasons. As for McIlrath, he did win a Calder Cup championship as part of the Grand Rapids Griffins of the AHL last season, so that's something.
Five Best New York Rangers Draft Selections in the Salary Cap Era
Despite the above-mentioned busts (and tragedy), by contrast, sometimes GMs turn later picks into gold. You won't find any first- or second-round selections who ended up as quality NHL regulars such as Derek Stepan or Brandon Dubinsky here because that is exactly what should be expected of those types of selections. Instead, these are gems found in the lotto section of the draft from the third-round and beyond.
#5 Igor Shesterkin (118th overall in 2014)
Starting off our list is the Russian born goaltender who is dominating in the KHL on a stacked St. Petersburg SKA team. Shesterkin has put up gaudy totals over a two-year span including 47 wins, against only eight losses and 10 ties in 67 GP. He has a combined 1.67 goals-against average and .935 saves percentage with 15 shutouts.
He will be eligible to sign with the Rangers after the final year of his KHL contract at the end of next season and could become the heir apparent to Henrik Lundqvist if his strong play translates to the NHL. Shesterkin could top this list in a few years time, but as of yet, the unknown factor weighs heavily on his position.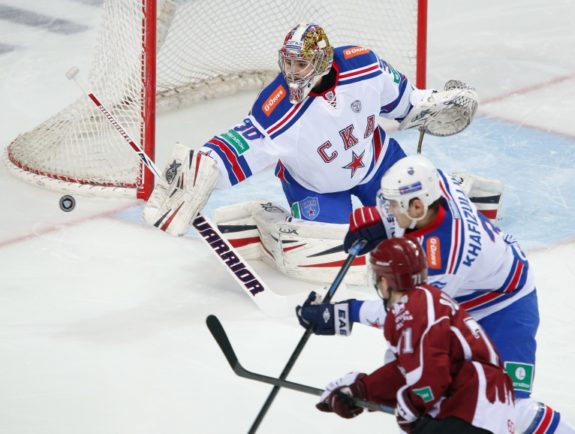 #4 Jesper Fast (157th overall in 2010)
Rangers fans can take a little solace in the fact that after drafting McIlrath in the first-round in 2010, they at least salvaged the draft a little with their sixth-round pick. Fast has provided steady defensive play to the bottom-six forwards, kills penalties and is a staple when trying to hold the lead late in games. As an added bonus, his .32 P/PG provides some additional offense from the bottom portion of the lineup and he's shown the ability to slot into the top-six for short periods when necessary.
#3 Carl Hagelin (168th overall in 2007)
While the winger would eventually become a salary cap casualty for the New York Rangers and go on to win back-to-back Stanley Cups with the Pittsburgh Penguins, his electrifying speed and offensive ability made him a fan favorite. Despite not being the most skilled forward, his 0.45 P/PG over his career is impressive, but he is known as much for his defensive play and penalty killing as for the offense that is created by his speed. Another sixth-round selection in a draft where the first-round pick failed to pan out, Hagelin was a part of the Rangers' core that went to the Stanley Cup Final in 2012-13.
#2 Pavel Buchnevich (75th overall in 2013)
While the 22-year-old is still developing at the NHL level, Buchnevich has the highest pure skill set of any player on this list. He has raised his point production from his first half-season with the Rangers last year of 0.49 P/PG to 0.59 P/PG this season. He has great vision and passing ability and those numbers should continue to increase as he gains more confidence in the North American game. Most importantly, he has developed into a first-round talent, though selected in the third-round, for a team that until recently traded away most of their high picks at the trade deadline. Buchnevich is poised to become part of the core of the Rangers on the other side of the rebuild.
#1 Ryan Callahan (127th overall in 2004)
While Lundqvist is rightfully heaped with praise for his elite play, Ryan Callahan became the heart and soul of the post-lockout New York Rangers. After spending parts of his first two seasons with the team, he had a breakout 2008-09 campaign with the Blueshirts, putting up 22 goals and 40 points for a team that was preparing to become one of most successful franchises of the next half dozen seasons.
Callahan produced at a 0.56 P/PG rate while being a key penalty killer, having the most hits and blocked shots among Rangers forwards and was a team leader, becoming the captain in 2011. He served in that role until he was traded to the Tampa Bay Lightning at the trade deadline of the 2013-14 season along with a couple of first-round draft picks in exchange for Martin St. Louis.
Final Draft Analysis
While some of these players and their positions on the list are open to interpretation, the Rangers have had their share of highs and lows when making draft selections. As they prepare to rebuild their club primarily through acquiring as many draft picks as they can, it will be important that they learn some lessons from their history; one that has shown that they haven't fared too well when bucking the scouting trends though they've had some success in later rounds. If a player they are after is not available in the late first-round, it would be beneficial to trade back to acquire additional picks later in the draft.
Father, writer, photographer and lifelong New York Rangers fan. I have been covering the Rangers for the past year and a half and am a long-time veteran of team forums. I stand firmly against the Oxford comma.