New Buffalo Sabres general manager Jason Botterill has placed Sam Reinhart on notice.
Boterill stated that he will not negotiate a new contract for Reinhart until the end of next season. This is interesting, as the former second-overall pick will have to deal with some uncertainty prior throughout the season. Jason Botterill told Mike Harrington of The Buffalo News, "We're excited with Sam but I don't think Sam from a contract standpoint will happen this summer." Botterill added, "We have him under contract another year and we'll see how things play out."
A Top Prospect
Reinhart was Tim Murray's first draft selection as GM of the Buffalo Sabres. The centerman was ranked third overall by Central Scouting amongst forwards prior to the 2014 draft. Future Considerations described Reinhart with the following: "His top asset is his mind as he is always a step or two ahead of his opponents. Because of his intelligence, Reinhart can play a ton of minutes in all situations as your top-line center. His positioning and decision-making skills are elite. While on the surface, he is lacking the ash of a typical top pick, Reinhart seems to always find a way to forward the puck to a teammate and seems to thread difficult passes across the ice with ease. His vision is outstanding and he is creative in a discrete way."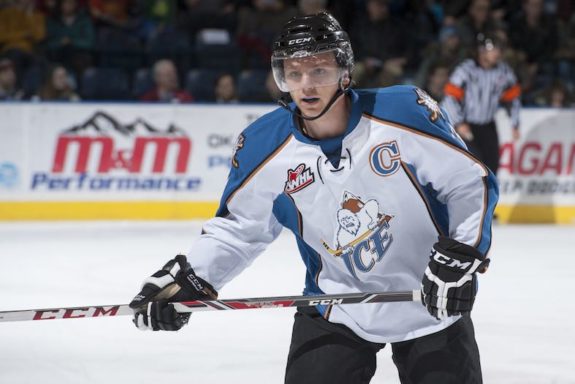 Buffalo was enamored with this vision and ability. Although he may not register among the elite scorers in the NHL someday, the Sabres found an intelligent and creative player fall into their lap with the second overall pick. He was one of the first pieces to fall into place as a part of Buffalo's rebuild.
A Tale of Two Seasons
Reinhart has had some success playing with the Sabres over the past two seasons. In his rookie season, he scored 23 goals, which ranked second on the team. In March 2016, the forward was paired with Jack Eichel. The two found chemistry together, and there was a bit of hope for Sabres' fans watching these two on the ice together. Reinhart was able demonstrate his intelligence and playmaking skills while playing right wing with Eichel.
However, the 2016-17 season did not go as smoothly. While he increased his points and assists production, he found himself in some unfortunate situations. Reinhart was benched in a late-season game against Columbus by coach Dan Bylsma for arriving to pre-game activities late. Paul Hamilton of WGR550 reported that Reinhart's attitude was declining; Reinhart attended very few of the extra workouts and became arrogant during interviews.
Reinhart's reported attitude change between his first full season to his second is a cause for concern. In addition, the lack of a significant increase in production is of worry for the Sabres as well. However, Buffalo needs to explore why this player has not made the necessary steps forward to become the cornerstone player they expect him to be. Furthermore, the Sabres need to make a decision by the trade deadline to determine if the right-winger is in the team's long-term plans. While it seems early to discuss the possibility of letting a player such as this leave, there needs to be some major progress this season by Reinhart if he is to receive a meaningful contract offer from the Sabres.
Eichel Factor
Reinhart's biggest confidant may also pose the biggest challenge to his contract extension. While Eichel and Reinhart have combined to create some chemistry on the ice. However, Eichel's contract will have a strong effect on Reinhart's financial situation.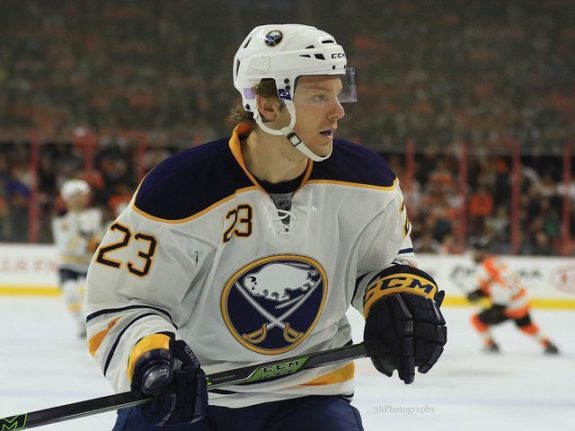 Make no mistake, Eichel is the face of the Sabres. His contract should priority number one for the team. However, a large deal could place Buffalo in a tight spot for Reinhart. This isn't a Jonathan Toews-Patrick Kane situation. Nevertheless, having both players in the fold for the Sabres will most likely be beneficial for all. Reinhart may force the Sabres' hand with respect to negotiations depending on this season. However, the risk of losing the player at this stage in his career is a shaky thought.
Team Issues
Reinhart has been a part of the rebuild for the Sabres. Buffalo has finished in the bottom-eight in each of Reinhart's three seasons. He was placed in the unenviable position to develop his game without a great deal of support. The team was in the beginning of destroying its entire roster in pursuit of a top-two pick for the 2015 NHL draft.
In his first season, he was returned to juniors. Buffalo made this important decision, as the team had no interesting in winning (well, at least games). This would have been demoralizing to a young player such as the former number two pick.
In his second season, Reinhart made significant strides, along with the team. However, in his third season, the team became stagnant, and so did Reinhart. It's important to see the parallels between the team progress and Reinhart's individual progress. The team regressed in the standings. Even so, Reinhart was able to improve on his point total.
Furthermore, it seems that the system was choking the progress of players such as Reinhart. Prior to his firing, Tim Murray shared some of the concern regarding Bylsma. Mike Halford of NBCSports reports Murray's issue: "It's about coaching individuals a little more and coaching system a little less. That's my opinion and I believe that's the right way." Could Bylsma's coaching have frustrated Reinhart? Probably. While the right winger could have put in the extra time as he did during his first full season, he may have become agitated with the coach's rigid focus.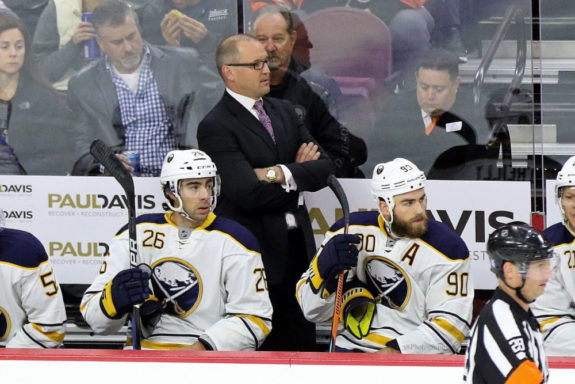 In the 2016-17 season, Reinhart had a CorsiFor% higher than the team average in even-strength situations, according to Puckalytics. This is an important statistic, as the Sabres struggled in five-on-five play. When paired with Jack Eichel, Reinhart and Eichel combined for a CorsiFor60 of 58.8. Reinhart was without his most productive center for a quarter of the season. He has increased his primary assist percentage over the past two seasons, and he has also increased his five-on-five points per 60 minutes as well. He also improved his PowerPlay statistics, increasing goals and points.
While on the ice, Reinhart is holding his own on a below-average team.
A Role for Reinhart
Reinhart is Eichel's winger, and Eichel is Reinhart's center. Both have the talent, skill, and intelligence to propel the top-six forwards of the Sabres. Reinhart is a high draft pick and although the high expectations may be unfair for him as a number two overall pick, he has the ability to come close to meeting those expectations.
With Kyle Okposo returning from injury and Evander Kane's long-term future with the Sabres up in the air, it is vital that the coaching staff does everything in its power to help Reinhart take the next step in his career. With an improvement on the blueline, the team should be able to move pucks more efficiently to its forwards.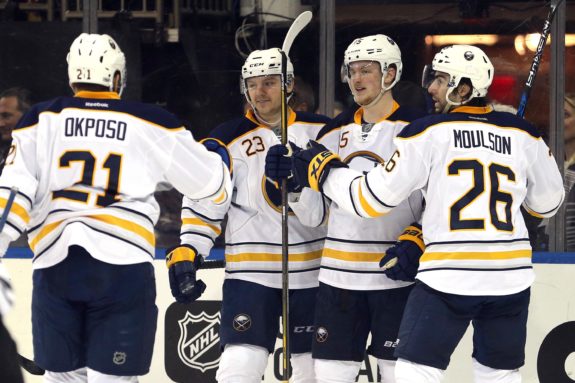 Reinhart will see time on the power play as well. He averaged just under three minutes per game on the power play, and that number could increase with different usage by new head coach Phil Housley.
Risk of Waiting
One of the major risks in waiting to offer Reinhart a contract is that he could have a great season. Reinhart, playing an entire season alongside Eichel, may be able to produce top-six numbers. This would be a good problem for the Sabres to have, as they would finally have the creative player come close to fulfilling his potential. In turn, the Sabres would have to offer the player a fair market contract. This could constrict the club's flexibility a bit, as they will have some decisions to make with respect to the salary cap.  
Furthermore, more players from the 2014 draft will be signing in the summer. If Reinhart performs to a similar level of, let's say Edmonton Oilers forward Leon Draisaitl, the team will need to create some space to keep Reinhart. Tristan Fitzpatrick of The Hockey Writers highlights that Reinhart has not met the statistical threshold of Draisaitl. However, he could inch closer this season. He might not get Draisaitl money, but the offer may need to be closer to what Edmonton offers Draisaitl than Calgary offers Sam Bennett.
While this gives the new GM time to get to know his young player, it does place Reinhart in contract purgatory. It is obvious that Botterill wants to see more of Reinhart before committing to a long-term deal. However, it could cost the Sabres in the end.