A hot topic around the water coolers in Buffalo, fans can't quite decide what to do with Sam Reinhart. The 21-year-old was drafted 2nd overall in the 2014 draft. Since then he has been under a lot of scrutiny as one of the pillars of the rebuild. This is in no way meant to sway or swing fans one way or another but to enlighten those who simply can't make up their minds. If you're reading this with a bias already you might just change your mind.
Most fans have a 'what have you done for me lately' mindset and judging Reinhart is no different. In 2016-17, he scored 17 goals added 30 assists for a total of 47 points. That is an overall improvement from his rookie campaign when he scored 23 goals and added 19 assists for 42 points.
In both seasons Reinhart played 79 games so the sample size is exactly the same. He played with Jack Eichel for the majority of both too. He scored six fewer goals in his sophomore year but added 11 assists. This shouldn't come as a surprise as Reinhart was a pass-first player all throughout Junior.
Despite his modest improvement it's difficult to peg Reinhart as an emerging elite prospect on a bad team or as having a detrimental impact. By looking at his points in defeat, only four goals and 10 assists in 35 losses, it tells us that if he isn't on his game neither, apparently, are the Sabres.
When the Sabres won, the West-Vancouver native had 12 goals and 19 assists for 31 points. Reinhart is expected to be a catalyst for his team and perhaps he is only piling on the points when the team is in form.
Draft Class Comparisons
When you're taken 2nd overall you're going to get compared to your draft class. Leon Draisatl of the Edmonton Oilers, Sam Bennett of the Calgary Flames and William Nylander of the Toronto Maple Leafs were also drafted in 2014.
Draisaitl, taken 3rd, has played the most career games after playing 37 games in 2014-15. He had 51 points in his sophomore year playing with Connor McDavid only four more than Reinhart did as a rookie. Though this year the German native had 77 points, 30 more than the Sabre at the same age in 2016-17.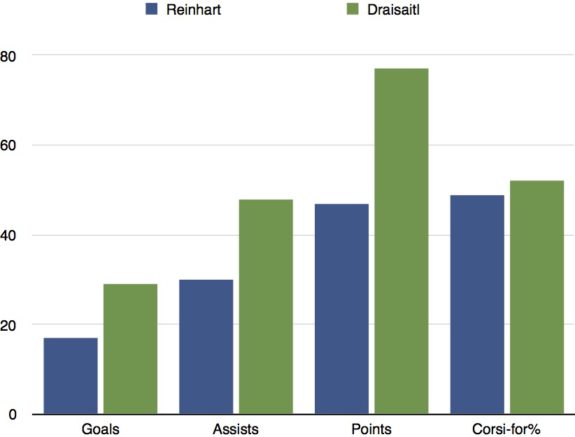 When comparing the two, one must ask how much of an impact did the 37 games Draisaitl played in 2014-15 make compared to Reinhart's nine? Did playing with Connor McDavid help boost Draisaitl's stats? Did Eichel have a similar effect on Reinhart's point total?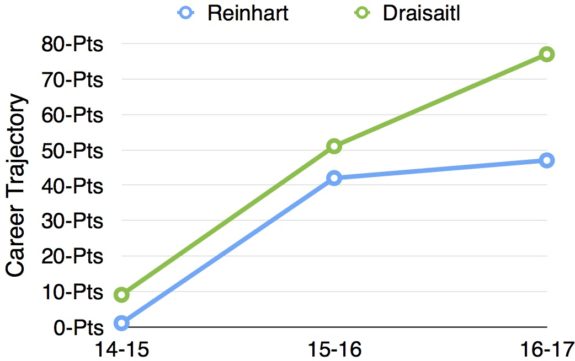 Bennett was taken 4th by the Flames. The former Kingston Frontenac regressed in his sophomore year despite his team making the playoffs, scoring 13 goals and adding 13 assists for 26 points, compared to the 36 points he scored as a rookie. Bennett, unlike Draisaitl and Reinhart, wasn't given a superstar to play with and centered his own line.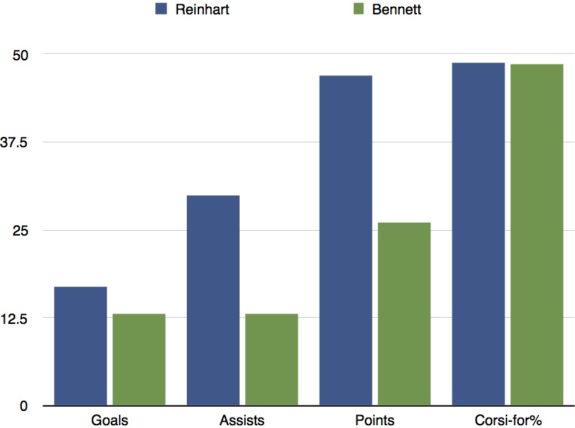 Bennett's numbers are thought-provoking when considering the effect linemates have on a player or whether team success does the same.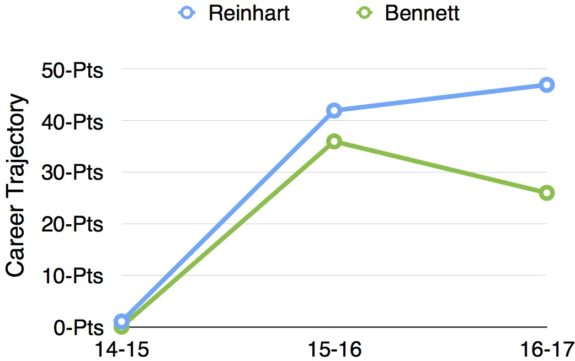 The steal of the draft was Nylander, drafted 8th by the Toronto Maples out of the Swedish Hockey League. Nylander was left to develop slowly in the AHL, while the Leafs 'tanked' for the top pick in the 2016 draft. This development in the AHL is something none of the other players benefitted from.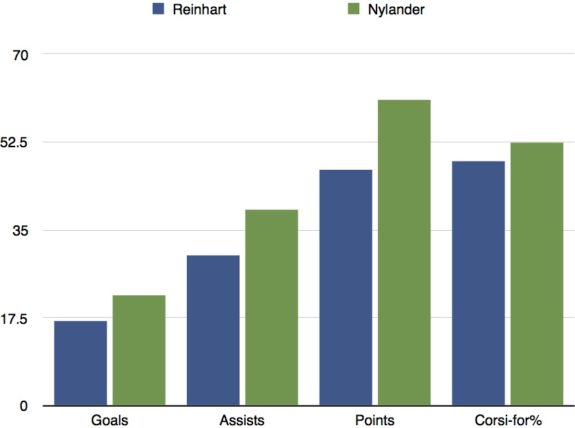 The Swede scored 22 goals added 39 assists for 61 points in his rookie campaign. Like Draisaitl and Reinhart, Nylander can attribute a portion of his success to playing with a superstar. Unlike Bennett and Reinhart, Nylander also played on a winning team, which could also affect his perceived ability.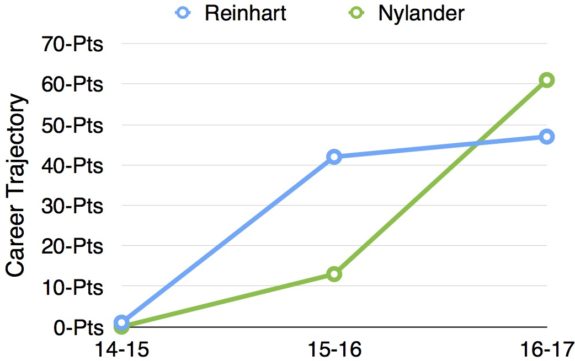 What is comparable between Reinhart and Nylander is the scoring percentage in defeat. In defeat, Nylander scored four goals and nine assists for 13 points in 27 games. He registered a point in 48 percent of games that ended in defeat. Reinhart, on the other hand, got a point in 40 percent of losses and had more with 35.
With this information, it's easy to determine the better player. However, there are too many unknown factors to decide who will have the better career trajectory.
Central Scouting
The Sabres shouldn't be lambasted for taking Reinhart 2nd overall, based on the information they had at the time.
The NHL Central Scouting in 2014 had Reinhart as the number two North American skater. None of the 12 Major scouting reporters had him lower than fourth. Three had him at one, six at two, one at three and two at four. Therefore his average ranking was 2.25, meaning the Sabres didn't surprise anyone when they picked him.
The 2014 draft class was not as strong as 2015 or 2016 so comparing Reinhart to Eichel and Patrik Laine may be unfair. While it may seem appropriate to lambast the Sabres for drafting poorly, aside from a time machine there was little else the Sabres could have done to predict this outcome.
Advanced Stats
Despite an injury (to Eichel earlier in the year), Eichel and Reinhart played on a line together most of the season. The most used line combination was Eichel, Marcus Foligno, and Reinhart playing 142 minutes together according to Corsica Hockey. Here is how their numbers compared with the Leafs' second line. (For reference consult Corsica's Glossary)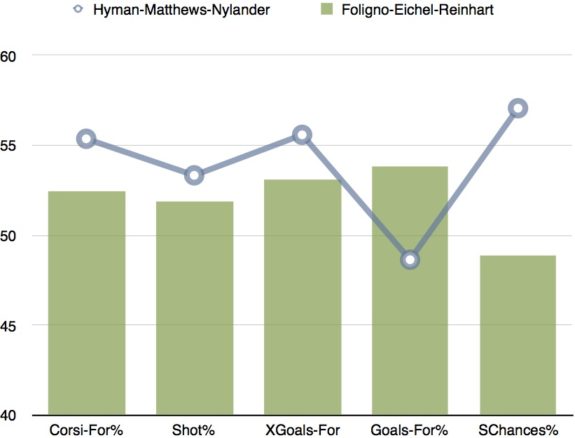 Despite having positive numbers, for the most part, the Reinhart line doesn't matchup with Auston Matthews' line in puck control and shot percentage, though they are more responsible defensively with a positive goals-for percentage.
The second most common line combination for Reinhart was with Evander Kane and Eichel, who you can imagine created enough goals to match the Matthews line.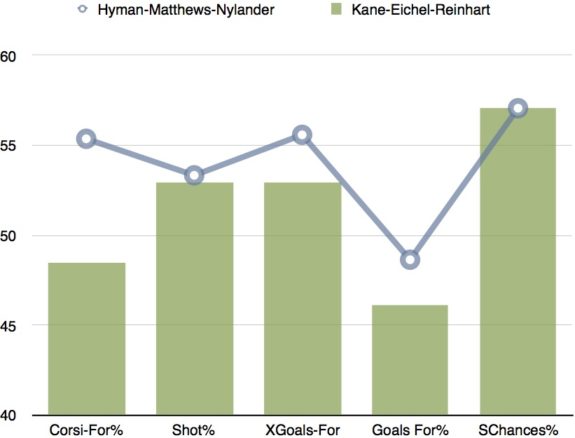 Once again Matthews' line has possession control while Reinhart's line takes a big defence drop in the goals-for percentage. The addition of Kane added firepower with more shots and scoring chances but dropped in Corsi-for.
Reinhart was drafted as a centre. Most of the scouting reports said that he had incredible hockey IQ, that he was a passing pivot with a two-way game. In the absence of Ryan O'Reilly and Eichel, there was a point in December when Reinhart centered the top line. With a much smaller sample size of 51 minutes, it is hard to tell conclusively if he performs better in the middle.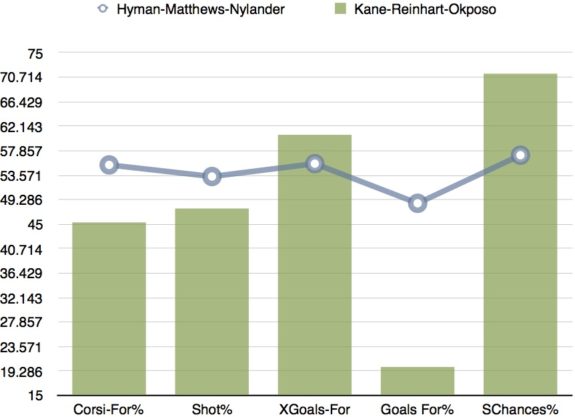 The possession numbers remain consistently low which could be because of the coaching system rather than the line combinations. Defensively it was terrible, only scoring 20 percent of the goals with the other team scoring 80 percent. This stat may be skewed by sample size but even still, it would likely not be above 40 percent. Another sign of potentially skewed stats is the scoring chances which were being taken at an incredible rate of 71 percent.
All in all, it's way too early to determine if Reinhart performs better at centre or on the wing, though neither position has brought much consistent play.
Individual Numbers
Using analytics to judge Reinhart wields no conclusive answers. He has a just below positive Corsi-for percent of 48.81. He has a negative goals-for percent of 47.56 and breaks even on shots-for with 50.03 percent. As with team analytics, some of these stats can be attributed to the system, which, if the rumour is to be believed, Reinhart did not care for.
The last judgement would come down to an overall analytic number. I used game score created by Dom Luszczyszyn which encompasses all stats into one number. Reinhart scored a 0.62 last season which puts him squarely in the second line average of 0.50 and 0.70. For context, Eichel scored .90 and Marcus Foligno had 0.24. Divisional rivals of similar age and position scored as such: Jonathan Drouin 0.77, William Nylander 0.75, Brendan Gallagher 0.64 and Dylan Larkin 0.36.
What if the Sabres decide that the collected data is enough to convince them to cut their losses and head in another direction? What kind of return can they expect? Using game score I pulled up some candidates from outside of the Atlantic Division and included their number to reference their value.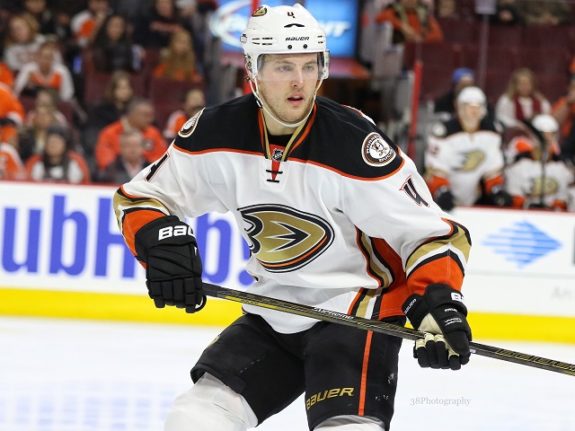 Defensive candidates:
Justin Faulk .63
Seth Jones .69
Shayne Gostisbehere .63
Dimtry Orlov .62
John Klindberg .59
Jared Spurgeon .61
Ryan Ellis .60
Colton Parayko .58
Cam Fowler .59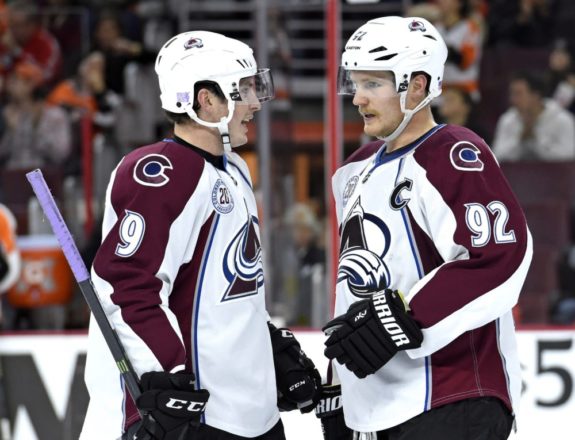 Or a more traditional 'hockey trade' involving a forward:
Bo Horvat .58
Matthew Tkachuk .80
Max Domi .40
Sebastian Aho .70
Nathan Mackinnon .70
Gabriel Landeskog .47
Some of these players make sense if the other teams are willing to trade them. I mentioned previously that three of those defencemen are RFAs this summer. Whether that will affect a deal, only their GMs would know.
If you are looking at some of these numbers thinking: 'Reinhart is better than him', then you've found your conclusion. If not, you will have to wait for the incoming-GM to see if a deal can be struck.
What do you think Reinhart's future holds? Do you think he is a bust of a second overall pick? Do you think his future lies at centre? Or should the Sabres cash-in on a previous GM's mistake? Let me know in the comments below.