It started out like a broken record on repeat. Within seconds of the start of Thursday's contest, the Oilers were down 1-0 to the Winnipeg Jets and were facing an uphill battle before they even had a chance to catch their breath. However, unlike a number of the other games this season, this game was different. The Oilers found a way to not only climb back into the contest; but, put on a fantastic performance. Led by their power play and three players in specific, Edmonton trounced the Jets to the tune of 6-3 and at the same time snapped a three-game losing skid.
Those three players were Connor McDavid, Leon Draisaitl and Mark Letestu. In particular, the first two names deserve a bit more conversation.
Credit to Letestu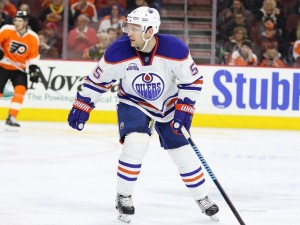 Not going more in depth on a player like Letestu should take nothing away from his performance on Thursday. With two goals and an assist, it was Letestu who scored at crucial times and arguably turned the game in Edmonton's favor. He was key to the Oilers victory and was well deserved of any accolades thrown his way.
This performance, however, is not one Letestu is likely to repeat often, if ever. With nine points in 22 games, Letestu is a depth forward. He plays specialty roles such as penalty killing and the odd power play, but averages under 13 minutes per game, often on the fourth-line. He's not been a regular in the lineup for the Oilers and despite his performance on Thursday, is likely to lean more toward a bottom-six forward than a point-producer. When all is said and done, Letestu is doing a pretty bang-up job, but he's not the type of player you plan your offense around.
The Deadly Duo
Draisaitl and McDavid are counted on by the Oilers in different ways.  Both are earmarked to produce points for the franchise and both have done so quite effectively. However, up until recently, both have done so on separate lines.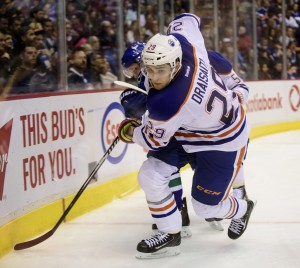 Coming into Thursday's matchup with the Jets, Draisaitl had 17 points in 24 games. He was Edmonton's third-line center and while he got some additional power play time, he was often being flanked by wingers like Benoit Pouliot, Jesse Puljujarvi or Zack Kassian. All three players can play hockey, but none are considered to be in Edmonton's top-tier talent pool this season. In short, Draisaitl was doing a lot of the heavy lifting and he was doing it well.
Connor McDavid is one of the best players in the NHL. Whichever players he's with are likely to earn points by association and if you're lucky enough to be one of those players, your job is simply not to blow your opportunity. Wingers like Jordan Eberle, Jesse Puljujarvi and others have been rotated in and out of that spot, and to date, none have shown the level of consistency to warrant not looking for a better fit.
The Oilers additional depth at the center ice position gave Head Coach Todd McLellan an opportunity.  With the Oilers trying to snap a three-game skid, it was the right time to see what would happen when pairing Draisaitl and McDavid up for regular duty. It paid off in a big way.
Two Centermen on One Line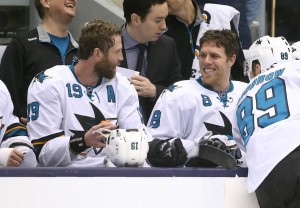 McLellan has a history of moving centers to the wing. His most famous success story was Joe Pavelski in San Jose. Pavelski is now one of the NHL's most unique wingers and one of the Sharks best players. It's a move McLellan still gets a lot of credit for and it has served the Sharks well, even after McLellan's departure.
Why McLellan likes the move is the simple theory that centers can learn wing more easily than vice versa and in placing two dynamic forwards on the same line, both who can offer flexibility in the center position, it provides an additional threat that is difficult for the opposition to handle.
In Edmonton's case, as McLellan, himself said, "defensive players have to decide, are they going to get attacked with that blazing speed or are they going to be attacked with a little bit of finesse? Sometimes they're caught in between."
"I don't really need to talk about how good he is." McDavid & Draisaitl could be lethal #Oilers duo: https://t.co/UasydZkKYY pic.twitter.com/0fC5NLmlMP

— Edmonton Oilers (@EdmontonOilers) December 2, 2016
Both Draisaitl and McDavid have tremendous vision, but both can score. Both probably think pass first — which is great news for a forward like Milan Lucic — but both take the opportunity to shoot when given by the defense. The most exciting part is that both have decided they like playing together.
Why This Duo Works
It's not always easy to play with the best players in the world. It can take special skills to make sure you understand their approach to thinking the game and making sure you're in the right position when your time comes. It also takes talent to find the best players at their peak times. If the Oilers have found a duo that not only can play together; but wants to and meshes well in terms of their on-ice timing, this could be bad news for the rest of the NHL.
When your star player and captain comes out and publicly says Draisaitl is one of his favorite players to play with, as a coach, it's wise to listen. When your already red-hot third-line center understands what it takes to make the NHL's leading scorer even better, as a coach, you try to take notice.
I think it's fair to say, while it's only been one game, McDavid and Draisaitl have found something. I think it's also fair to say, the coach has noticed.