One of the most interesting WHL players for the 2017 NHL Entry Draft, Moose Jaw forward Nikita Popugaev is in his second season in the Dub after scoring 47 points in his rookie season. He was ranked in THW's preliminary rankings for the next draft  as #17. In this translated interview, Nikita Popugaev of the Moose Jaw Warriors talks about the recent CIBC Canada Russia Series, discusses his chances at the WJC, and tells us how is it like to play on the same team with a player with his same name and surname.
* You can enjoy the original interview in Russian language by Roman Solovyov here *
The WHL
Roman Solovyov: The start of November has been tough for you. Six games in seven days.
Nikita Popugaev: It has been hard, yes. Four games with my team, then another two games in two days playing for Team Russia at the [CIBC Canada Russia] Super Series. But once I got back, I could rest a bit and now I'm playing again with a good breathe.
RS: What kind of experience it was for you with Team Russia? It was the first of your career.
NP: I was glad to be selected, and I felt myself at home. Everyone was talking in Russian, Russian music in the locker room, it was a great experience, and also a big honor.
RS: Were the coaches satisfied with your game? You scored a point in those two games.
NP: I think I played well, maybe I wasn't too fresh, probably due to the tight schedule. I don't pay attention to stats, I just try to play my game. I also watched the other games, the guys played well, they won against the OHL, who had a very good team. Probably they were tired in the end [of the series].
RS: Team WHL's coach was your coach in Moose Jaw, Tim Hunter.
NP: It was interesting to play against my coach. You always want to try playing your best on such occasions. After the games, he told Dmitri Zaitsev and me that he was happy about our game.
RS: Last year your team's captain was Brayden Point, who is now playing in the NHL in Tampa Bay.
NP: It was very good that I managed to play with him one season, he's a perspective player, very talented. He's a great guy as well, and it's interesting to see how he is faring in one of the "most Russian" teams in the NHL.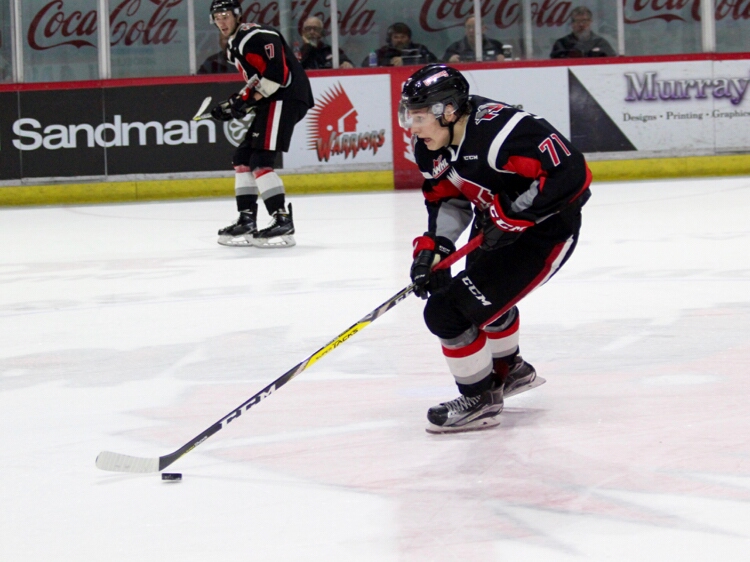 RS: During the latest season the second European player in Moose Jaw was Czech Jiri Smejkal, then Slovak Patrik Maier. And this year you're playing with a Russian, Dmitri Zaitsev. Did he need your help?
NP: It has been easier for him, he was already playing in North America, he knew English already, and he was able to become friends with anyone on the team. It's great to play with him.
RS: And what about you? Are you enjoying your second year in the WHL?
NP: Now I know the league and how I need to play. Here the game is very physical, but it's not a problem, you only need to get your head up. You have to hit the ice and show what you're worth, without taking stupid penalties.
Life in Canada
RS: Do you and Dmitri live with the same billet family?
NP: No, we do not and it's a good thing, otherwise we'd talk in Russian only. I have a new family this year, great people, they always visit our games. It's the first time they have a hockey player, last year they had a basketball one.
RS: Usually in the WHL teams travel by bus. What was your hardest travel?
NP: Last year, after a game in the US, the trip back home from Seattle took us 22 hours.
RS: In your latest few years in Russia you played with another kid called Nikita Popugaev. Did you fall in any curious situation?
NP: It was very strange for both of us. And surprising. It was funny when the announcer was saying "Goal scored by Nikita Popugaev and assist by Nikita Popugaev". Now we play in different teams, but we were lucky that we had such a huge difference in size. I was Nikita Popugaev "big" and he was Nikita Popugaev "small".
RS: Why did you decide to move to Canada last year?
NP: I wasn't planning a move overseas, but then the circumstances decided that way.
WJC and Draft
RS: Would you be disappointed if you will not be called up to represent Team Russia at the WJC?
NP: Hard question. I'd try not to look too disappointed, after all, it's a decision of the coaches, about how they see the team. I'll have to work and practice even harder. I'll wish the team good luck, and I still have a chance next year.
RS: Because of you, scouts now have to travel more often to a little city like Moose Jaw.
NP: I feel a lot of attention on me, it's the draft year. But you have to show every day what you can do. I don't think about what round I'll be picked, I simply need to focus on myself, try hard and everything will be ok.
A professional hockey writer and translator. Loves Russian culture, language, and hockey. Reachable on twitter @AlexSerenRosso