The San Jose Sharks recently signed one of the NHL's best defenseman to an eight-year, $64 million deal, making him the second highest paid defenseman in the league. The Sharks will need to sign another of the NHL's best defensemen to a big deal in a couple of years.
It is rare to find a team with two stellar blueliners, but with Brent Burns and Marc-Edouard Vlasic, San Jose has two of the very best.
Sharks coach Peter DeBoer nominally splits up the two elite defenseman. Burns pairs with veteran Paul Martin while Vlasic pairs with Justin Braun. Conventional wisdom says Martin makes Burns better, while Vlasic makes Braun better.
Justin Braun
Paired with one of the league's best "makes everyone around him better" players over the past few seasons, Braun has developed an impressive resume. The longtime partners have consistently tilted the ice in San Jose's favor. Justin Braun, on his own merit, is a good NHL defenseman.
Most teams would covet Braun's productivity. Over the past three full seasons (among defensemen), he is 46th in even strength scoring (63 points). He is 13th in plus-minus (plus-38), which would be the top defenseman on 23 of the NHL's other 29 teams. These stats didn't come the easy way, either. Braun and Vlasic are the Sharks defensemen tasked with slowing the opponent's best players. The stats say Braun is a top-30ish NHL defenseman. The folks at capfriendly.com have him at 87th in cap hit among defensemen.
On paper, Braun is a bargain. Using the eyeball test, I'd suggest Braun is better on paper than he is on the ice.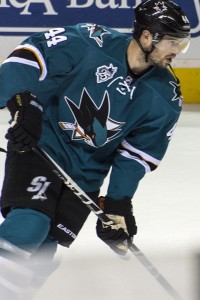 I'll use this season's results to illustrate the difference Vlasic makes. In the 24 games so far this season, Braun is minus-2, while his partner Vlasic is plus-4. According to Dobber Hockey, Braun spends 85% of his time on ice with Vlasic. This suggests when Braun is not with Vlasic, things do not go as well for Braun. Granted it is a small sample size, but there is reason to suggest Braun's stat lines have exceeded his play for the past few years.
The Vlasic factor makes it tricky to judge where Braun sits in the hierarchy of NHL defensemen. He is likely among the league's top 50 defensemen, solidly rating a top pair role.
Braun's numbers are excellent. His contract is a bargain, and it runs through 2020. He is 29 years old, meaning his contract runs through the prime of his career. He has extensive post-season experience. He has a history of staying healthy, playing in at least 80% of the Sharks games every season since he became a full-time starter in the 2011-12 season. He has played in over 90% of the Sharks games overall.
It might seem absurd for Braun to be on the trade market. And yet, this might be a good time for San Jose to start fielding offers.
Sticky Stuff
When making a trade, it is useful to sell high. Braun is a sell high candidate.
Two things might drive Braun out of San Jose. The first is the expansion draft, the second is the salary cap.
For the expansion draft coming in June, teams can protect players from being taken by the new franchise, the Vegas Golden Knights. Though there are lots of details and subtleties, it essentially boils down to this. Among skaters, a team can lose one of the following: their 8th best forward, their 4th best defenseman or their 9th best skater, whether forward or defenseman. These are teams "bubble players". The term "best" will be defined by the staff of the Vegas Golden Knights. Best will include a number of factors including position, contract and age. Who will stick with their current team, and who will go? Lots of factors are involved.
http://gty.im/488462209
Every NHL team understands the expansion draft is a losing situation. Each team will lose a non-protected player. The goal is to minimize the loss. There is an expectation teams will do plenty of trading in the next few months to minimize their loss from the expansion draft. Due to the way the expansion draft is constructed, there will be plenty of win-win trade opportunities as teams try to balance their rosters.
Teams with deeper rosters are likely to have quality players on this bubble. The Sharks fit this description, but other teams do as well.
For San Jose, a team with an exceptional blueline, the bubble player is almost certain to come from their deep and talented defense group. The Sharks bubble player is their fourth best defenseman.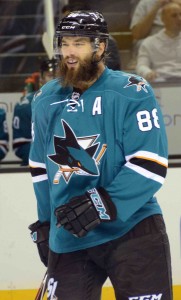 On defense, the Sharks will protect Vlasic and Burns (a creative, albeit unlikely alternative is offered here). But after these two, there is room for just one more defenseman to protect. The top candidates are David Schlemko or Braun. Schlemko has a more favorable contract and is a comparable player. One of these two is likely gone after this season, with nothing in return.
If Braun can garner a reasonable return in a trade, San Jose should consider making a move. Lots of teams will have an interest in Braun's talent, but teams with a shortage of defensemen worth protecting should be especially interested. If Braun is on the market, I'd imagine most of the league would take a serious interest.
Braun's Value
Braun was selected in the 2007 NHL draft. Among defensemen in his draft class, the list of defensemen who are close to or better than Braun are: Carl Gunnarsson, Jake Muzzin, Alec Martinez, PK Subban, Kevin Shattenkirk, Ryan McDonagh and Karl Alzner. What is the corresponding draft pick one gets when getting the fifth or so best defenseman in a draft class? It should correspond to a mid-first rounder. Looking at this in different ways, Braun's value equates to a first round pick between 10 and 20. Of course, where a team will wind up in the draft is unknown. It would be a gamble, for both sides, if a first round pick was involved.
If San Jose wants a player in return, a top six forward would make a lot of sense. A player like Charlie Coyle of Minnesota would be the type of return the Sharks would need.
The second issue relates to salary cap. The recent signing of Burns puts pressure on the salary cap for upcoming seasons. As players need to be re-signed in the years ahead, the Sharks will want to have sufficient room to keep, among others, Vlasic and goalie Martin Jones. The Sharks can manage this with Braun still on the roster, but their flexibility will be more constrained.
Downside Risks
The Sharks will be a weaker team this season if Braun is traded for draft picks. If he goes for a player, almost certainly a forward, it depends on the player coming to San Jose.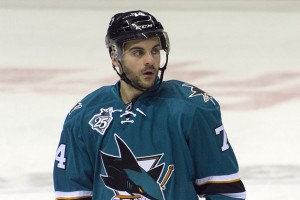 The Sharks will be OK with trading Braun, provided they stay healthy. They have a capable seventh defenseman in Dylan DeMelo, but the defensemen on their AHL team are suspect. The top six, without Braun but with DeMelo, will still be strong. But the drop-off after the top six looks pretty large. If injuries happen (and they will), Sharks GM Doug Wilson may find himself renting a defenseman. The rental would come to San Jose for a lot less than Braun would bring in. A player like the recently departed Matt Tennyson would fit the bill.
To the extent left-right pairings matter (it does not matter a lot), Braun's departure would leave San Jose more dependent on left-handed defensemen than they already are. They start four left-handers and just two right-handers.
Tricky Choices
Trading Braun mitigates a major downside for San Jose — his departure in the upcoming expansion draft. If he is available to Vegas, they will be thrilled to have his services.
For San Jose, trading Braun will not be fun. But the basic choice is not fun. It comes down to getting a substantial return or getting no return.
Further, the roster of players San Jose protects could also be stronger (depending on the player acquired). This also adds to the available cap space. It may matter this year, it will certainly matter next year when Brent Burns contract kicks in. And it will matter down the road a bit, as some current Sharks players will be in line for major raises in the coming years.
The Sharks will likely still lose a defenseman in the expansion draft. Dylan DeMelo, Brenden Dillon, Paul Martin and perhaps even Mirco Mueller will be options for Vegas. None provides the value Braun provides.
Being tight to the salary cap creates an incentive for San Jose to trade a player. The expansion draft gives San Jose an incentive to trade a "sell high" player for a substantial return. The alternative is to get nothing.
There is a spotlight on Justin Braun. Just not the spotlight he would prefer.
ZEKE is a native of the DC area where he witnessed the birth of the Capitals franchise. After graduating from Cornell University, which had seen hockey glory before he arrived, he moved west to San Jose. There he witnessed the birth of the Sharks franchise. His wait to witness a Championship from any of these teams finally ended in 2018.