There are times in life where good things happen and you barely notice. That might sum up the season so far for the two Sharks defensemen on their most effective pairing: Justin Braun and Marc-Edouard Vlasic.
The Vlasic-Braun pairing is considered by many to be the top defensive pairing for the Sharks. One could question if that title really belongs to Brent Burns and Paul Martin who average more ice time per game and who carry a notably larger salary cap hit. In practice, both pairings have been good (when Martin has been healthy) which has allowed a suspect third pairing to play effectively in fewer and more sheltered minutes.
Defensive Defensemen
Coming into this season, Vlasic was a known quantity, a player who had proven reliable and effective, year after year. He carries the second best plus-minus rating from his draft class (behind Sidney Crosby). He is 17th among active players, one of only three in the top 20 that are under age 30.
Vlasic, a low-profile gem of a player, is still largely unknown to most hockey fans (and to ESPN, who proved their hockey ignorance yet again with its ranking of the top 100 players, Vlasic was not among the 19 defensemen included in their list). Those in the know recognize Vlasic as a top tier player. He did get increased visibility during his lock-down performance in the Olympics as a key part of Team Canada's dominant romp to the gold medal.
Eight games into the season and Vlasic has, once again, managed to avoid spending much time in the highlights. Not a major offensive contributor, Vlasic remains the player the Sharks rely on to keep bad things from happening. In that regard, he has been successful.
Justin Braun is among the teams strongest and fastest skaters. He had a good 2013-14 season and many felt he had turned a corner in his career. However, he followed that good year with a down one, a mistake-prone 2014-15 season. It was unclear which Justin Braun would show up for the 2015-16 season. So far, its been the good Braun.
Getting the Job Done
Through eight games, neither defender has scored a goal. They have five assists between them, scoring roughly on pace with their prior seasons. Where they excel, though, is keeping their own net quiet.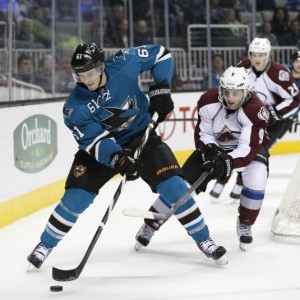 Through eight games, Vlasic and Braun are the only two regular Sharks defensemen to take a higher percentage of face-offs in the defensive zone than in the offensive zone. Yet, despite often beginning play in defensive zone, they have skimpy GA60 of about 1.3 ('goals against' per 60 minutes of ice time during 5-on-5 play). In total, they have each been on the ice for a mere three goals against in eight games at even strength. One of the three happened to be the softest goal allowed this season. Though neither creates much offense, they carry an impressive GF60 of over 3.0 to rank first and second among the team's defensemen ('goals for' per 60 minutes of ice time during 5-on-5 play) which just about double the GF60 of the Sharks offensively-minded defenseman Brent Burns.
In short, Vlasic and Braun have done what defensemen are supposed to do. They do not get caught up ice and as a result, rarely face odd man rushes. They keep the puck away from their own net. They force play to the outside in their defensive zone. They win board battles and exit the defensive zone cleanly.
While they contribute only modestly to the scoring, they play effectively in the offensive zone. They work efficiently with the forwards, pushing play below the dots. After eight games, Braun and Vlasic each sport a plus-5 rating. It isn't so much that lots of good things happen when these two are on the ice, but that bad things are so rare.
The most visible Sharks defenseman is Burns, frequently seen on highlight reel plays. Burns' partner, Paul Martin is already considered a team MVP candidate, given the night and day difference in the team with and without him on the ice (5-0 with him, 0-3 without). Still, it is the pairing of Vlasic and Braun that quietly plays 35% of the game and tilts the ice a good bit in the Sharks direction. It is a long season. Having a reliable duo that provides the Sharks a distinct advantage should help considerably as the team attempts to return to the postseason.
ZEKE is a native of the DC area where he witnessed the birth of the Capitals franchise. After graduating from Cornell University, which had seen hockey glory before he arrived, he moved west to San Jose. There he witnessed the birth of the Sharks franchise. His wait to witness a Championship from any of these teams finally ended in 2018.