In part 3 of our season review, we head to the blueline. The first two parts covering the main topics and the forwards can be found here and here. For another take on the defense, you can also view Andrew Bensch's analysis with this hyperlink.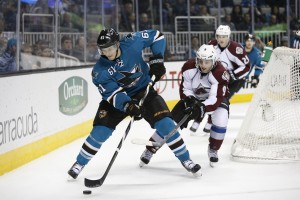 The Sharks blueline underwent a makeover after last season, even though the Sharks were actually 5th best in the NHL in goals allowed during that season. Some of it made sense. Longtime Shark Dan Boyle, the oldest player on the team, had a poor season last year and an expiring contract. Boyle's poor season was traceable to a brutal concussion, his recovery and longer-term prospects were unknowable. The Sharks moved on. It was unfortunately, the only rational choice they had. Brad Stuart also had a difficult season, and the Sharks moved on there as well. Neither player, given the quality of their play last season, would seem difficult to replace.
Also in the prior season, puck mover Jason Demers and Justin Braun had taken major steps forward, while Marc-Edouard Vlasic showed he belonged in the league's top tier of defensemen. Those 3 formed a group to build around for this season. Matt Irwin, a bit of a question mark and aging veteran Scott Hannan also remained. The Sharks then took Brent Burns and his dynamic skills off of the forward line and returned him to the blueline where had played most of his career. They elevated 19-year-old rookie Mirco Mueller, a 1st round draft pick in 2013, to the roster. Those 7 would be the core group of blueliners for the new season.
Oh the best laid plans …
The Top Pair
From the start of the season, it was clear that the coaches had their work cut out for them. Over the course of the season, only a few things really worked. The most obvious one was the pairing of Marc-Edouard Vlasic and Justin Braun. When the pair was split up, which happened with some frequency, Braun in particular, struggled. Vlasic missed the last several games with injuries, but he proved once again to be far and away the Sharks best defenseman.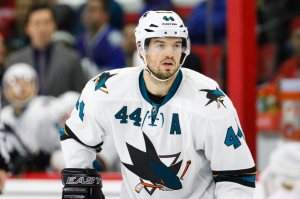 Vlasic's pairing with Braun was the best combination the Sharks rolled this season, but Vlasic paired with several other players as well. Pretty much everyone who got paired with him played noticeably better with Vlasic as their partner. Vlasic had 9 goals this year, a career best. He had a number of clutch goals during the season, including one that sent a game into OT with under half a minute to go, another that won a game with 5 seconds left and a third that was a game winner in OT.
The Second Pair?
If the top pair worked, the nominal second pairing proved problematic from the start: Brent Burns and Mirco Mueller. A stay at home left-hander in Mueller and an aggressive right-hander in Burns. That part made logical sense. The results were not good however, and coach Todd McLellan abandon the combination early on.
Burns had a very strong year on offense and bad year playing defense. His offensive talent is there with the elite players in hockey, yet all too often on defense, he help makes the players on the other team look elite. At points during the season, coach Todd McLellan moved Burns, the highest paid defenseman on the roster, to the 3rd pair.
The controversy over Burns has garnered massive attention. It pretty much reduces to this: Whenever Burns is on the ice, he is an offensive juggernaut, whether as a forward or as a defenseman. On the power play, he is a nightmare for other teams, where the Sharks have wisely used him at the point independent of where he plays during 5 on 5 hockey. As a forward, being aggressive (especially on the forecheck in the offensive zone) can be a defensive asset. In that role, Burns is very effective. As a defenseman, that sort of aggression is often a defensive liability and Burns becomes very problematic. You get the offense either way, but you only get his defensive liability when he is a defenseman.
Burns tied for 2nd in scoring among NHL defensemen and still finished -9. Perhaps no game showed both the good and bad more than the outdoor game, where Burns was on the ice for all 3 scores. He fired in the lone Sharks goal. On the first Kings goal, it appeared Vlasic was trying to pass the puck behind the net to a spot where he expected Burns to be. Burns was not there and that turnover led to the goal. Burns later misjudged a play which resulted in a Kings breakaway that turned into the game winning goal.
Burns partner to start the season, Mueller, was not NHL ready this year. Contractual issues prevented Mueller from playing in Worcester, the top development franchise for San Jose. The team kept him with the big club and hoped for the best with the youngest player on the roster. The answer was clear: he needed more time to develop his game. Mueller managed only 2 contact penalties in his 39 games, he will need to become more physical to play at this level. Mueller was injured twice this season (once while playing at the World Juniors) and missed chunks of games each time. Not many 19-year-old players are capable of playing in the NHL and it would be wrong to use this season to attempt to project Mueller's longer term prospects. Whether Mueller is NHL ready for the start of next season or not is an open question, but wherever he plays, he should be playing every day.
Veterans on the Blueline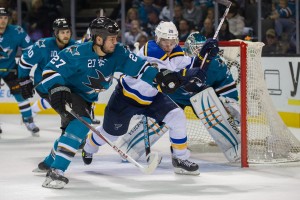 The oldest player on the roster, Scott Hannan, had a solid year as a 3rd pair defenseman, playing sound defense and more or less staying out of the offense, finishing with an even rating and just 7 points. Hannan, who returned to the Sharks in a late-season trade two years ago, has been one of the best bargains on the roster. Unfortunately for Hannan, his season ended a few games early. During the game where he scored his second goal of the year, he took a puck to the eye. People have tried to retire Hannan for a while, yet he stubbornly shows why he still deserves a role on an NHL team.
Jason Demers had been inconsistent for much of his career. Based on a good season last year, Sharks management figured Demers had turned the proverbial corner and Demers scored a healthy contract in the offseason. This season, he quickly proceeded to disappoint. Early in the year, management had seen enough. They traded Demers for Brenden Dillon just 20 games into the season. Dillon may have made management wistful for Demers. Combined for the year, they were -17. Dillon was -11 and had 9 points in 60 games, essentially scoring at the same 'points per 60 minutes' pace as Hannan. Demers was slotted to be a puck moving defenseman, a 'Dan Boyle light'. The sort of player who accelerates play. Dillon is bigger and much more physical, the sort of player who slows things down. Neither player did well in teal this season.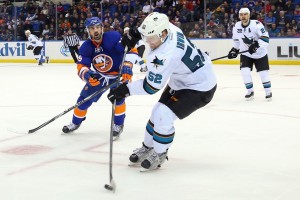 If one was looking for a bright spot on defense, halfway through the year, Matt Irwin would not have been a candidate. In the second half, he turned things around at both ends of the ice. His defense improved substantially, his scoring bumped as well. He rebounded from being -9 and finished the season at +3 . Despite playing only 53 games, his 8 goals were 3rd among the defensemen. The eyeballs agreed with the +/-, Irwin genuinely went from bad to good. There were not many positive stories on the Sharks blueline, Matt Irwin's turnaround might be the best.
After the trade for Dillon, the Sharks top 7 defensemen included Mueller (19), Dillon (24) and Burns (29), replacing last years group of Boyle (38), Stuart (35) and Demers (26). The incoming trio was younger by an average of 9 years per player. They were also bigger, the 3 departed defensemen averaged 6'1", the new additions averaged 6'4". Alas, 'bigger and younger' did not equate to better, at least this year.
More Newcomers on the Blueline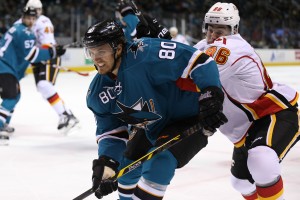 Due to late season injuries to Vlasic, Mueller and Hannan, the Sharks finished the season with two defensemen on the roster who had spent pretty much the entire season in the minors. Taylor Fedun had a strong year in Worcester while Karl Stollery came into the Sharks organization just prior to the trade deadline. Both were called up from Worcester late in the year and each finished the year playing a single digit number of games with San Jose. Of the two, Fedun impressed enough to the point one would think he merits another opportunity next season. Fedun, unlike the other newer blueliners, is not all that young (he will soon be 27), nor that big at 6'1". He seems to play smaller than that. He moves well on the ice. Fedun might well have gone down as no more than an unfortunate footnote in hockey history. He was among the players that were badly injured during a race for an icing touch. His injury was part of the reason that no-touch icing was implemented. His is a great comeback story, getting back into the NHL following a lengthy recovery from a shattered leg. He plays with the fire you might expect from a player who has been through a lot just to get his chance. Fedun appears suited to fill the role Jason Demers had before he was traded. That is if Fedun remains with the Sharks.
One other defenseman that needs mentioning is Matt Tennyson. Tennyson played 27 games in San Jose and played well. In a puzzling move, Tennyson was sent back to Worcester in February and never returned. He had 8 points for the big club and an even rating. For whatever reason, Tennyson appears to be deep in someone's doghouse.
One of the more useful stats when it comes to defensemen is 'goals against per 60 minutes of ice time' measured at even strength. After all, the first priority of a defense is to keep the puck out of your own net. Of the 8 defensemen who played sufficient minutes, Tennyson led the team in that category and Hannan was 2nd. Neither would seem to be in the team's future plans. Maybe both should be.
Two Years in Transition
This was a year of transition for the blueline and the blueline was as problematic as it has been in years. Next year needs to be a year of transition — in the other direction.
The new players added to the core, Burns, Dillon, and Mueller, were all oversold. Of the 8 leading defensemen, these were the 3 who had the most goals against per 60 minutes of 5 on 5 play. Mueller has an excuse, he was rushed to the big club before he was ready. Dillon and Burns really don't.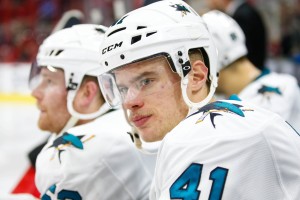 Unlike the forward lines, however, the blueline did get younger this year. If Burns returns to forward and Hannan moves on as many expect, it almost certainly will get younger again next season. There is a lot of room for improvement in all this.
There are also a lot of decisions to be made. Matt Irwin, Taylor Fedun, Scott Hannan and Karl Stollery are all unrestricted free agents, while Brenden Dillon is a restricted free agent. Matt Tennyson does not seem to be in the future plans, given the way he was used. Burns could and should return to forward, while Mueller likely needs more time in the minors. That leaves the top pair, Braun and Vlasic, as the only two blueliners that seem certain to return.
It is worth reiterating what was said near the start of the article. The Sharks were the 5th best team in hockey last year in goals allowed in the prior season. This year, they finished 23rd, dropping off 18 spots! The entire disaster should not be blamed solely on the defense; the forwards and goalies had their own problems, which added considerable fuel to the fire. But the defense does own the lion's share of this issue.
Getting Back On Track
It should not be hard to improve. Burns and his -9 rating can go back to forward where he belongs, taking his 29 minor penalties with him, a dozen more than he had as a forward the prior season. Mirco Mueller can take his -8 in half a season's worth of games and spend his time with the Barracuda, developing his game to an NHL level. Whether that takes 2 months or 2 years, let him develop. Even now, he is barely 20 years old. Dillon, 3rd on the team in minor penalties in just 60 games, and his -11 rating would seem ideal trade bait. In terms of goals against per 60 minutes at 5 on 5, these three players did not fare well. Out of the 24 measured players on the Sharks, these players finished 18th, 19th and 21st on the team, the bottom 3 among defensemen.
Remove the 3 major liabilities and replace them with better defensive players. The Sharks have these players available to them. Those would be Fedun, Tennyson, Irwin and Hannan. In a total of 145 games, those 4 were a combined +3. In terms of even strength goals against per 60 minutes, these players finished 3rd, 4th, 9th and 17th on the team (note: Fedun's playing time was very small, making his number less reliable). Add in a top 4 quality defenseman via trade or free agency and you have a major upgrade over this year's group. Whether that is enough to be good, I can't say. A major improvement does not mean good since this year's group set the bar so low.
However the Sharks decide to address their defense this coming season, they will need to do it without the help of hockey legend Larry Robinson. His time with the Sharks as an associate coach will always been appreciated, even if it will go down as one of the least significant line items on his extraordinary resume. Somewhere below Hall of Fame, Conn Smythe winner, a couple of Norris trophies and 9 Stanley Cups. The legend is stepping away from coaching functions and moving back to Florida. One hopes the Shark players were able to take much from the opportunity to learn from Larry Robinson.
There is simply no sugar-coating this season. The Sharks defense was a major issue this season, perhaps the most problematic on-ice issue the team had. There is a lot of work to be done this offseason.
ZEKE is a native of the DC area where he witnessed the birth of the Capitals franchise. After graduating from Cornell University, which had seen hockey glory before he arrived, he moved west to San Jose. There he witnessed the birth of the Sharks franchise. His wait to witness a Championship from any of these teams finally ended in 2018.