It is difficult to make blanket statements about the Sharks forward group this season. It was complicated in several respects and some things proved counter-intuitive. The Sharks used over 20 forwards this season, 18 of them played over 10 games for San Jose. This team made sure everyone would get a chance that deserved a chance, fulfilling one of the offseason promises made by General Manger Doug Wilson. 5 of those 18 would finish the season on another roster, 4 elsewhere in the NHL, 1 with the Sharks minor league club in Worcester. With all the movement, it proved an interesting season for the Sharks forwards.
The Top Guns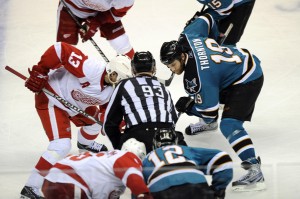 The Sharks have 4 forwards making $6million per year or more. There was one notable drop-off in terms of forward productivity in this group. That came from 35 year-old Patrick Marleau. The highest paid player on this year's team had one of his worst seasons. Marleau, at times, flashed his old abilities. But those times were infrequent. His 19 goals and -17 rating were both among the lowest in his career. As difficult as the season was, it was not unexpected. Marleau has a history of opening strong and fading over the course of the year. This season, the pattern continued, just on a poorer track.
Joe Thornton, also 35, had another strong season, though one could see his play slipping a bit. He had his longest scoring slump in years late in the season. In several games, he looked like he just did not have his legs going. Even so, he remains among the best and most valuable players for this team. Joe Pavelski, on Thornton's line all year, also had a strong season, on par with his terrific prior year. He also seemed to be the de facto captain, taking on chores like postgame media interviews, things Thornton had done while he wore the 'C'. Expect Pavelski to wear the 'C' next year, there simply is no better role model on or off the ice. Few players in the entire NHL have done more to earn a 'C' than Joe Pavelski. Logan Couture skated with Marleau on one wing for most of the season and a variety of other forwards on the other wing. Couture's success often seemed to come despite his linemates, not because of them. Couture was perhaps the only returning Shark forward who can credibly claim he was better this season than last. Not only did he set a career high for points, but also for hits and blocked shots. It would be fun to see what Couture can do with a talented set-up man. That may happen next year.
The Next Tier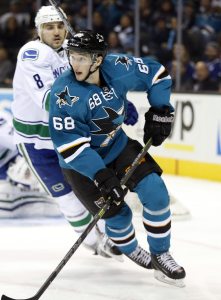 Two rookies stepped into the limelight and made a strong case for themselves going forward. Gritty Melker Karlsson and playmaker Chris Tierney both managed to find themselves in important situations and both delivered. Karlsson was a hit from the time he came up in December. He was promoted to the top line shortly after his arrival in San Jose and stayed there, largely due to his mature game and his aggressive net front play. Tierney yo-yo'd up and down between San Jose and the minor league club in Worcester, before hitting stride in February. Tierney's agility, creativity and puck handling stood out. I would like to see Tierney and Couture on the same line, their skills appear highly complimentary and if so, they could be 2/3 of a very effective second or third line.
Barclay Goodrow was the other rookie forward to make an impression, leading all Shark rookies in games played. His talent is modest by NHL standards, though he may become a useful player. It will help him immensely if he can find a specific skill such as penalty kill specialist, designated fighter or hit machine. The latter is a role filled by Tommy Wingels and pretty much no one else among the Sharks every day forwards. There needs to be more than one. It would be a really useful fit for Goodrow, who has the size and hopefully the determination to pull it off.
Speaking of Wingels, he played his heart out, but he failed to improve on his prior year performance. His second half was disappointing for the second year in a row. There is a case to be made that Wingels very physical style of play wears him down. It would be unfortunate if he has peaked, perhaps he can be better managed over the course of a season. Wingels had over 250 hits this season, Tomas Hertl was second among Shark forwards at 106.
Speaking of Hertl, he spent the season showing everyone that he was not the same explosive player he was as a rookie. His return to form will be critical to this team. At his best, Hertl is a top line talent. While this season was not pretty, he played every game. That should help him understand how to manage himself going forward. He also had brief appearances at center, which is probably the position he is best suited for over the longer term. Fellow second-year winger Matt Nieto did not progress either, pretty much flat from his prior season. He finished last on the team in goals against per 60 minutes at even strength, the only Shark player to average over 3 goals against per 60 minutes of ice time. Needless to say, he did not lock in his long-term future this year. Ben Smith arrived late in the season via a trade with Chicago. After a great debut, he returned to being Ben Smith, which is to say a good 4th line player.
The Rest and The Departed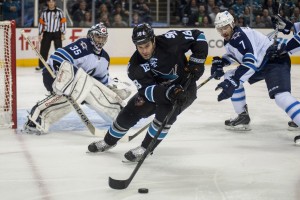 John Scott and Mike Brown were not employed to make big impacts on the scoring portion of the score sheet, and neither did. Just 4 points between them, all belonging to Scott. Brown missed most of the season with injuries, Scott played in just under half the games. Ironically, for 2 not-so-skilled players, the team record was notably better with them in the line-up. When at least one of the two played, the record was 24-14-5. When neither played, 16-19-4. Go figure. Scott, who will be 33 for next season, is the lone unrestricted free agent among the Sharks forwards.
The Sharks did move on from several forwards who saw considerable ice time this year prior to packing a bag. Andrew Desjardins, Tyler Kennedy, James Sheppard and Tye McGinn all were all moved near the trade deadline, 3 of the 4 will play in the postseason. Adam Burish made it through 20 games before he was sent to down to Worcester. When the Sharks made that move, other teams could have picked up Burish (along with his overpriced contract) for no compensation to the Sharks. There were no takers. Combined, these 5 players played 191 games for San Jose this year, about 20% of all games played by Sharks forwards. Embedded in these games, a lot of player development that will ultimately benefit other teams.
Lack of Balance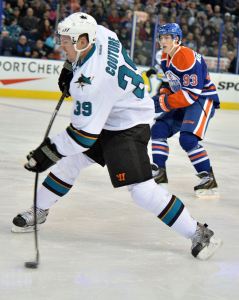 The lines the Sharks rolled out were, typical of the coach's preference, top heavy. The top two lines included all 4 Shark forwards (Thornton, Marleau, Couture, Pavelski) earning a premium salary, and they often included Tommy Wingels, the next highest paid forward.
On the night the Sharks were eliminated from postseason contention, along with the 5 from the highly paid group, they also rolled these 7 forwards: Brown, Hertl, Goodrow, Tierney, Nieto, Karlsson, and Smith. Young and cheap. 7 forwards who combined to take up about 10% of the cap space. Only Smith (26) and Brown (29) were 25 or older. By cap hit, the top two lines were around $14million each, the bottom 2 lines around $4million each. That sort of disparity was pretty typical for this season.
I'll also touch on this when I address the coach, but the heavy ice time associated with the Sharks top line players seemed to work out poorly for the players and the team overall. Among NHL forwards, Pavelski was 4th in total ice time, Marleau, 9th and Couture 20th. The Sharks were the only team with 3 forwards in the top 20 in total ice time. About half of these 20 forwards averaged under a minute per game in short-handed ice time, the toughest minutes. The 3 Sharks forwards all were around 1.5 minutes of ice time per game short-handed. A lot of ice-time with a lot of the tough minutes for the top guns. Joe Thornton, despite missing 4 games, was 53rd in ice time among forwards.
The Sharks can spread the talent around if they choose. They have plenty of centers and could offer up strong centers for all four lines. Couture, Thornton, Pavelski, Marleau, Hertl and Tierney can all play center. Yet for much of the year, none of these players were centering either of the two lower lines. Among the forwards who played primarily on the lower lines that are still with the team, Tomas Hertl led with 13 goals, Matt Nieto had 10, Tierney had 6 and no one else had more than 4.
The Missing Forwards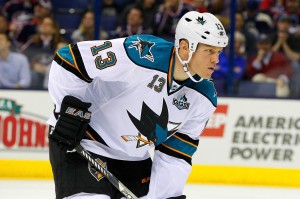 While he was not a forward this season, it is worth mentioning the absence of Brent Burns. The move to defense will be covered in the next article, however, the forward lines missed him greatly. All of them. He made the top line better, and allowed greater talent to spread out to the lower lines. Burns physical presence was missed as well. This season Burns had 70% more ice time (over 800 more minutes) than he did last season. He was credited with 148 hits, essentially unchanged from the 145 he had last year as a forward.
Also worth noting, the injury-related absence of Raffi Torres. Torres has one more year on his current deal, he will be 34, coming off multiple knee surgeries and will probably not be fully healthy until well into the season. Torres does not fit the 'rebuilding with youth' mantra of Doug Wilson, but he will be here if for no other reason than he has a contract.
The Shark forwards are not getting younger as fast as one might think. Yes, a number of younger players are in the line-up, but the Sharks also have several forwards under contract for next year in their 30's. Pavelski, Torres, Thornton, Marleau, Brown and Burish. Burns, should he return to forward (and he should) and Scott, should the Sharks choose to retain him, are also both in their 30's.
More Minus, Less Plus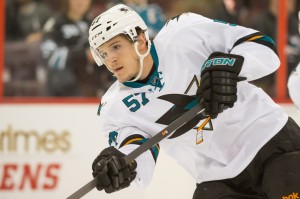 All in all, the forwards took substantial steps back. Only 2 forwards improved their +/-. Tyler Kennedy (-10 to +1) and Andrew Desjardins (-8 to -2); both were traded. Every other forward to play a significant number of games had a worse +/-. The +/- stat doesn't always tell the story, but in this case, it comes close enough. No returning forwards really got better, with maybe the exception of Couture. Several struggled a lot. Three rookies made their way onto the scene with success, two appear to be top 9 quality forwards.
Looking at the hit totals for the Sharks forwards, it is no surprise that Tommy Wingels came out well ahead of the rest of the forwards. His total of 263 was over 150 more hits than the next forward, Tomas Hertl. Of the top 6 in hits among the forwards, 3 of those players appeared in under 60 games and it is probable that none will be in teal next year. Andrew Desjardins and James Sheppard (both traded) are already gone while John Scott in not likely to return. Despite spending the last 20+ games on other teams, Sheppard and Desjardins were also 5th and 7th among forwards in blocked shots for the team.
In recent years, the Sharks have been among the more physical teams up front. Physical play, especially on the forecheck, has been a key part of many wins. They seem to be letting that part of the game slip away. Returning Burns to forward and helping Barclay Goodrow to tap into his inner Tommy Wingels could change things in a hurry. Earlier I noted the Sharks could have 4 lines with strong centers. They could also use a physical force on each line. To paraphrase a line from Doug Wilson (at the 1 minute mark of this video link), with all due respect to Tomas Hertl and Joe Pavelski, these can't be your 2nd and 3rd biggest hitters among the forwards on the team.
It was not a good year for the Shark forwards. While there were a few signs of hope and a few bright lights, there was too much regression, not enough chemistry. Problems that covered all 200 feet of ice. If one is looking for a positive spin, there is always faint praise: the story for the forwards was better than the story for the defense.