Up and Down Demers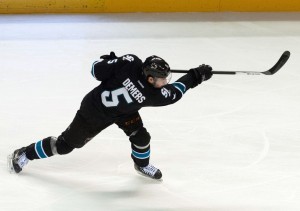 Much like how the Sharks have been this year, former Shark defenseman Jason Demers has had an up and down career. The 26-year-old Quebec native jumped onto the NHL scene as a rookie in 2009-10 and saw No.1 unit power-play time for the Sharks ahead of some guy named Rob Blake. In his rookie season Demers played 51 games and scored 21 points. In his sophomore campaign Demers avoided the ever common sophomore slump by making tremendous strides in his defensive zone play. While he only scored 24 points in 75 games during the regular season, he was arguably the best defenseman going for the Sharks during the 2011 playoffs. Unfortunately for San Jose, a high ankle sprain kept Demers from playing in the Western Conference final. The next two years are seasons Demers would rather just forget, through 2011-12 and 2012-13 Demers took a giant step back and was frequently a healthy scratch. However, in his last full season as a Shark in 2013-14, Demers was excellent. He carried Scott Hannan for the first half of the season before being promoted to the top pair alongside Marc-Edouard Vlasic. Overall, Demers finished with 34 points and a plus-14 rating in 75 games. After struggling yet again at the outset of this season, Demers was traded in November for then Dallas Stars defenseman Brenden Dillon.
Even Trade?
Like Demers, Brenden Dillon has had his ups and downs. The 24-year-old British Columbia native played on a top pair with Stephane Robidas for awhile and held his own. On the flip side Dillon also struggled a bit to start this season and was therefore shipped out to San Jose. Overall, each team got what they needed. The Stars got a right-handed puck moving defenseman, two things they were short on, puck movement and a right-handed shooter. The Sharks meanwhile got a more defensive minded top-4 caliber left-handed shot that they certainly needed. When Marc-Edouard Vlasic went down in the playoffs last year, the Sharks were left with no defenseman anywhere capable of filling his shoes.
Mixed Results for Both
A couple of months have now passed since the trade, so what to make of it so far? Well, according to one THW Stars colleague Tabatha Patterson, Demers "fits seamlessly and has really improved the Stars' breakout." On the flip side Ed Sarno notes that Demers, "made a big splash in his first game but has been pretty average since then." Safe to say Demers has given the Stars the type of player they need but some mixed results. The same can be said for Dillon and the Sharks. Dillon struggled in his first few games after the trade but settled into a fine rhythm with Brent Burns as his partner. However, when head coach Todd McLellan mixed up the defense pairs, Dillon started to struggle alongside Justin Braun. Since Braun went down with injury, Dillon has actually started to play a bit better again on a pair with AHL call up Matt Tennyson. Dillon provides some size on the left side but at times has been guilty of sloppy play with the puck and his point shots are far too often blocked by the first shot blocker.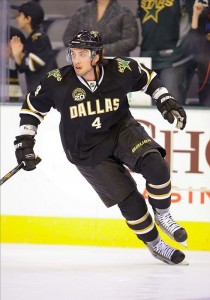 The obvious answer here is so far there really is no clear winner or loser in this trade. If one were to lean the way of choosing between the two, it could be said the Sharks were too quick to give up on Demers. Certainly Dillon has played a bit better with Tennyson the last couple games, but with Braun having struggled, and Burns being an adventure in the defensive zone, what used to be a strength (right-handed puck movers), is arguably now a weakness. The Sharks improved their depth on the left side but took away their depth on the right side to do it. Considering the Sharks have high hopes for left-handed rookie Mirco Mueller, perhaps they would have been better off keeping Demers. In reality we won't have a better idea of who got the better end of the deal for a couple years. Dillon is still incredibly young and has the potential to establish himself as a consistent top-4 defensive defenseman. Demers on the other hand is a couple years older and signs indicate he may never find that consistency from year to year. For the immediate short term, perhaps the Stars have gotten a bit more out of Demers, but as Sarno also points out "Dillon probably more upside, especially under Larry Robinson's tutelage."