Not a Bad Defenseman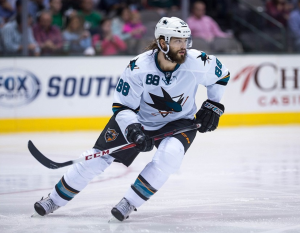 Brent Burns is an excellent puck moving defenseman. Let me be perfectly clear about that. When playing defense consistently he has been a top four or top two puck mover. In recent weeks his minus-9 rating has improved to an even zero and he is predictably on pace for a career year points wise even playing defense. However, since the Sharks acquired him on 2011 draft day, they have never been a good team with him on defense.
Much Bigger Spark at Forward
Burns' first year as a Shark came on the blue-line for the 2011-12 season. That year the Sharks were mediocre at best, and suffered their quickest playoff exit in franchise history. As a seven seed they were knocked out by St. Louis in five games. Then at the start of the lockout shortened 2013 season the Sharks were in a prolonged slump. They were having issues scoring and a few weeks into the season they moved Burns to forward. That move completely changed everything. It is arguably the best move of head coach Todd McLellan's coaching career. Down the stretch of 2013 the Sharks were steamrolling opponents with three quality scoring lines. And they were doing so without exactly having a juggernaut defense. The pairs were primarily Dan Boyle-Matt Irwin, Marc-Edouard Vlasic-Justin Braun, and Scott Hannan-Brad Stuart. Last year in 2013-14 the Sharks kept Burns at forward and he was a beast on the top line, dominating at even strength and the Sharks were awesome. They finished with 111 points and built a 3-0 lead against the Los Angeles Kings. Yes they collapsed from there, but the 2013-14 Sharks were a strong team. They finished sixth in even strength scoring last season.
This year, even with Burns turning his defensive game around recently, the Sharks have free fallen to 24th in the league in even strength scoring. Once again with Burns on defense, San Jose doesn't have the firepower up front. For comparison sake, let us put the lineup San Jose went with against Nashville on Tuesday next to a lineup they could roll out with Burns at forward.
Vs Nashville Feb. 17:                           With Burns at Forward:
Karlsson—Thornton—Pavelski                                                             Hertl—Thornton—Burns
Marleau—Couture—Nieto                                                                      Marleau—Couture—Nieto
Hertl—Tierney—Wingels                                                                        Sheppard—Pavelski—Wingels
Goodrow–Sheppard–Kennedy                                                               Goodrow—Tierney—Karlsson
Vlasic—Burns                                                                                              Vlasic—Braun
Dillon—Braun                                                                                             Dillon—Mueller
Irwin—Hannan                                                                                           Irwin—Tennyson
By moving Burns up, the Sharks morph from a two line scoring team to a three line scoring team with a slightly better fourth. Offensively speaking, both even strength and the power-play, they will get more from Burns as a forward than a defenseman. Too many times people worry about not getting offense from the blueline. Again, it is not as if offense from the defense counts as two goals instead of one. All the goals count the same. It doesn't matter where the offense comes from, just as long as you get it. The forward lineup with Burns is much more dangerous than without it. Furthermore, with Burns' wild style , the Sharks lose next to nothing defensively by moving him up. Burns is far from being a strong defender in his own zone. Vlasic and Braun as the top pair will suffice just fine getting the puck up to the forwards. Dillon and Mueller have shown more chemistry together in fewer games than the Dillon-Braun pair has shown. So that is really a wash change for the second pair. And Irwin and Tennyson you could argue is better than Irwin and Hannan, much better puck moving skills with Tennyson.
Makes Everyone Else Better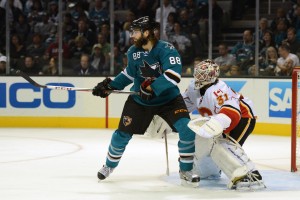 Last season with Burns at forward, all 19 of San Jose's skaters with over 400 even strength minutes posted Corsi-for percentages over 50 percent. This year almost every key player has a lower Corsi-for and five of the 17 players with over 400 even strength minutes are below 50 percent Corsi. Most notably, two third line quality players in James Sheppard and Tommy Wingels are having considerably worse possession numbers because they have been asked to do too much. Sheppard's Corsi is down 2.6% and Wingels' Corsi is down 4.4%. These two are asked to carry the third line when a chunk of the season last year they complementary players on the third line. Pavelski, a 55.5% Corsi-for player centering Sheppard and Wingels has been one of the most productive third line combinations the Sharks have featured over the last few years. Yet because Pavelski is a 40 goal scorer on the Thornton line the last two years the Sharks never seem to want to use Pavelski at the center ice position.
Two line teams don't go deep in the playoffs. Teams that win Stanley Cups have much stronger bottom six lines. In the salary cap era, every team has elite level talent on the top lines. What separates the great teams from the merely good ones are the depth players. The Sharks playoff record the last four seasons is 15-11 when they improve their bottom six by bumping Pavelski down to third line center. When he plays in the top six they are a putrid 5-10. That is over four years. Don't tell me that isn't a large enough sample of playoff games. Really great teams can shut down an opponent with two good lines. It is much, much harder to stop a team that can come at you with a 60 point two-way stud elevating a third line to a top line level. Burns at forward makes the Sharks offense extremely more productive and defensively they don't get any worse at keeping the puck out of their own net. Plus it is two fold, the three lines with Burns up front means the Sharks defenders won't have to defend nearly as much. And when they do, not having Burns back there isn't a big deal, he isn't a great defensive zone player to begin with.
The fact of the matter is the Sharks organization has seriously miscast Burns as a defenseman. They have done nothing but play consistently strong hockey with him at forward. At defense they have been nothing short of a mediocre team, that is close to missing the playoffs completely.