He was never supposed to be there.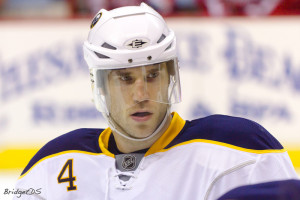 Undrafted, unheralded and largely unknown, Steve Montador was 24 years old when the Calgary Flames made their miracle run to Game 7 of the 2004 Stanley Cup Final. Bolstered by hard work, tenacity and an unyielding adherence to a system designed to maximize their (few) strengths and minimize their (many) weaknesses, the Flames' successes that post-season were bore upon the backs of players playing well over the heads and grasping towards a championship dream.
In many ways, Steve Montador personified that 2004 club.
Montador passed away over the weekend at his home in Mississauga. He was 35 years old.
A product of the Ontario Hockey League, Montador went through several NHL Drafts without being selected, and instead joined the professional ranks on a try-out when he spent a spring with the AHL's Saint John Flames. He did enough to earn an entry-level deal, and spent much of his early 20s bouncing between the Flames and Saint John. He spent the entire 2003-04 season with Calgary, though primarily as the club's seventh defender, but the 2004 Cup run was his career breakthrough.
Once thought of as a depth guy, he proved savvy in key situations and tough games, most notably scoring the game-winning goal in Game 1 of the Western Conference Finals with San Jose.
It was the first goal he had scored in the post-season. His defensive tandem with fellow depth defender Mike Commodore gained a cult following, nicknamed "The Doors" by fans, and that prominence eventually translated to contractual pay-days for both men. On a team whose 2004 playoff roster at the time read like that of the Cleveland Indians from the film Major League – "I haven't heard of half of these guys!" – Montador was one of several no-name players who distinguished themselves with strong play in crucial situations, and allowed the Calgary Flames to work their way through three hard-fought playoff rounds and within a goal of a Stanley Cup championship.
Following the 2004-05 NHL lockout, roster changes in Calgary – most notably the arrival of hot-shot rookie Dion Phaneuf to the club – pushed Montador back to the periphery and he was soon traded to the Florida Panthers in a deal that saw Kristian Huselius head to the Flames.
Steve Montador was the 2004 Calgary Flames. He wasn't the most talented player in the league, but he was renowned for his work ethic and determination. Plenty of players have been over-looked in the NHL Draft, and Montador is one of the lucky few that persevered and eventually made it to the NHL. Though injuries soon took their toll, he successfully translated his hard work into a magical 2004 season, and from there into an NHL career that spanned over 500 games.
Montador may be gone, but his role in Calgary Flames history won't soon be forgotten.
Ryan Pike has covered the Calgary Flames and the NHL Draft extensively since 2010 as a Senior Writer for The Hockey Writers and Senior Contributing Editor of FlamesNation.ca. A member of the Professional Hockey Writers Association, he lives in Calgary.