After only six games, it is tough to really claim an MVP for any team. However, with Paul Martin sitting out the last two games with injury and both Alex Stalock and Martin Jones flailing behind sloppy play, the Sharks already miss him.
Shutout and Winning Streaks
Two shutouts in five games including a shootout victory was how Jones opened his account in San Jose. The first four were exactly what Sharks fans desperately hoped for over the offseason. Jones laughed in the face of his ex-teammates in LA, snuffed out Anaheim and then broke records in Washington and New Jersey.
It wasn't all the new netminder, however. Goal scorers came from up and down the lineup while the defense finally began to keep their shape. Martin created a safety net for Brent Burns to recklessly charge forward from the blue line. Marc-Edouard Vlasic had also revived Justin Braun in the first week. All was good.
Then, with Logan Couture already down with a leg injury, Martin took his own knock and was dropped from the roster as well.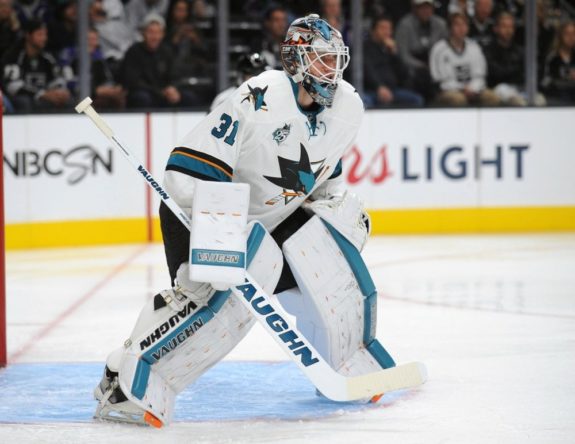 High Danger Shots with Brent Burns
In the first four games, with Martin in the lineup, there were 36 high danger chances and 2 goals conceded. The next two games? 19 high danger chances and 9 goals given up. For Martin's ice time, he has only given up 16 high danger chances. But what happens when we remove his penalty kill time? At even-strength, he only allows 9 of those chances.
So, naturally, without him things get dicey. Brent Burns is now streaking forward and leaving his partner alone, just like last season. Now, all of a sudden, there are odd-man rushes and things just start to go sour.
Just all around sloppy hockey by #sjsharks tonight. Man do they miss Martin. Such a calming influence. Look frantic w/o him.

— Andrew Bensch (@ViewFromBensch) October 20, 2015
What follows is a defense in flux. Vlasic remains the only independently strong blue liner while Burns consistently streaks forward only to lag on the backcheck. Braun requires Vlasic to hold his own, and the remaining d-men are a revolving door after Brenden Dillon.
For the Jones Era to actually take flight, the defense needs to be intact. Without it, Jones will need to stand on his head every night, which is a lot to ask of a 25 year-old. Starting Stalock was a hopeful explanation for the 6-3 loss to the Islanders. But when Jones was dominated by the Rangers, it became clear. No goalie was going to fix this problem. The defense must be in place for Jones to truly shine like he did in the first four.