Previous Previews: Joe Thornton, Joe Pavelski, Joel Ward, Patrick Marleau, Logan Couture, Tomas Hertl, Chris Tierney, Matt Nieto, Tommy Wingels, Ben Smith, Melker Karlsson, Barclay Goodrow, The 13th Man, Marc-Edouard Vlasic, Justin Braun, Paul Martin, Brent Burns, Brenden Dillon, Mirco Mueller, Matt Tennyson, Alex Stalock
Our Sharks Previews and Predictions series rightfully comes to an end with the man who will lead the San Jose Sharks between the pipes: Martin Jones. Obtaining a new goaltender, especially one as young as Jones, typically marks a new era for a team. This is no exception.
The Sharks acquired Jones from the Boston Bruins in exchange for a first-round draft pick, a trade that happened just days after he was moved by the Los Angeles Kings to the New England area.
Although Sharks management has announced that there will be an open competition among netminders for the starting role, it is pretty certain that the former King will take the crease on most nights. You don't sign a backup goaltender for $3,000,000 a year.
Many are optimistic about Jones's potential in goal, and some believe he may be a franchise goaltender comparable to Evgeni Nabokov. Despite his lack of experience, the Sharks' fanbase appears to stand behind their new man in the crease.
Previous Performance
2014-15 Goaltending Statistics
Starts: 11
Wins: 4
Losses: 5
Overtime/Shootout: 2
Shutouts: 3
Save Percentage: .906
Goals-Against Average: 2.25
Season Summary
Looking at their career statistics, it is eerie to see how similar Jones and Alex Stalock are to one another.
Like Stalock, Jones had a fantastic season in 2013-14. He registered four shutouts, a .934 save percentage and a 1.81 goals-against average in 19 starts. Those are outstanding numbers for a rookie replacing an injured starter.
However, the netminder also struggled in 2014-15—just like Stalock. Starting in just 11 games last year, Jones's numbers diminished to the tune of a .906 save percentage and a 2.25 GAA. The latter is not terrible, but it certainly isn't as good as his markers from the year before.
The Kings earned just 10 out of a possible 22 points with Jones in goal last season.
It is worth noting, however, that team in front of the young netminder was significantly worse than it was the year prior. This holds especially true after Los Angeles lost the services of defenseman Slava Voynov over a domestic violence dispute. Losing out on a full-time defenseman can easily impact an inexperienced netminder's performance.
His sample size from the campaign is quite small as well, meaning that his statistics may be skewed because they never had a chance to regress to the mean.
While these factors do not excuse the significant drop in performance, they do play a role in how his skill is perceived. It may still be unclear how good Jones actually is, and, like Stalock, we need to find out which goaltender the Sharks traded a first-round pick for. Did they get Jekyll, or Hyde?
Projected Performance
2014-15 Projected Goaltending Statistics
Starts: 57
Wins: 34
Losses: 19
Overtime/Shootout: 4
Shutouts: 4
Save Percentage: .916
Goals-Against Average: 2.38
Prediction Reasoning
When analyzing Stalock, I claimed that he was probably closer in skill to his poor year than he was to his strong year. Some may use the two goaltenders' similarities as logic to make the same conclusion for Jones. However, I don't believe this is correct.
Jones could actually be every bit as skilled as he was in 2013-14. Granted, his numbers would not be the same in the starting role, as a larger sample size typically means closer-to-average statistics. However, he could very well be one of the better starters in the game if he lives up to his potential.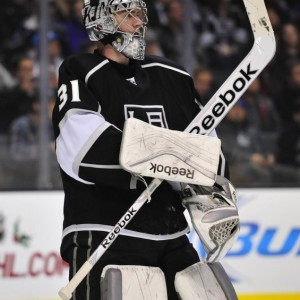 One reason why Jones and Stalocks are projected to have different futures is because of their numbers in the AHL. Stalock averaged a .909 save percentage with the Worcester Sharks while Jones has never earned anything less than a .919 save percentage with the Manchester Monarchs. In fact, Jones's .921 save percentage over nearly 5,000 shots in the AHL is better than most of the other unproven goaltenders that were on the market this summer.
As the Sharks blog, Fear the Fin, mentioned in an article, the former Bruin (yes, he was technically a Bruin) has also earned a .913 save percentage on high-danger shots in the NHL. This is an astounding mark and ranks him number one in the game in that category since he entered the league. Not bad for an unproven man.
Jones may not be experienced, but he has the potential to develop into a quality starter. He was traded by Los Angeles because they were supposedly afraid that another Pacific Division team would offer-sheet him. The Kings organization was fully aware of the talent the 25-year-old possessed.
If he does turn into a franchise player, he will be well worth the first-round pick the Sharks gave up for him.
Jones is exactly what the Sharks' fans and management need. After the controversial Antti Niemi era, San Jose has a new, young goaltender that everyone can get behind. The club and spectators are optimistic of their newest addition, and it is only a matter of time before his name is cheered from the stands at SAP Center.
On behalf of the media and the fans: welcome to San Jose, Martin Jones. We wish you well.
Drew Weber is a columnist for the San Jose Sharks at The Hockey Writers. He previously wrote articles and appeared on podcasts for Teal Town USA (formerly Pucknology) and contributed briefly to Fear the Fin. You can follow him on Twitter at @puck_over_glass.