Previous Previews: Joe Thornton, Joe Pavelski, Joel Ward, Patrick Marleau, Logan Couture, Tomas Hertl, Chris Tierney, Matt Nieto, Tommy Wingels, Ben Smith, Melker Karlsson, Barclay Goodrow, The 13th Man, Marc-Edouard Vlasic, Justin Braun, Paul Martin
Brent Burns was the San Jose Sharks' lone representative at last year's NHL All-Star Game largely due to his insane point totals during the campaign. But despite being one of the most productive defensemen in the game in 2014-15, he struggled immensely in the defensive zone. This left San Jose with a second pairing comprised of two people who had difficulty in their own end.
Hopefully another year of experience on the blue line and a new partner will jump-start Burns into becoming one of the elite players in the game.
Previous Performance
2014-15 Player Card Statistics
Games: 82
Goals: 17
Assists: 43
Points: 60
Plus/Minus: -9
2014-15 Advanced Statistics
Corsi-For: 53.4%
Goals-For: 47.1%
PDO: 98.2
Season Summary
With an astonishing 60 points over 82 games, Burns had his most productive season to date by a long shot. His second best year came in 2013-14 when he earned 48 points; 12 fewer than his marker from this past season (though he only played in 69 games during that campaign).
But a look at his other statistics from last year points to an astonishing situation faced by Burns: he could score, but he couldn't defend.
Even though he earned 12 more points last year than he did the year prior, none of his other statistics improved. His penalty minutes increased from 34 PIM to 65 PIM. His goals-for percentage fell from 64 percent to 47 percent. And finally, his plus/minus rating nosedived from a plus-26 to a minus-9.
It's no wonder many fans and analysts wanted to play him on Joe Thornton's wing, where he skated for a fair portion of 2013-14. It was obviously his better position in every category aside from total points.
Burns is confirmed to be a defenseman again next year, but this time he'll have a new partner on the line. Will the acquisition of Paul Martin be enough to save Burns' career as a blueliner?
Projected Performance
2015-16 Projected Statistics
Games Played: 75+
Goals: 13
Assists: 36
Points: 49
Plus/Minus: +5
2015-16 Projected Advanced Statistics
Corsi-For: 54.1%
Goals-For: 52.6%
PDO: 100.7
Prediction Reasoning
There are two plausible reasons for Burns' struggles in the defensive zone that will not be a factor this coming season.
First of all, 2014-15 was the first time the wookie had played the position in almost two years. Going from a style where you're meant to forecheck and play down low to a position that requires you to stay near the point and play more conservatively is a difficult transition. With a second consecutive year on the blue line, some of the cobwebs Burns built up while playing forward should be gone.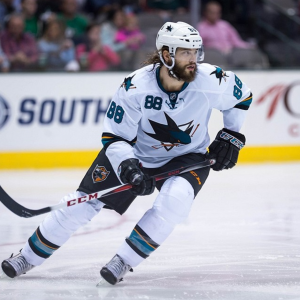 The second factor that may have spurred his troubles is his lack of a top-of-the-line partner. While he played a good portion of time with Marc-Edouard Vlasic, he also played a significant amount with the likes of Brenden Dillon, Mirco Mueller and Scott Hannan. None of these men had quality seasons, which likely brought down Burns' numbers a tad.
The latter reason should no longer be an issue since Martin is projected to be his defensive partner throughout the year. The former Penguin has experience carrying less-than-stellar blueliners, such as Brooks Orpik, which will allow Burns to stay offensively minded while improving his goals-for and plus/minus statistics. Having another defenseman on the ice that can work as a shutdown man is a great safety net to have.
Because of these changes, Burns' plus/minus will return to the positive side and his goals-for percentage will rise above 50 percent. He may not have the same offensive production due to possibly being deployed in more defensive situations, but he will have a better year all around next season.
Drew Weber is a columnist for the San Jose Sharks at The Hockey Writers. He previously wrote articles and appeared on podcasts for Teal Town USA (formerly Pucknology) and contributed briefly to Fear the Fin. You can follow him on Twitter at @puck_over_glass.