Minnesota Wild hockey starts in less than two months. While that amount of time may still seem daunting to you, the season is closer than you think. Before you know it, Mikko Koivu, Zach Parise, Devan Dubnyk and the rest of the team will take the ice at the Xcel Energy Center on October 10.
But before that happens, let's take a look at how each member of the Minnesota Wild will perform this season. Over the course of the next month, THW's Minnesota Wild contributors will bring you previews and predictions for the Wild in 2015-16.
First up: captain Mikko Koivu.
2014-15 Review
Last season, many fans were not too pleased with Koivu's performance throughout the year. Early in the season, they called for head coach Mike Yeo to strip Koivu of the captaincy or trade him, among other crazy suggestions. At the moment, this didn't seem like such an absurd suggestion. The Wild were in a downward spiral by mid-November, and people were looking for someone to blame. Being the captain, Koivu ended up the scapegoat.
7-2…good work @mnwild #CutBackstrom #TradeKoivu #FireYeo #Embarrassing

— Ben Stoffel (@bstoffel350) January 14, 2015
Now don't get me wrong, Koivu's season was nowhere near amazing, and he definitely could have contributed more. He became a target because he clearly wasn't playing as well as he should have been. The Wild were sinking, and when a team sinks, it's usually the captain's job to step up and lead by example. However, it's important to keep in mind the Wild's failure early in the season was not solely Koivu's fault. The captain can only do so much. With the rest of the Wild playing as poorly as they were, Koivu was never going to be able to fix that by himself. It's also important to remember Koivu has never been a goal-scoring superstar. The most goals he's ever scored in a season is 22. Koivu was not, and is never going to save this team by putting pucks in the net. Expecting him to be anything close to a Crosby or Toews for this team is ludicrous. Koivu is instead going to be a leader and a mentor in Minnesota.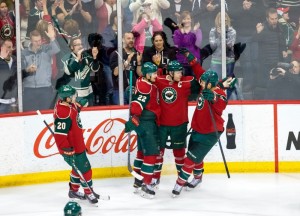 As the season continued, the Wild improved immensely, and people forgot about stripping the C and firing Yeo, and instead focused on Minnesota's incredible run to the playoffs. The Koivu hatred seemed to dissipate after that. While Koivu did disappear in the postseason, scoring just one goal in ten games, the captain overall really didn't have that bad of a year.
2014-15 Regular Season Stats
Games played: 80 Goals: 14 Assists: 34 Points: 48 Plus/Minus: +2
Those stats might not look too impressive, but keep in mind Koivu is 32-years old. He's never been a big goal scorer, either. He may be the captain, but he's not going to contribute the way a handful of other captains like Crosby or Stamkos do. If you look back at his stats over the years, Koivu has scored more goals this year than he did in the past three. He honestly didn't play as poorly as it seemed. Koivu also had a huge impact on Minnesota's faceoffs. The captain was ranked 15 in the league in face-off percentage with 55.2 percent. The next closest Wild center was Mikael Granlund with 48.4 percent, all the way down at 70th overall.
Not only did Koivu have a big impact on faceoffs, but if you take a look at his HERO chart to the left, it's easy to see just how valuable Koivu was to his teammates' offensive production. This guy is just about as good as it gets when it comes to positively impacting his linemates' Corsi.
2015-16 Predictions
With all this in mind, I really don't see Koivu changing very much this season. I don't see why he would need to alter his game, either. Koivu does the little things, like win faceoffs and pass the puck so his teammates can score.
It's unlikely he will ever be a 30-plus goal scorer for the Wild in the future. And that's okay. With many of the younger players on the team like Nino Niederreiter, Jason Zucker and Mikael Granlund starting to mature, Koivu's ability to create assists and his leadership is going to be more valuable than his goals. Last season, Koivu was ranked third among his teammates in terms of assists with 34 – only Ryan Suter and Jason Pominville contributed more with 36 each.
These young players like Zucker and Niederreiter are the ones that will put pucks in the net. They're Minnesota's future stars. Koivu is not. He's the guy in the background passing them the pucks so they can score the big goals.
I think that's exactly what's going to continue to happen this season. While it would be nice if Koivu could contribute a few more points throughout the course of the season (and the playoffs, if the Wild happen to make it), what he really needs to focus on is mentoring some of the Wild's young talent. Granlund in particular would greatly benefit from taking notes when Koivu is taking faceoffs.
Other than that, I wouldn't expect to see much of a difference from Koivu in 2015-16.
Alli covers the Minnesota Wild and has been a contributing writer with THW since August 2014. She is currently a journalism and sports management student at the University of Minnesota. For all of your Minnesota Wild news and updates, follow her on twitter: @allibaker23