Previous Previews: Joe Thornton, Joe Pavelski, Joel Ward, Patrick Marleau, Logan Couture, Tomas Hertl, Chris Tierney, Matt Nieto, Tommy Wingels, Ben Smith, Melker Karlsson, Barclay Goodrow, The 13th Man, Marc-Edouard Vlasic
Filling in the right side of San Jose's first defense pairing will likely be the American, Justin Braun. Braun supposedly struggled last season and suffered an injury that put him out of the lineup for a few games. However, his so-called "struggles" are invisible on the stat sheet and his injury should have no effect on his coming performance. He will surely be an even better player next year.
Previous Performance
2014-15 Player Card Statistics
Games Played: 70
Goals: 1
Assists: 22
Points: 23
Plus/Minus: +8
2014-15 Advanced Statistics
Corsi-For: 50.2%
Goals-For: 50.0%
PDO: 100.8
Season Summary
According to a number of writers, Braun struggled defensively last season for long stretches of time. He would occasionally fumble the puck and fail to make crucial zone exits when the team needed them most. While I agree that he made some mistakes that were uncharacteristic for his typical level of play, he did not have as terrible of a season as many make it out to be.
Braun actually managed to have a fantastic year statistically for the Sharks. He set a career high in points despite scoring just one goal, thanks to his 22 assists. The 28-year old shattered his previous best by six points even though he played in 12 fewer games.
The lone goal may be a bit shocking to some, but this man is not a goal scorer—he is a shutdown defenseman.
The Minnesota native also excelled in underlying statistics. He earned a 50.2 percent corsi and a 50 percent goals-for percentage over the course of the season, which may not seem impressive at first. However, Braun began 56.5 percent of his shifts in the defensive zone last year. This means that his team was successfully able to gain possession of the puck, exit the zone, and generate shot attempts at an exceptional rate with him on the ice.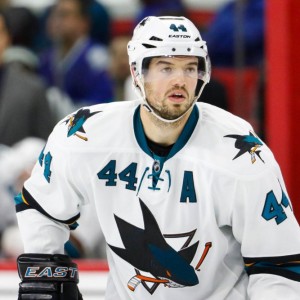 I will mention, however, that Braun's numbers plummeted when he skated away from Marc-Edouard Vlasic. This may be concerning, but there are two things I have to say about it:
1) Going from playing with Vlasic to playing with Brenden Dillon is a significant decrease in skill when it comes to your defensive partner. Vlasic is a top-20 defenseman in this league while Dillon struggled after he was traded to the Sharks. While a truly great player can skate alongside anyone, it is difficult to play well when your partner is having difficulty performing.
2) Anyone will see a decrease in statistics when they play away from Vlasic because he is that good. The French-Canadian will carry anyone he plays with, meaning he will single-handedly bring their numbers up when they skate together. Unless he's partnered with Drew Doughty or Duncan Keith, odds are players will play better with him than without him.
Projected Performance
2015-16 Projected Statistics
Games Played: 75+
Goals: 3
Assists: 23
Points: 26
Plus/Minus: +11
2015-16 Projected Advanced Statistics
Once again, Braun and Vlasic will be one of the best shutdown pairs in the NHL. Another year together will only build on the chemistry that they have already developed with one another.
There is little doubt that No. 61 will be able to net more goals this season, as scoring just one goal the year before is a pretty low bar to beat. But having a better team around him will allow him to rack up a few more assists as well. This will give him his second career year in a row.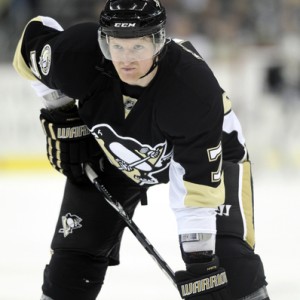 The newly acquired Paul Martin and his expected partner Brent Burns will also take significant pressure off of the first pair. This means that they won't always be against the best players in the league and they won't be forced into starting 56.5 percent of their shifts in the defensive zone. Easier competition and better zone starts will drive Braun to be a strong possession player and prevent him from committing some of the errors he made last year.
Although he didn't have as bad of a season as many say he did, Braun will certainly have the "bounce-back" year that everyone has been talking about.
Drew Weber is a columnist for the San Jose Sharks at The Hockey Writers. He previously wrote articles and appeared on podcasts for Teal Town USA (formerly Pucknology) and contributed briefly to Fear the Fin. You can follow him on Twitter at @puck_over_glass.