Previous Previews: Joe Thornton, Joe Pavelski, Joel Ward, Patrick Marleau, Logan Couture, Tomas Hertl, Chris Tierney, Matt Nieto, Tommy Wingels
It is now time to look at the San Jose Sharks' fourth liners in our Previews & Predictions series, starting with center, Ben Smith. Smith was acquired from the Chicago Blackhawks at the trade deadline in exchange for Andrew Desjardins and a draft pick. Despite being slotted between sub par players, he was able to produce at a respectable rate.
Previous Performance
2014-15 Player Card Statistics
Games Played: 80
Goals: 7
Assists: 7
Points: 14
Plus/Minus: +2
2014-15 Advanced Statistics
Corsi-For: 49.7%
Goals-For: 51.4%
PDO: 100.3
Season Summary
Smith made an immediate impact upon his arrival in San Jose by scoring a goal for his new team just hours after being traded from Chicago. He would score a second goal just days later and end the season with five points in 19 games as a Shark. Unfortunately, he didn't get an opportunity to play in the postseason and watched as his former club won the Stanley Cup for the third time in five years.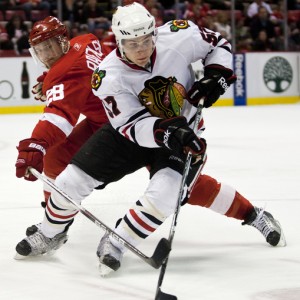 The American forward was relatively even in his corsi-for percentage and was positive in his goals-for numbers. These marks are fantastic for a fourth liner, especially when you consider that he was flanked by John Scott on occasion.
Desjardins was a fan favorite in the Bay Area, but Smith looks to be a worthy replacement. He may have had a lot of luck in terms of PDO and shooting percentage (which exceeded 103 and 13 percent, respectively, as a Shark), but it's only fair since he was playing with goons anyway. Luckily for him and his team, this year's fourth line will resemble the skill Smith played with in Chicago; they will be effective and dominate on a nightly basis. Luck will no longer be necessary.
Projected Performance
2015-16 Projected Statistics
Games Played: 75+
Goals: 6
Assists: 8
Points: 14
Plus/Minus: -2
2015-16 Projected Advanced Statistics
Corsi-For: 49.2%
Goals-For: 48%
PDO: 99.4
Prediction Reasoning
Smith will likely maintain similar numbers to last year's campaign since he will be playing with linemates and defensemen almost as skilled as the ones he had in Chicago. He will probably be playing with the likes of Melker Karlsson and Barclay Goodrow, both very competent wingers.
However, we must also remember that Mike Brown is still a Shark and that Nikolay Goldobin could potentially make the team this season. These two are expected to struggle on the ice and will almost certainly play on the fourth line when on the roster. This is why I believe Smith's corsi and goals-for numbers will be under 50 percent. They will drag his statistics down in their limited time just enough to make him appear below average.
If Doug Wilson and new head coach, Peter DeBoer, make the same mistakes that the club made last year, then Brown will play more than he should and Goldobin will be rushed into the NHL. No one wins in that situation.
Overall, Smith will stand pat statistically, keeping his 14 point total from last season. He will play well alongside Karlsson and Goodrow, but will struggle when either Brown or Goldobin slot into the lineup. At the very least, he is an exceptional center that can anchor a fourth line. It's just a matter of if he can get the linemates he needs to excel on the stats sheet.
Drew Weber is a columnist for the San Jose Sharks at The Hockey Writers. He previously wrote articles and appeared on podcasts for Teal Town USA (formerly Pucknology) and contributed briefly to Fear the Fin. You can follow him on Twitter at @puck_over_glass.