Previous Previews: Joe Thornton, Joe Pavelski, Joel Ward, Patrick Marleau, Logan Couture, Tomas Hertl, Chris Tierney, Matt Nieto, Tommy Wingels, Ben Smith, Melker Karlsson, Barclay Goodrow, 13th man
With the forward group covered, it is time to jump into the San Jose Sharks' defense group. Leading off the blue line predictions is No. 44: Marc-Edouard Vlasic.
Vlasic is commonly considered one of the best defensemen in Sharks' history and silently sits as one of the leagues top shutdown men. With a career 53.2 percent corsi and a plus-110 rating, the French-Canadian is one of the most stable defenders in the game—especially when you realize that he starts over half of his shifts in the defensive zone.
The 28-year old will surely be a prominent player in San Jose's defense corp for years to come.
Previous Performance
2014-15 Player Card Statistics
Games Played: 70
Goals: 9
Assists: 14
Points: 23
Plus/Minus: +12
2014-15 Advanced Statistics
Corsi-For: 51.9%
Goals-For: 51.1%
PDO: 101.6
Season Summary
Vlasic had an impressive season despite playing on an all-around worse team. He managed to put up positive numbers in all categories while many of his teammates were lucky to break even. These statistics are made even more impressive by the fact that he started 57.4 percent of his shifts in the defensive zone last year. He consistently managed to gain possession of the puck and execute zone exits that eventually led to shot attempts in the offensive zone.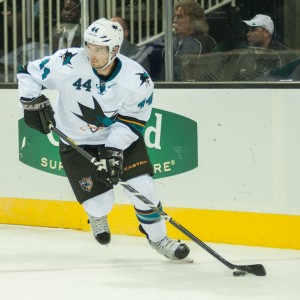 The former Olympian carried San Jose's defense by single-handedly shutting down the opposition's best players. Other notable defensemen, such as Justin Braun, Brent Burns and Brendan Dillon, struggled immensely throughout the majority of the season, leaving Vlasic as the only reliable man in the defensive lineup.
Although he caught the injury bug towards the end of the campaign, it did not seem serious enough to impact him next year. He should remain the team's top defenseman, even with the signing of Paul Martin, and will again skate against the best the league has to offer.
Projected Performance
2015-16 Projected Statistics
Games Played: 75+
Goals: 7
Assists: 21
Points: 28
Plus/Minus: +14
2015-16 Projected Advanced Statistics
Corsi-For: 55.9%
Goals-For: 53.1%
PDO: 100.3
Prediction Reasoning
Vlasic should, theoretically, improve his numbers from last season, because he will have a better team around him. This means that all metrics will increase, with the exception of goals (due to a lower predicted PDO).
The Sharks as a whole should have better possession numbers, which should result in more goals being scored. This is why Vlasic's statistics in assists, corsi and goals-for will increase compared to last year.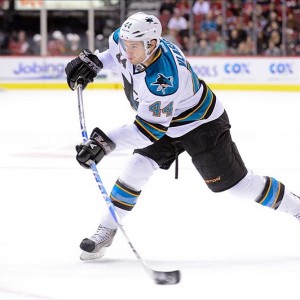 Braun is also projected to have a better year next season. Vlasic and Braun were tasked with being San Jose's top pair, but the American struggled heavily last year and forced his partner to carry the line. With Braun bouncing back next season, the two may once again be recognized as one of the best shutdown duos in the game.
The signing of Paul Martin will also take some pressure off of the Sharks' No. 1 defenseman. Rather than forcing one man to take on an opponent's top players, Peter DeBoer will have the liberty of utilizing either his first or second pair to fill that role. While I still expect Vlasic and Braun to take on this task most of the time, there may be situations when the pair of Martin and Burns are sent out against star players.
A better team will make for a better pickle, and next year will be no exception.