Previous Previews: Joe Thornton, Joe Pavelski, Joel Ward, Logan Couture, Patrick Marleau, Tomas Hertl, Chris Tierney, Matt Nieto, Tommy Wingels, Ben Smith, Melker Karlsson, Barclay Goodrow
12 Not Enough
We just completed our analysis of the San Jose Sharks' projected 12-man forward group. This lineup is one of the deepest the franchise has had in a while, but believing that all 12 forwards will appear in every game of the season is far from reasonable. The Sharks will need a 13th man.
This 13th man will play between 20 and 30 games during the year, filling in during injuries or poor performances. His numbers do not have to be stellar, but he does need to perform at a competent level.
There are three plausible choices for San Jose to fill this role: Mike Brown, Nikolay Goldobin and Raffi Torres. Each player has their own set of pros and cons that will help management determine who is fit enough to break into the lineup. We will discuss these traits below and hypothetically choose the best option for the team.
Who is 13?
Mike Brown
The first option for San Jose is enforcer, Mike Brown. Although he has the most experience with the team out of the three choices, playing 60 games with the club, it does not necessarily qualify him to be the 13th man.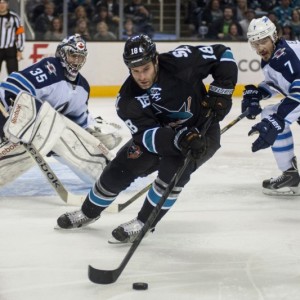 Brown has recorded just five points and a minus-10 rating with the Sharks. These are disappointing numbers that pale in comparison to even average fourth liners throughout the league.
When looking at his career statistics, it is easy to see that this is a trait he has had for his entire tenure in the NHL; he is a goon-first player that fails to put up points year after year. In 349 career games, Brown has registered a mere 31 points and a minus-31 rating. His best season came when he earned eight points in 50 games with the Toronto Maple Leafs in 2010-11.
Nikolay Goldobin
Goldobin is one of the team's top prospects and is expected to be a solid, top-six guy at his peak. If developed properly, he could become a critical part of San Jose's core group in the future.
And this is exactly why he should not be the Sharks' 13th skater.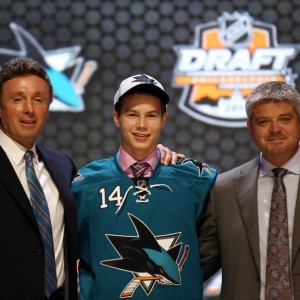 The former first-round selection has yet to play a game in the NHL and has yet to skate an entire season with the organization's AHL affiliate. Instead, he played overseas until the end of the 2014-15 campaign.
In order to develop Goldobin into the best player possible, San Jose should elect to keep him in the AHL for an entire season so he can learn their system and become a more skilled and fit skater. We all saw what happened to Mirco Mueller last season, and that isn't what we want to happen to this young Russian.
Goldobin will not see enough playing time in the NHL to turn him into an adequate player. He needs to stay in the AHL until he earns himself a full-time roster spot, so that his growth isn't stifled by sitting in the press box for over half of a season. San Jose must be patient.
Raffi Torres
Eliminating both Brown and Goldobin leaves us with just one option: Raffi Torres. Who better to be the Sharks' 13th man than the enforcer that dons the number on his jersey?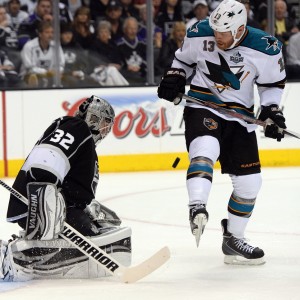 Yes, Torres is considered a dirty player. Yes, Torres has been injured for almost two years. Yes, Torres's success in San Jose has come in a small sample size. But the Silicon Valley franchise has little to lose for playing him.
Brown has already proven that he can't produce at the NHL level, and Goldobin is best served to play with the Barracuda for an entire season before entering the big league.
Torres, at the very least, has shown that he can make an impact on the score sheet. Averaging 0.41 points per game over his 12-year career is respectable for someone who has a reputation of being a goon. Even if he is not the same player he was prior to his injury, he will surely make more of an impact than Brown.
Torres is the Man
Even though he hasn't played much over the past two years, Torres is probably the best fit person to skate as San Jose's 13th man. He will have a larger impact than Brown and will allow Goldobin to develop further in the AHL.
Hopefully, the 33-year old will fully recover from his injury before the season starts. And if the team is lucky, he will be the same player he was before the incident and will be able to post respectable numbers in a limited role on the roster.