Previous Previews: Joe Thornton, Joe Pavelski, Joel Ward, Logan Couture, Patrick Marleau, Tomas Hertl, Chris Tierney, Matt Nieto, Tommy Wingels, Ben Smith, Melker Karlsson
Holding down the final permanent roster spot in San Jose's forward group is the young Barclay Goodrow. The 22-year old saw time throughout the bottom six during his rookie campaign and put up respectable offensive numbers while in the lineup. Though he may be a more established player this year, his ice time will depend on his skill and health during the season.
Previous Performance
2014-15 Player Card Statistics
Games Played: 60
Goals: 4
Assists: 8
Points: 12
Plus/Minus: -1
2014-15 Advanced Statistics
Corsi-For: 47.2%
Goals-For: 45.9%
PDO: 100.3
Season Summary
Goodrow had a pretty quiet year as a Shark but still managed to play respectably despite not being considered an impact player. He recorded 12 points in 60 games, giving him a better points-per-game average than the likes of Andrew Desjardins, Brendan Dillon and Scott Hannan.
No. 89 was most effective working on the third line with James Sheppard and Melker Karlsson. However, when the line disbanded, he played primarily with Tommy Wingels, Andrew Desjardins/Ben Smith and, sadly, John Scott. Two-third of these skaters are quality players; the other one-third is poison for underlying and defensive statistics. I'll let you guess who is who.
The Toronto native was definitely San Jose's most effective part-time man (excluding Chris Tierney)—he is more skilled than either Scott, Adam Burish or Mike Brown. He may even be better than all of them combined. Unfortunately, the four players often rotated in and out of the lineup, forcing Goodrow to play just 60 games.
It will definitely be interesting to see how this young man performs next season.
Projected Performance
2015-16 Projected Statistics
Games Played: 60
Goals: 6
Assists: 10
Points: 16
Plus/Minus: -2
2015-16 Projected Advanced Statistics
Corsi-For: 48.4%
Goals-For: 47.9%
PDO: 98.7
Prediction Reasoning
Next season, I would expect Goodrow to play exclusively on the fourth line as the Sharks' 12th man. This means that he could be scratched occasionally in favor of another player, whether it be due to health, skill set or inconsistent play. These factors are the reason that he may play another 60 game regular season for Team Teal.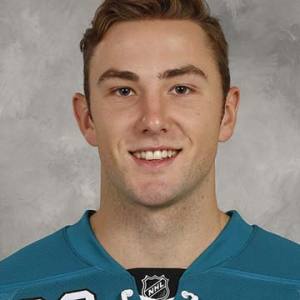 Goodrow's numbers will improve marginally in this role because of the reduced competition and the higher quality linemates. Playing on the fourth line could reunite the deadly duo of Goodrow and Karlsson, who dominated in third-line minutes last season. Hopefully Smith will prove to have as much chemistry with them as Sheppard did during their incredible stretch.
The now-sophomore should be able to hold his own on the bottom line and could bring excellent depth to the team. If he can keep people like Brown out of the lineup as much as possible, then he will be helping his club more than his statistics indicate. Goodrow may not be the most noticeable player on the ice, but he's an astounding 12th man for any team.
Drew Weber is a columnist for the San Jose Sharks at The Hockey Writers. He previously wrote articles and appeared on podcasts for Teal Town USA (formerly Pucknology) and contributed briefly to Fear the Fin. You can follow him on Twitter at @puck_over_glass.