Previous Previews: Joe Thornton, Joe Pavelski, Joel Ward, Patrick Marleau, Logan Couture, Tomas Hertl, Chris Tierney, Matt Nieto, Tommy Wingels, Ben Smith, Melker Karlsson, Barclay Goodrow, The 13th Man, Marc-Edouard Vlasic, Justin Braun
For once in a long time, San Jose Sharks general manager, Doug Wilson, signed a free agent that will actually have a positive impact on the team. Contrasting his John Scott and Michael Haley acquisitions from last year, Wilson inked stud defenseman, Paul Martin, for four years.
Martin is projected to be the answer to San Jose's defensive depth issues on the left side. When Marc-Edouard Vlasic went down with an injury against the Los Angeles Kings in the 2014 playoffs, a gaping hole was exposed in the Sharks' defense corp. This helped the southern California rival earn four straight wins, becoming just the fourth team in NHL history to come back from a 3-0 series deficit.
The former Pittsburgh Penguin will hopefully be good enough to fill the hole that the Kings so mercilessly exploited two seasons ago.
Previous Performance
2014-15 Player Card Statistics
Games Played: 74
Goals: 3
Assists: 17
Points: 20
Plus/Minus: +17
2014-15 Advanced Statistics
Corsi-For: 53.1%
Goals-For: 60.2%
PDO: 101.4
Season Summary
During his time in Pennsylvania, Martin basically acted as the Penguins' Vlasic. He was a number-one shutdown defenseman that was known for his defensive prowess rather than his offensive abilities.
He only recorded 3 goals last year, but he also earned a plus-17 rating and an insane 60.2 percent goals-for percentage. No. 7 may not be putting the puck in the net, but he must be doing something right in all three zones to put up those kinds of statistics.
Martin spent the majority of last season playing with Kris Letang, who is a competent top-pair man. However, he consistently skated with Brooks Orpik, before he went to the Washington Capitals.
Orpik is not that great of a defenseman by any means despite being a former United States olympian. By comparing his statistics when he played with Martin against when they skated away from each other, it is easy to see that the Sharks' newest acquisition carried the pair. Being a top defenseman on a team is difficult enough. Doing it with a sub par partner is even harder.
This is why Martin seems to be such a great addition to the Sharks; he puts up respectable numbers while playing with people that are not as strong as him defensively. Perfect fit to skate with the offensively minded Brent Burns? I think so.
Projected Performance
2015-16 Projected Statistics
Games Played: 75+
Goals: 4
Assists: 25
Points: 29
Plus/Minus: +9
2015-16 Projected Advanced Statistics
Corsi-For: 52.8%
Goals-For: 53.7%
PDO: 101.2
Prediction Reasoning
So long as age or injury don't restrict his performance, Martin should thrive in a teal jersey. While I understand that switching systems and playing in a different conference can be a difficult transition, there are many upsides to his role with the Sharks. Plus, he will have an entire training camp to adapt to his new surroundings.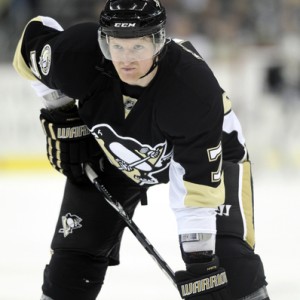 Playing on the second pair, where the competition tends to be lighter, and skating along side on of the most productive blueliners in the league will assist Martin in having one of the best seasons of his career in terms of points.
Unfortunately though, Burns is not Letang. For this reason, it is hard to believe that he could repeat his insane goals-for and plus-minus numbers from last year. He'll be good, but not that good.
Martin is ultimately the man that San Jose needed in their roster. He is an experienced shutdown defenseman that will add serious depth to the group's left side and can cover for any mistakes that Burns makes in the defensive zone. The four-year contract seems a bit long, but he is one of the best defensemen in the league. His value cannot be overstated.
Drew Weber is a columnist for the San Jose Sharks at The Hockey Writers. He previously wrote articles and appeared on podcasts for Teal Town USA (formerly Pucknology) and contributed briefly to Fear the Fin. You can follow him on Twitter at @puck_over_glass.