Previous Previews: Joe Thornton, Joe Pavelski, Joel Ward, Patrick Marleau, Logan Couture, Tomas Hertl, Chris Tierney, Matt Nieto, Tommy Wingels, Ben Smith, Melker Karlsson, Barclay Goodrow, The 13th Man, Marc-Edouard Vlasic, Justin Braun, Paul Martin, Brent Burns, Brenden Dillon, Mirco Mueller, Matt Tennyson
For our first of two goaltender previews, we are going to take a look at projected backup, Alex Stalock.
Stalock had a strong year in 2013-14, but ultimately fell off during the following season. Once poised to take over the starting position, the American appears to be little more than a second-string netminder in the NHL. Still, his performance matters to him and his team.
Previous Performance
2014-15 Goaltending Statistics
Starts: 19
Wins: 8
Losses: 9
Overtime Losses: 2
Shutouts: 2
Save Percentage: .902
Goals-Against Average: 2.62
Season Summary
As mentioned above, Stalock had a rock-solid campaign in 2013-14. In 18 starts, the goaltender registered an astonishing .932 save percentage and 1.87 goals-against average. This stellar performance led to a goaltending controversy in San Jose, as Stalock challenged Antti Niemi for the starting role.
Despite beginning the season with a shutout, the 27-year old failed to dethrone the Sharks' starter. In fact, he struggled as a backup netminder throughout the entire season.
Stalock posted a miserable .902 save percentage and 2.62 GAA in 2014-15, a far cry from his .932 and 1.87 the year before. He gave up weak goals and obviously did not feel confident in the crease. However, it probably didn't help that the team in front of him, especially the defense, was terrible.
With the Minnesota native between the pipes, San Jose earned just 18 out of a possible 38 points. This is a large reason why the club did not qualify for the postseason; they struggled to gain ground in the standings when their backup was in goal.
In just one offseason, No. 32 went from a potential starter to a sub-par backup. Now, Sharks fans and management have to determine who the real Stalock is. Is he Jekyll, or Hyde?
Projected Performance
2014-15 Projected Goaltending Statistics
Starts: 25
Wins: 13
Losses: 10
Overtime Losses: 2
Shutouts: 2
Save Percentage: .913
Goals-Against Average: 2.38
Prediction Reasoning
Between his great year in 2014 and his terrible year in 2015, I expect next season's Stalock to fall somewhere in the middle.
Stalock has never been that great of a goaltender, even in the AHL. In four seasons with the Worcester Sharks, the San Jose Sharks' AHL affiliate, he earned a disappointing .909 save percentage and a 2.60 GAA. Those are not great numbers by any means.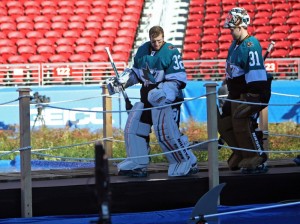 Based on this data, I am inclined to believe that the real Stalock is more like the one that played last season as opposed to the one that backstopped the team two years ago. He is closer to Hyde than he is to Jekyll.
The reason why I believe he will be an average goaltender is because the team this season is vastly superior to the one last season. San Jose has four lines of talent and six capable defensemen in their system. They will have their faults, but this lineup is surely an improvement than the one that was iced in 2014-15.
Stalock will probably never be a starter in the NHL, and that is okay for the Sharks' organization. If he can hold his ground as a backup netminder, then he will be a notable part of the team.
If he plays in 25 games next year, 50 points will be up for grabs while he is in net. That is a significant number, meaning his performance will impact whether or not the team makes the playoffs this time around. He may not be the No. 1 guy, but how he plays matters.
Drew Weber is a columnist for the San Jose Sharks at The Hockey Writers. He previously wrote articles and appeared on podcasts for Teal Town USA (formerly Pucknology) and contributed briefly to Fear the Fin. You can follow him on Twitter at @puck_over_glass.