Previous Previews: Joe Thornton, Joe Pavelski, Joel Ward, Patrick Marleau, Logan Couture, Tomas Hertl, Chris Tierney, Matt Nieto, Tommy Wingels, Ben Smith, Melker Karlsson, Barclay Goodrow, The 13th Man, Marc-Eduoard Vlasic, Justin Braun, Paul Martin, Brent Burns, Brenden Dillon
The final permanent skater in our Sharks Previews and Predictions series is the Swiss native, Mirco Mueller.
Mueller had a difficult rookie year that saw him sitting in the press box more often than not. Some believed he was rushed into the NHL, which significantly impacted his performance and could have stunted his development. This argument is supported by his numbers from last year.
San Jose's management may have jeopardized the success of their top defensive prospect due to their negligence last season.
Previous Performance
2014-15 Player Card Statistics
Games Played: 39
Goals: 1
Assists: 3
Points: 4
Plus/Minus: -8
2014-15 Advanced Statistics
Corsi-For: 50.3%
Goals-For: 38.8%
PDO: 96.9
Season Summary
Mueller had an absolutely painful rookie campaign. Between terrible luck, struggling partners and all-around unpreparedness, the 19-year old was destined to have a forgettable year.
The 2013 first rounder played just 39 games for his NHL club and watched the game more than he played it. This lack of experience means that he still has a lot of kinks in his game that need to be worked out in 2015-16. It also means that his statistics are fairly extreme due to the small sample size.
Playing with Brenden Dillon and Brent Burns as his primary partners, Mueller struggled to find his game while he was on the ice. Not only was he adjusting to a new level of play, but he was skating with partners that were also adapting to new roles—Dillon had just come from the Dallas Stars organization, and Burns was playing defense for the first time in almost two years. They can't be entirely blamed for his poor performance, but a rookie cannot be expected to succeed when his partners aren't giving him support.
To further add salt into the wound, the Sharks' youngest defenseman had a snakebitten PDO of 96.9. That marker was tied for the worst on the team.
Projected Performance
2015-16 Projected Statistics
Games Played: 65
Goals: 2
Assists: 7
Points: 9
Plus/Minus: -5
2015-16 Projected Advanced Statistics
Corsi-For: 49.1%
Goals-For: 47.2%
PDO: 98.9
Prediction Reasoning
While many, including myself, would argue that Mueller should start in the AHL, I do not see management making that decision. There is no other blueliner in the Sharks' system that is ready to make the leap into the big league. Because of this, the sophomore will gain a full-time roster spot as San Jose's sixth defenseman.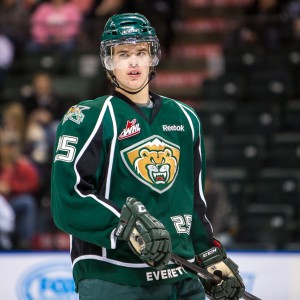 Mishandling Mueller in his debut will come back to haunt the Silicon Valley team as he will continue to struggle for the majority of the year. He was not given the opportunity to grow in 2014-15 and will now need time to work out some of his issues this season. The Swiss defenseman will improve as the year progresses, but he will always be a step behind where he could have been.
One positive is that he will have a partner that is more adjusted to his new surroundings. The projected fifth man, Dillon, will have a full training camp, plus his experience from last year, to acclimate to his new team. No. 4 will also see lighter competition on the bottom pair.
Dillon, like Mueller, was expected to be a top-four man upon arriving in San Jose. Unfortunately, that role did not pan out for either one of them, but they will be given the opportunity to hone their skills with reduced time on the third pair.
An increased number of games played for Mueller, along with a better-developed partner, will equate to more points being scored and underlying numbers that are closer to average. He will still be sub par, but not as sub par as he was last year.
Next season will not be a breakout year for Mueller, but with any luck, it will be a stepping-stone campaign that will lead him to become a top-four man. Management carelessly risked his development by benching him so much last season. They better hope the damage they caused is not permanent.
Drew Weber is a columnist for the San Jose Sharks at The Hockey Writers. He previously wrote articles and appeared on podcasts for Teal Town USA (formerly Pucknology) and contributed briefly to Fear the Fin. You can follow him on Twitter at @puck_over_glass.