Previous previews: Mikko Koivu, Jonas Brodin, Mikael Granlund
In today's Minnesota Wild preview, we'll take a look at Nino Niederreiter.
2014-15 Review
Nino Niederreiter may very well go down in Minnesota Wild history as one of general manager Chuck Fletcher's best trades.
Two seasons ago, Fletcher acquired Niederreiter in exchange for Cal Clutterbuck and a third round pick in the 2013 NHL Entry Draft. The trade couldn't have worked out better for Minnesota. Unlike the Wild's usual trade scenarios where players come to the State of Hockey and dwindle away, Niederreiter has become an indispensable addition to the team.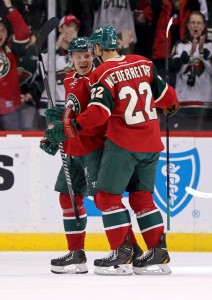 Like many other players on Minnesota's current roster, Niederreiter is still very young. At only 22-years old, the native of Switzerland has already accomplished a lot. Last season was proof of that.
During the 2014-15 season, Niederreiter was bounced all around the lineup, given very little power-play time, and for some unknown reason, not liked very much by coach Mike Yeo. Whether Yeo actually disliked Niederreiter isn't clear; perhaps Yeo just didn't see him fitting into Minnesota's first or second line. Or maybe he's just not a fan of Switzerland. Who knows? Either way, Niederreiter didn't let the lack of stability or inconsistent ice time detract from his ability to play solid hockey.
Throughout the year, Niederreiter was given relatively little ice time – his TOI was one of the lowest on the team at an average of 14 minutes, 32 seconds. That put the 22-year old behind a good number of his teammates, including Chris Stewart, Thomas Vanek and Charlie Coyle. It's important to note Niederreiter's defensive play needed some work, but that doesn't seem like a big enough reason for Yeo to keep him off the top two lines for a good portion of the year.
Despite his ice time struggle and constantly having his linemates shifted, Niederreiter managed to score the second-most goals on the team (24), behind team leader, Zach Parise. Those 24 goals came from only 149 shots, giving Niederreiter a shot percentage of 16.1 percent.
Considering he did all this with less-than-outstanding circumstances, it has to make one wonder what Niederreiter could do with a few more minutes per game and some stability.
2014-15 Regular Season Stats
Games played: 80 Goals: 24 Assists: 13 Points: 37 +/-: 2
Looking at both Niederrieter's 2014-15 stats and his HERO chart (below), it's clear he has what it takes to become much more than a third liner for the Wild. Yes, some parts of his game need work, but Niederreiter has far more pros than cons.
2015-16 Predictions
The Wild are in need of a goal scorer. Niederreiter happens to be very going at doing just that.
While he's still young – and Yeo might not have a ton of trust in him – Niederreiter has the potential to be the Wild's breakout superstar. In order to do that, though, the 22-year old needs to see more ice time in 2015-16. It would also help immensely if Niederreiter's linemates had a bit more consistency.
At some point this season, I'm predicting Yeo is going to realize all of this. Niederreiter might not start the season on the first or second line, and it may take a few months for him to earn his spot near the top, but No. 22 has talent. He has some tough competition to fight through, but he'll prevail. Not to mention, Niederreiter has two more years left on his contract with Minnesota, and that should only add to his motivation to perform.
If Niederreiter can earn a spot in the top six, it seems as though he could easily become a 25-plus goal scorer for the Wild. El Nino just needs to keep doing what he's been doing for the past two years.
Alli covers the Minnesota Wild and has been a contributing writer with THW since August 2014. She is currently a journalism and sports management student at the University of Minnesota. For all of your Minnesota Wild news and updates, follow her on twitter: @allibaker23