Today, we continue our Minnesota Wild previews and predictions with Mikael Granlund.
Previous previews: Mikko Koivu, Jonas Brodin
2014-15 Review
Last season, Mikael Granlund was, well, honestly, he was pretty disappointing.
After a dazzling performance during the Wild's playoff run in 2013-14, Granlund seemed to finally have found his scoring touch. Entering this past season, Minnesota had high hopes for Granlund. He was a scoring whiz when he played in Finland, and it was about time for him to break out in the NHL.
However, as we're all aware, that never happened. Last season, Granlund gave Minnesota the same uninspired performance that he has in years past. The native of Oulu, Finland, scored eight goals and racked up 31 assists over the course of 68 games, and added two goals in the playoffs.
Now you may look at those numbers and think it's really not all that atrocious. And it's not. Eight goals and 31 assists is acceptable…for a guy playing on the third or fourth line. It's not acceptable for the guy that's supposed to be Minnesota's top-line center.
Granlund is set to become a key player in the Minnesota Wild's future. He young, he's talented, he's full of potential, and for some reason, he just can't seem to figure out how to put that potential into action.
In his first season with HIFK, Granlund led the team with 40 points in 43 games, averaging almost a point per game. In 2010 at the World Junior Championships, he led Finland in points (7) and assists (6). In the same year at the World Under-18 Championship, Granlund was named one of Finland's three best players, helping to lead his team to a bronze medal. It's incredibly clear Granlund has talent. What's not clear is why he hasn't been showing it off these past few years with the Wild.
The 23-year old has the ability to make unimaginable passes and highlight-reel goals, but those are so few and far between.
There's really not all that much to say about Granlund's 2014-15 season. It was mediocre, at best. Number 64 has a lot to prove this upcoming season.
2014-15 Regular Season Stats
Games played: 68 Goals: 8 Assists: 31 Points: 39 +/-: 17
It's also interesting to note Granlund's face-off percentage, which was 48.4 percent, a decrease from 52.6 percent in 2013-14. For a player that's supposed to be Minnesota's number one center, that's just not going to cut it.
2015-16 Predictions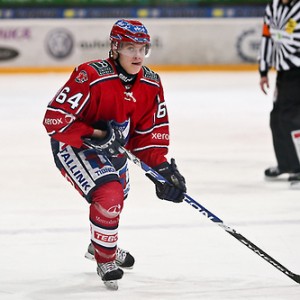 Granlund is far from a bad hockey player and very close to becoming a superstar for the Wild. In his past three seasons with Minnesota, he's shown flashes of brilliance. He's capable of becoming an X-factor for this team, it just seems as if something has always been missing for Granlund.
This season, I predict things are going to be different.
This season, Granlund has some motivation. Over the summer, he agreed to a contract extension with the Wild. Unlike many of his fellow young teammates, Granlund did not receive a five- or six-year contract worth tens of millions of dollars. Instead,  General Manager Chuck Fletcher decided a two-year, $6 million contract would be fitting for the Finn. Before signing a big deal, Granlund clearly needs to prove he's worth it.
"I don't think anybody anticipates Granlund to be an eight-goal, 40-point guy for the rest of his career. He is going to take off here over the next two years," Chuck Fletcher via ProHockeyTalk
Minnesota desperately needs a center that can produce. Last season, the Wild's centers combined to score only 49 goals, one of the lowest totals in the league. On top of that, one of the Wild's highest-scoring centers, Kyle Brodziak, will not return this season. That leaves Granlund in a very good place to prove just how valuable he can be to this team. He has everything it takes to be successful in this league; now he needs to put it all together and have a breakout year.
With his future in the NHL hanging in the balance, I predict we see a new side of Granlund this season. It's now or never for him. This season is Granlund's chance to step up – to score more goals, win more face-offs and truly become Minnesota's top center.